Germany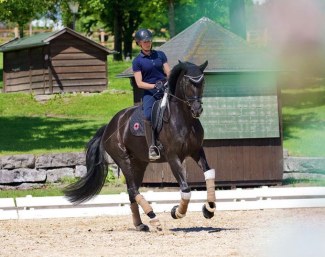 Only six months after her arrival at Jessica von Bredow-Werndl's yard in Aubenhausen for training, the 7-year old Oldenburg mare Forsazza de Malleret has found a new owner: Jessica von Bredow-Werndl !
Impressed by the mare's quality gaits and trainability, German Grand Prix team rider and the kur bronze medal winner of the 2019 European Championships in Rotterdam decided to purchase the mare for herself as her future Grand Prix hopeful. 
Forsazza de Malleret is a 7-year old Oldenburg mare by For Romance x Sarkozy x Don Davidoff. She is bred by Paul Schockemöhle and owned by Haras de Malleret in France. 
Develop to Grand Prix
When Forsazza arrived at Jessica's yard in Bavaria, Germany, the talented black mare was only schooling at novice level, but within half a year time she has transformed into a dressage horse brimming with talent for the highest level. 
Her quick transformation, rideability and presence were plenty for Jessica to decide to purchase her for herself instead of selling her on. The Wendl's family company Aubenhausen acquired the mare.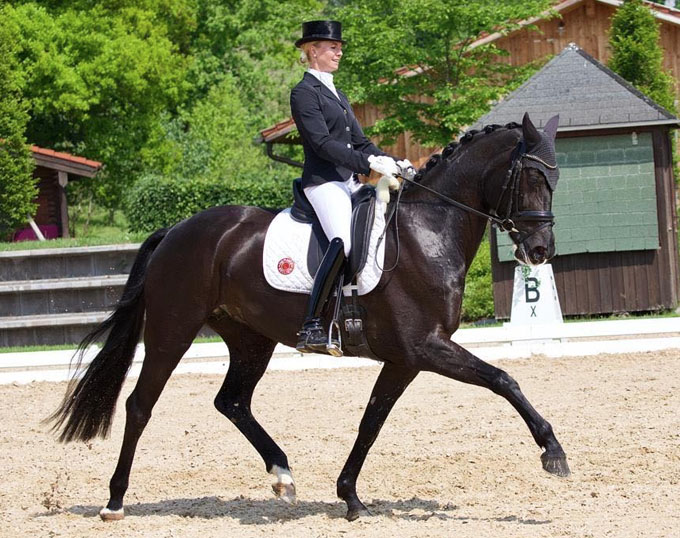 "Her attitude, her elegance and her cleverness. She's really smart and wants to present herself. She's like a little Diva. She's actually pretty small, but you don't see that when she's moving," Jessica gushed about the mare's qualities. 
Jessica has no immediate competition plans with the young mare. 
"I just want to develop her and give her all the time she needs," she said. "But she's very eager and learns quickly. When she arrived here, she was at A-level. Now she already understands the flying changes.
For Haras de Malleret the sale of one of their horses to the World Number 3 and a German Olympic squad rider is the icing on the cake. Jessica's ethos and horse management strongly aligns with Malleret's modus operandi.
"I am of course proud that Forsazza is acquired by Jessica Von Bredow Werndl, who is part of the elite of the world dressage, but I am also happy that the mare was chosen by a person who really treats horses with the same philosophy as us, it's reassuring, soothing," said Gérald Martinez, managing director of Haras de Malleret. 
"No Cutting Corners"
Martinez is thrilled that Forsazza will have a future at Aubenhausen, where good horse management is key.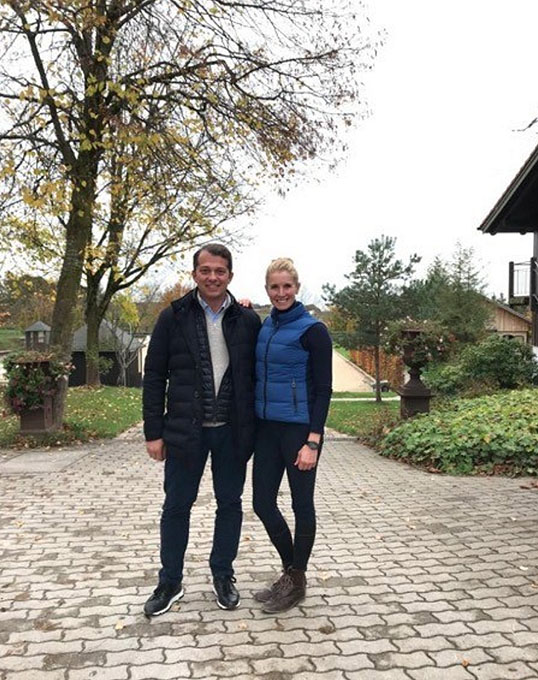 "When we breed horses for several years, taking the time to build them both mentally and physically, it's important to know how long you need to wait for them so that they can one day express their qualities without problems, instead of through too intensive and excessive exploitation from a young age."
Martinez is a strong believer that the horse needs to reach physical and mental maturity gradually through a slow development in dressage instead chasing success in the show ring.
"Sometimes some people do not understand that some horses are not yet at the level they should be, depending on their age," Martinez explained. "There are a lot of parameters that come into play when you want to see them. By waiting for them, of course, and by respecting the animal can give them a chance for a future and to become a very good horse. We need to allow them to be mentally and physically developed with almost no wear and tear to their body or mind. Such horses will generally have a longer career. Forsazza is one of them. We cannot do excellent work by cutting corners!"
Photos © Flora Keller - private
Related Links
Dorothee Schneider Gets the Ride on Danciano de Malleret
Jessica von Bredow-Werndl to Develop Forsazza de Malleret
Jessica Michel-Botton Gets Ride on Filarmonie de Malleret
Stolzenberg de Malleret, New Horse for French Pony Rider Alexandre Cheret
Gerald Martinez: "Why I Stop with Embryo Transfer"
Haras de Malleret Brings the Best of German Dressage Breeding to France