FEI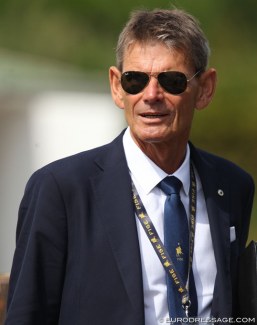 Four dressage judges have been promoted to 5* level and are now eligible to compete at the highest level championships of dressage sport. 
The FEI works with a star-level system to indicate the training and experience that judges have. 3* level judges are allowed to judge internationally at CDI's. They move their way up to the most coveted level, 5* which used to be O(lympic)-level. 
Five-star judges can judge intercontinental Championships, World Cup Finals and Olympic Games.
The four new 5* judges are Lars Andersson (SWE), Kurt Christensen (DEN), Ulrike Nivelle (GER) and Peter Storr (GBR). 
The appointment of these four new 5* judges brings the total list from 36 to 40 judges at the highest level.
German 5* judge Dietrich Plewa retired in 2020.
Photo © Astrid Appels
Related Links
German 5* Judge Dietrich Plewa Retires
Elke Ebert Promoted as a 5* Dressage Judge
Judges Halsall, Ringmark, Max-Theurer, Umbach, Lehrmann Promoted to 5* Status
Colliander, Foy, Guerra, Maknami, Saleh, Schwennesen Promoted to 5* Judging Status
Matthiesen and Sanders-Van Gansewinkel Promoted to 5* Judging Status
Baarup, Fore, Fransen-Iacobaeus, Lang, de Wolff Promoted to O-Judge Status
Lang and Bachinger Receive O-Judging Status
Gardner and Wessels Promoted to O-Judge Status