Vechta Auction News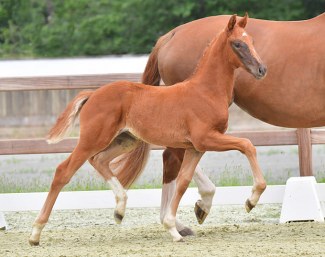 The chestnut Elitär became the price highlight of the 2020 Oldenburg Elite Foal Auction which took place online and concluded on 12 July 2020. 
Elitär is by Viva Gold x De Niro x Sion and has a proven pedigree with grand dam Elfensonne having produced the licensed Dimanche Royal (by De Niro - GP competed by Stefanie Wolf) and Elfenfeuer (by Florencio I - GP competed under Alice Tarjan and Lars Petersen). 
The filly sold for 81,000 euro to Danish stallion owner Lone Boegh Henriksen, who treated herself to a fabulous birthday present. Henriksen turned 60 last week. 
The second most expensive foal was the filly Vision Vitalis (by Vitalis x Sir Donnerhall) which sold for 32,250 euro. 
The most expensive jumper foal was Cornet van 't Roosakker (by Cornet Obolensky x Echo van 't Spieveld), which sold for 26,000 euro. 
The chestnut colt Let's Dance (by Le Formidable x De Niro) sold for 19,000 euro
Colt Fashion King (by Fynch Hatton x Furst Romancier) fetched 17,500 euro and the same price was paid for Vintage de Luxe (by Vivaldos x Sezuan). 
The highest bid for colt Glorius (by Global Player x Sir Donnerhall) was 16,500 euro, while colt Espoir d'Amour (by Escamillo x De Niro) sold for 15,000 euro.