The Netherlands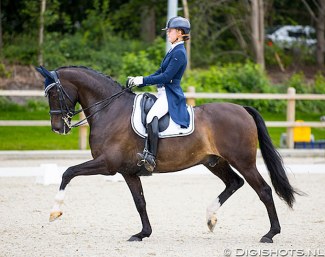 In a super efficient way the Dutch equestrian federation has organized its two team selection events in Exloo and Schijndel and can now already announnce their teams for the 2020 European Youth Championships in Budapest.
The Dutch team trials for Children, juniors, young riders and Under 25 riders concluded in Schijndel last weekend and team trainers Imke Schellekens-Bartels and Monique Peutz selected their four teams. 
The pony team will be announced after their last trial in Geesteren on 25 July.
The 2020 European Youth Championships kick off with the European Children/Junior Championships on 9 - 14 August 2020, the European Young Rider and Under 25 Championships on 17 - 22 August and the European Pony Championships on 25 - 30 August 2020. 
The Dutch teams include: 
Children
Kebie Raaijmakers - Happy Feet
Veerle Farla - Formidable
Maura Knipscheer - Amaretto
Veerle van Hof  - Don Diablo
Reserve: Elise de Loos  – Enzo
Junior Riders
Evi van Rooij  - Don-Tango B
Sanne van der Pols - Cuvanck PP (reserve horse Excellentie)
Shanna Baars  - Fernando
Robin Heiden  - Gasmonkey
Reserve: Mickey Schelstraete  - Grand Charmeur
Young Riders
Marten Luiten  - Fynona
Daphne van Peperstraten  - Cupido
Thalia Rockx  - Golden Dancer de la Fazenda (reserve horse Gerda Nova de la Fazenda)
Quinty Vossers  – Hummer (reserve horse Inferno)
Reserve: Sascha Heijmans - Flying Dutchman ACB
Under 25
Febe van Zwambagt – Edson (reserve horse Fyeo)
Jasmien de Koeyer - Esperanza
Jeanine Nieuwenhuis  - TC Athene
Mercedes Verweij  - Four Seasons
Reserve: Dana van Lierop  - Chocolate Cookie Rdp
Photo © Digishots
Related Links
Dutch Youth Selections Conclude at 2020 CDN Schijndel, Pony Riders Have First Trial
Dutch Youth Meets and Scores at First Dutch Selection Trial for 2020 European Youth Championships
Two Observation Trials to Decide Dutch Teams for 2020 European Youth Championships
Eurodressage Coverage of the 2020 European Youth Championships