Westfalian Auction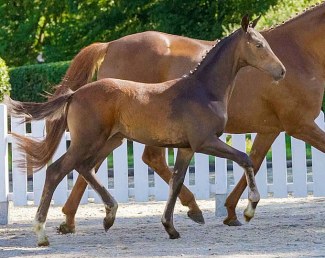 Yet another Westfalian online auction concluded, this time on 20 July 2020, and the best seller was Fine Tuning, in the collection of dressage bred foals. 
Thirty-four were presented for sale and 27 sold for an average price of 6,694 euro. Eight will move abroad.
Fine Tuning (by Franziskus x Lauries Crusador xx) sold for 15,000 euro and stays in Germany. The colt is bred by Hubert Schulze-Kappelhoff and presented by Johann Schulze-Kappelhoff.
Filly Bright Smile (by Boheian x Dresemann) sold for 10,000 euro. All other foals sold for prices below the 10,000 euro marker. 
De Niro's Joker R (by De Niro Gold x Sandro Hit) sold for 9,500 euro, Verbotene Liebe (by V-Plus x Dante Weltino) fetched 9,250 euro.
Mr B (by Marc Cain x Furst Romancier) found a new owner for 8,750 euro, while Aurelia (by Arcachon x Farewell III) sold for 8,000 euro
"Today's result can be placed in the stable, solid midfield, considering that we have already successfully sold over 160 foals this year via the Westphalian Online Auctions," said auction director Thomas Munch. 
More Auction News on Eurodressage