The Thoroughbred in Dressage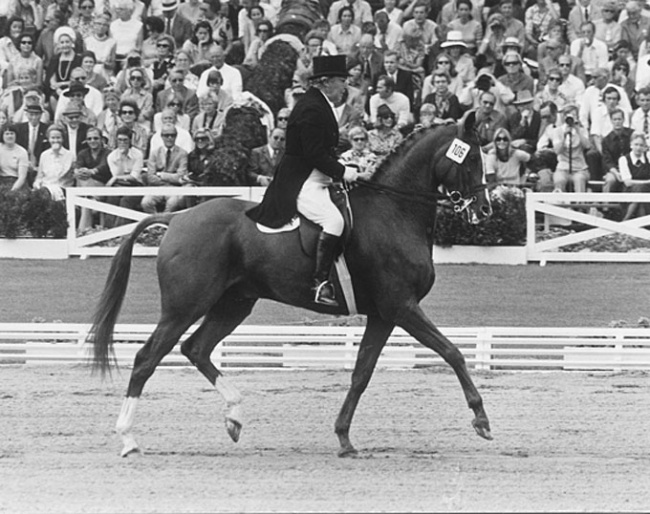 This article is a continuation in the series From Flying Past to Flying Change: Thoroughbreds in Dressage Competition. Read Part I, Part II, Part III, and Part IV.
At a time when even riders from countries which traditionally used thoroughbreds in equestrian sport were looking for German or Swedish warmbloods for dressage, a very experienced English lady in her 60s, Lorna Johnstone, bought a young dressage prospect that would astonish the dressage scene at the 1972 Olympic Games in Munich.
El Farucco xx
British Lorna Johnstone, one of the pioneers of British dressage, was used to buying her dressage prospects at the Ascot Sales. In 1966 she acquired a highly refined chestnut gelding and named him El Farucco xx, perhaps after the world famous Spanish flamenco dancer. The horse had been a successful steeplechaser before. Like all her horses El Farucco (by Roman Air xx), in true English style, enjoyed hunting all winter long and was presented in dressage competitions over the summer months.
Johnstone already rode dressage before the war and after it took part in the first clinics given by renowned instructors from the continent. Later she sought regular help from the French Francois Cuyer who was considered not only as a good trainer in his country, but a specialist regarding piaffe and passage work. It was Cuyer who also helped Johnstone with El Farruco xx. 
El Farucco and his rider would become the dressage sensation of the 1972 Olympic Games in Munich for several reasons.
Johnstone, who was nick-named the "galloping granny," celebrated her 70th birthday at the Games, making her the oldest athlete in Munich and that drew a lot of attention in general, not only among the equestrian fans. Her highly refined thoroughbred gelding also stunned the knowledgable crowds in front of the picturesque Nymphenburg Castle, where dressage took place. His natural movements and his sparkling expression were second to none there and produced an elegance people were looking for in dressage at that time. The judges well awarded the ride and Johnstone became the first British dressage rider who made it into the individual final at an Olympic Games. She admitted she did not even learn the program as she never expected to make the final. There they placed 12th, a feat only to be surpassed 12 years later by Christopher Bartle with his 7/8th bred Wily Trout, who finished 6th in Los Angeles.
El Farruco xx not only became British champion several times, but was also successfully competed by other British Olympians for Lorna Johnstone. The late Diana Mason told Eurodressage in 2010 that the gelding had been a most attractive and charming little horse who had a very nice character. Diana showed El Farruco at HOYS in London after having only sat on him three times before the show took place. She found him quite straight forward to ride. Diana's regular team-mate Trish Gardiner also competed the horse for Johnstone and was even short-listed with him for the 1976 Olympic Games in Montreal.
Tarif xx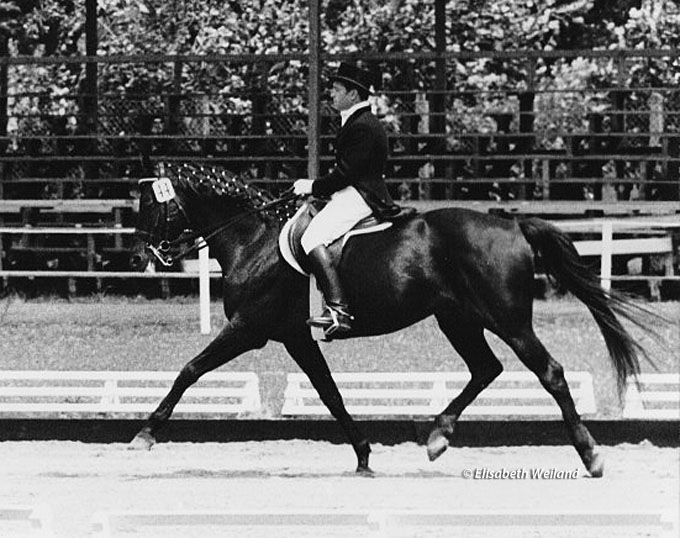 While El Farruco was the secret sensation of Munich, another highly elegant thoroughbred was the most successful of his breed at those Games: The Russian bred black stallion Tarif xx (* 1962 by Faktotum xx) with the experienced Soviet rider Ivan Kalita won the team gold medal and placed in an excellent 6th spot individually.
Tarif had already been on the victorious team of the Soviet Union at the 1970 World Championships at Aachen and became a firm support of his country's strong dressage team in the first half of the decade. In 1973 he even won the individual bronze alongside team silver at the European championships at Aachen and almost repeated this success two years later in Kiev by coming 4h in the individual competition and obtaining another team silver, which had also been the colour for the team of the Soviet Union a year before at the 1974 World Championships in Copenhagen.
Tarif's swangsong was the 1976 Olympic Games in Montreal, his first championships where he finished out of the medals when the team came 4th.
Souliman xx and Chigwell xx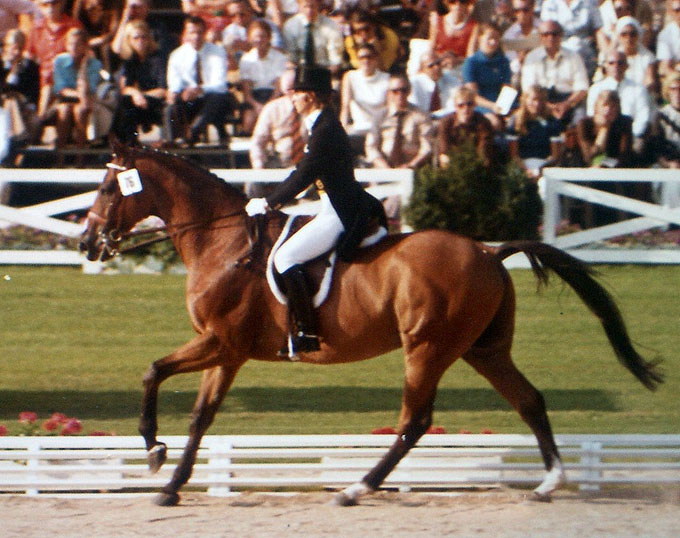 At the 1972 Munich Olympic Games two ladies competed on the Danish team on thoroughbred horses: Young Charlotte d'Arcis (née Ingemann) with the brown Souliman (by Sovereign xx) and Ulla Petersen with Chigwell xx (by Dumbarnie xx).
Souliman xx was bred by a renowned breeder in Denmark and sold as a yearling to Charlotte's aunt Enid Ingemann, a racing enthusiast who had hoped to finally have a future derby winner in him. However Souliman did not live up the expectations, so he was turned into a dressage horse under the watchful eye of Danish master trainer, the late Gunnar Andersen, who had returned from the USA and trained horses for the Ingemann family and took care of the Danish dressage team in the 1970s.
Following the death of her aunt, Charlotte was forced to sell Souliman after the 1972 Olympic Games to a German amateur rider, and this is where the horse's international career ended.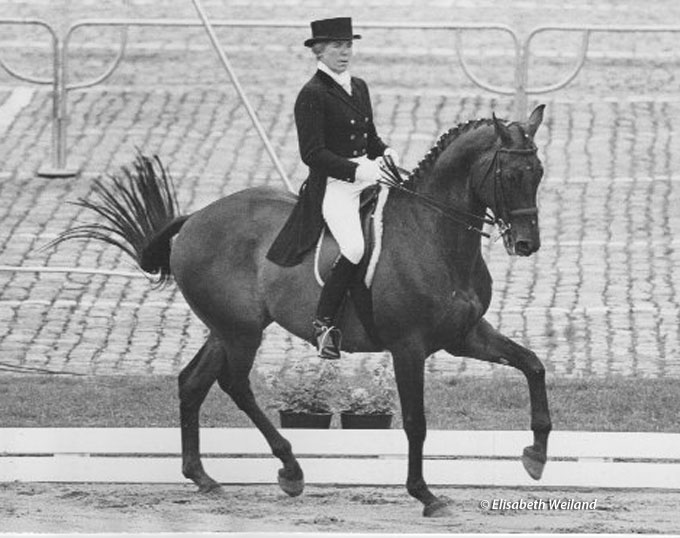 The elegant English bred gelding Chigwell xx became a regular sight on international shows and on the Danish team for many years to come. In his own country Chigwell took the Danish championships title no less than five times between 1972 and 1978.
Cramique xx
Around the time El Farruco appeared on the international scene, another chestnut thoroughbred would become a regular  in the first half of the 1970s: Cramique xx who would revive the elegance of the French style, so famous and full of aspiriation in the 1930s.
Bred in France in 1959 and sired by Lavandin xx, this highly elegant horse became a successful steeplechase horse in his country, but a tendon injury stopped his racing career. He was given to the Cadre Noir in the mid 1960s on the advice of its chief rider, Colonel Jean de Saint-André. The latter wanted to revive dressage in his country and saw potential in Cramique xx, who stood 170 cm, a respectable height for his breed and also for a horse at that time.
First trained by the experienced Colonel Brau, Cramique got allocated to Jean-Marie Wattier, who won t French championships in 1968, the first title for Cramique. However it was only when Colonel de Saint-André matched the sensitive horse with the young and immensely talented écuyer Patrick Le Rolland that Cramique xx would get the attention on the international stage.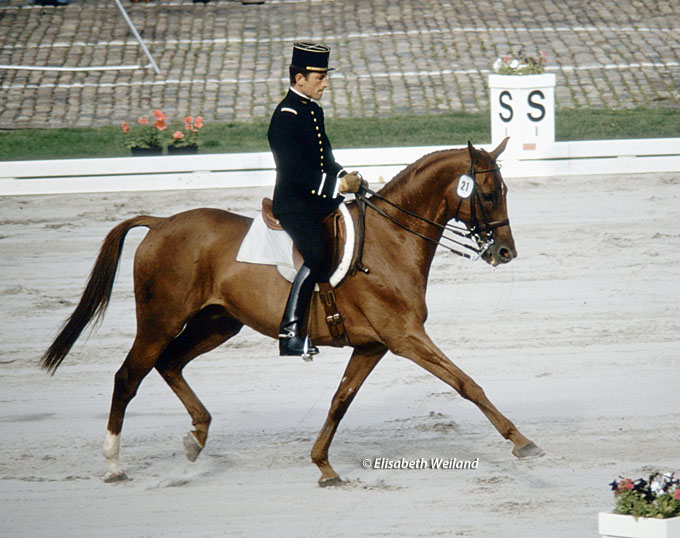 The truly dainty and extremely elegant horse came a surprising 3rd in the Aachen Grand Prix shortly before the 1972 Olympic Games. Unfortunately there he went lame during his Grand Prix ride and finished in 23rd place, much to the disdain of the spectators, who could not understand that he was not eliminated by the chief judge Gustaf Nyblaeus.
The incident did not hinder the pair to become increasingly popular for the beauty and aesthetics they displayed and they revived the interest for this discipline in their own country, France.
Cramique xx achieved remarkable success between 1973 and 1975. He led the French team to a 4th place at the World Championships in Copenhagen 1974 while placing 7th individually. Le Rolland achieved the special feat of becoming the first rider in the history of FEI Dressage competition to get a 10 for his unequalled seat and position while competing Cramique xx, both a sight of rare elegance.
Keen xx
Around the time when the French thoroughbred's career came to an end with his premature death in 1976, another launched his international career, but typewise the horse could not be more different: Keen xx.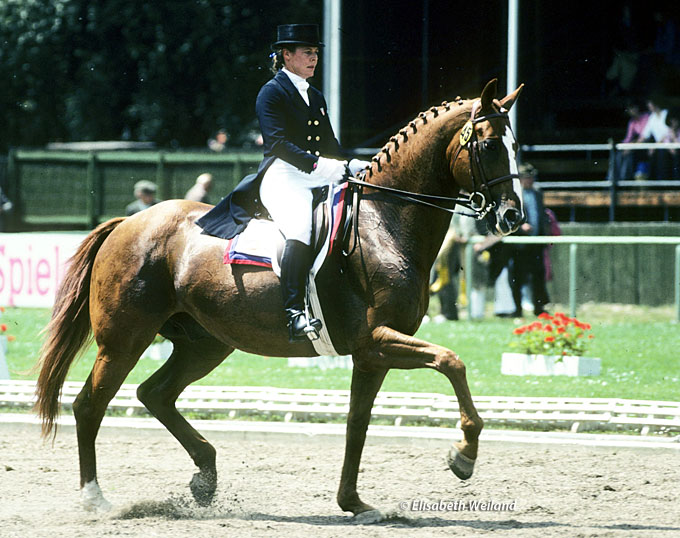 Bred in California in 1966 and sired by Moneybroker xx, the big framed gelding just kept on growing and growing, until he would not fit in any start box on the track which hindered him to become what he was bred for: a race horse. Keen xx who would stand 17.2 hh in the end was bought as a 3-year-old for 1,000 dollars by Hilda Gurney who discovered him out in a pasture with some cows.
Unlike many of his breed, Keen more resembled a refined warmblood than the typical thoroughbred type. He had a very advantageous conformation and three very good gaits.
Horse and rider are legends today, but back then Hilda was just a young school teacher, who was an upcoming eventing rider, with a thoroughbred. Both approached dressage without much experience at it. However, Hilda regularly travelled to the American Dressage Institute in New York where she trained with former SRS rider Franz Rochowanksy and the Swedish Olympian Bengt Ljungquist.
Hilda's hard work and devotion and Keen's talent and high energy level paid dividends from the mid 1970s on. Keen xx embarked on the international scene as a completely unknown horse, winning the team gold and individual silver at the 1975 Pan American Games in Mexico-City and was a real sensation a year later at the 1976 Olympic Games in Montreal. There he placed 4th in the Grand Prix behind the top favorites and strongly contributed to the USA's first team medal since 1948.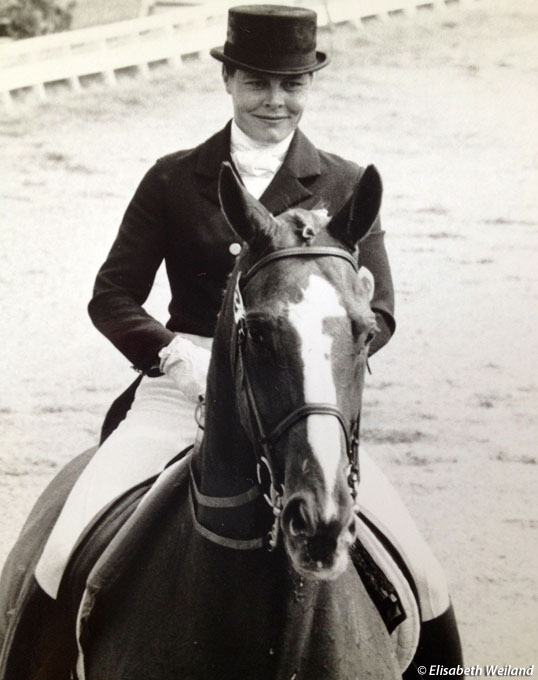 Unlike many thoroughbreds, Keen xx had the conformation to really lower the haunches and sit in the piaffe and it became one of the very best of his time and maybe even beyond. The international experts were stunned by the horse's limitless talent and a German even offered Hilda a blank cheque which she refused with no regrets. Keen remained American and until 1980 was on a steady rise, placing 4th in the Aachen Grand Prix in 1978 just before the World Championships in Goodwood where he came 7th individually and was described by the German national coach Willi Schultheis as one of the best horses in the field.
After Keen's double gold medal at the 1979 Pan American Games in Puerto Rico, he sustained a serious neck injury which left him in the field for three years, before he made one last Olympic appearance in Los Angeles 1984 where he was the best horse on the US team and finished 14th. Keen's love for work and his never ceasing energy allowed him to compete well into his 19th year of age, after he was ridden by a young Kathleen Raine before he died of a stroke with 23.
Bull Market xx
While Keen undoubtedly was  the most remarkable thoroughbred of the 1970s and 1980s, if not in the history of dressage competition, he was not the only one on a USET team in dressage during that time.
At a show in California in 1971 Keen won the Senior Working Hunter class ahead of another Californian bred thoroughbred that would join him 7 years later at the 1978 World Championships in Goodwood: Bull Market xx.
Born in 1965 and sired by Solid Endeavor xx out of a dam by Sportswriter xx, this 16.2 hh gelding was bought as a 2-year-old by Alexsandra Howard to become a jumping horse. Like Keen xx, "Bully" as he would become known, changed owners for the moderate price of 1,000 US dollars to become a well accomplished dressage horse later on.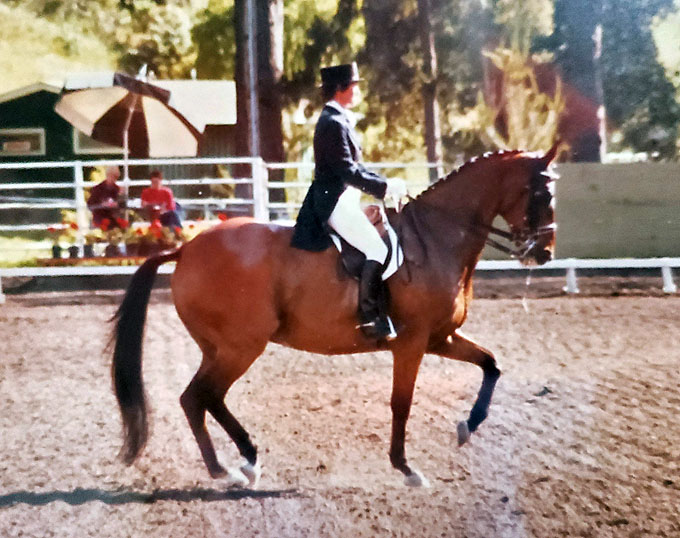 Bull Market xx did not have a meteoric rise like his contemporary Keen xx, but Alexsandra Howard left no stone unturned and sacrificed a lot when she travelled from California to the East coast where the North American Dressage Institute in New York offered the valuable help of men like Colonel Bengt Lungquist. There she stayed from 1975 to 1976.
Bull Market xx became a Grand Prix horse which dominated Californian dressage together with Keen xx for years to come, but he also made the USET in dressage three times. In 1978 he flew over to Europe for the first time as he was chosen to represent the USA at the World Championships in Goodwood, but an injury sustained while traveling held him at bay. Two years later Howard and her thoroughbred returned to the same location to compete on the US team at the 1980 Olympic Festival after the Olympic Games in Moscow were boycotted by her country and many others. The same year both won the legendary Dressage at Devon. Bull Market's final team appearance had been the World Championships in Lausanne in 1982 at the age of 17.
The two careers of Keen xx and Bull Market xx, both "unraced" American thoroughbreds, showed what was possible at the  time with two horses not specifically bred for their job. Acquired for little money, but trained by riders who completely devoted themselves to the sport and who received classical instruction.
Continue reading: From Flying Past to Flying Change - Part VI: The Thoroughbred in the 1980s and 1990s
Text by Silke Rottermann for Eurodressage
Photo courtesy: Charlotte d'Arcis private archive - Elisabeth Weiland - Anne Howard
Related Links
From Flying Past to Flying Change - Part IV: On Thoroughbreds Losing Relevance in Dressage