The Thoroughbred in Dressage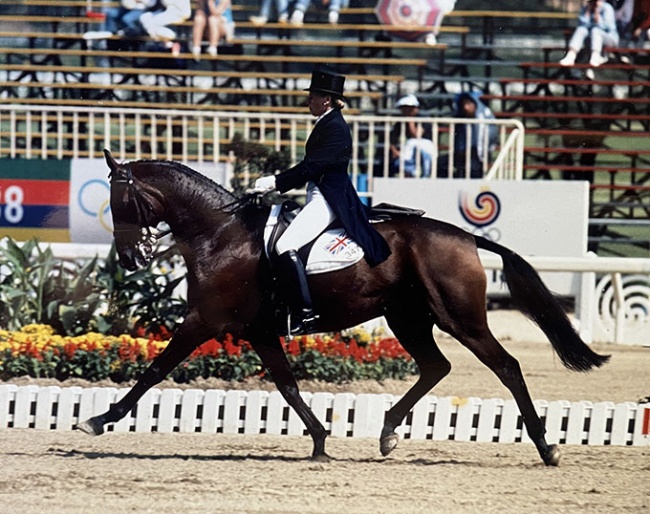 This article is a continuation in the series From Flying Past to Flying Change: Thoroughbreds in Dressage Competition. Read Part I, Part II, Part III, Part IV, and Part V.
Crown Law xx
The end of the 1970s were the time when the first dressage riders from Australia made tender approaches onto the international dressage scene. Judith Mackay was the first to compete amongst the world elite at the 1980 Olympic Festival in Goodwood on her stock-horse Debonair, followed by the first Australian dressage Olympian, the late Margaret McIver on the big framed Australian bred thoroughbred C.K. xx in Los Angeles 1984. They spent their preparation for the Games with the late German Fritz Tempelmann.
The scene was very different from today where Australia breeds their own high quality warmbloods and warmbloods rule the roost in dressage also on the fifth Continent. At that time it was the Australian thoroughbred horse people had easy and affordable access to. A very special one was born in 1971 at Erica and Les Taylor in the south of the country: Crown Law xx.
This rather petite chestnut stallion was the result of an accidental coverage of a thoroughbred mare that the Taylors got as a payment for a float. Already as a foal his absolutely outstanding character was recognized. While the thoroughbred often has conformation challenges for their riders, Crown Law had a very good exterior to become a dressage horse and his rider did not face any problems in his training.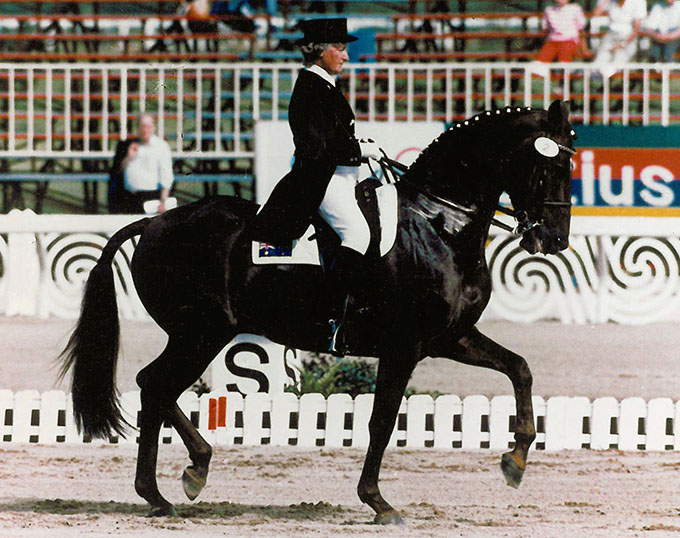 Erica Taylor was not unknown in Australian dressage and had already won several National Championships titles on different levels before she got the horse of her lifetime, Crown Law. She described him as relaxed, extremely intelligent and very willing, the ideal and often dreamt of interior for a dressage horse.
Crown Law became the winner of the "FEI Haig Cup" (a series of PSG level competitions in developing dressage countries in the 1980s) three years in succession, from 1983 to 1985.
While he was already a very well trained horse, the collaboration with the late Wolfgang Hölzel made the horse, who was nick-named "William", an international competitor. Hölzel, a native German who had been head of training at the German Riding School in Warendorf before, became the Australian national coach for several years and accompanied Crown Law's international career.
In 1986 the horse was selected to represent Australia at the World Championships in Cedar Valley near Toronto and Erica Taylor and Crown Law were pretty much strangers to the international scene. But both left an excellent impression among spectators and experts alike. The horse's elegant and effortless way of moving, the purity of his gaits and the very good piaffe and passage allowed him to place 17th among 44 starters. Some experts considered the pair pretty much underscored because they came from a non-dressage-country and had no reputation prior to the championships.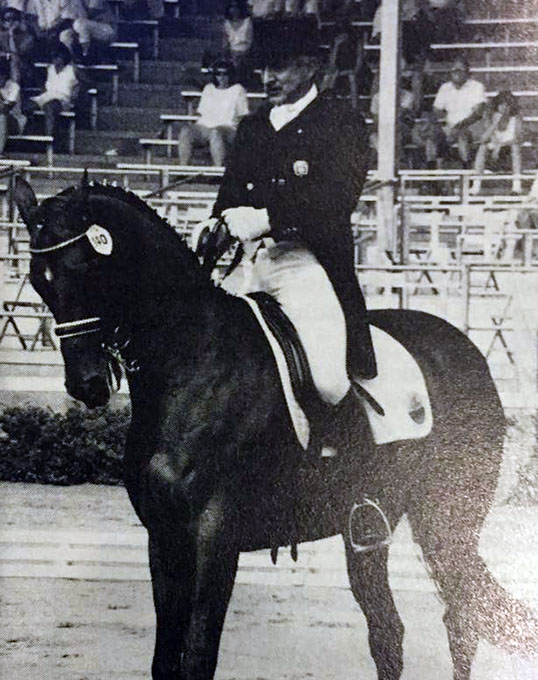 Two years later both were the sole Australian dressage competitors at the 1988 Olympic Games in Seoul where Crown Law at the age of 17 again left an excellent impression, though he did not make the Grand Prix Special. The 1988 Seoul Olympics became the last in a long series of Games, since equestrian became Olympic in 1912 in which thoroughbreds had competed in every single Games in dressage. (Read more about Erica Taylor and Crown Law in The Horse Magazine).
Apart from Crown Law, two 11-year-old thoroughbreds were shown in Korea.
El Sahib xx
The first ever dressage competitor from Columbia, Hector Rodriguez, rode a Columbian bred bay gelding El Sahib xx (by Caraqueno xx).
Like Crown Law, El Sahib xx had won the Haig Cup at PSG level in his region in 1986 which shows that this early concept of fostering dressage in "developing" dressage countries worked well. After taking part in the 1986 World Championships, El Sahib was shown with good success in Europe in 1987 where he placed in some renowned CDI's.
Prior to Seoul he was also the first horse for Columbia to attend a World Cup Final in 1988. The horse later shone on the US circuit with top three placings in important CDI shows in 1991.
Wily Imp xx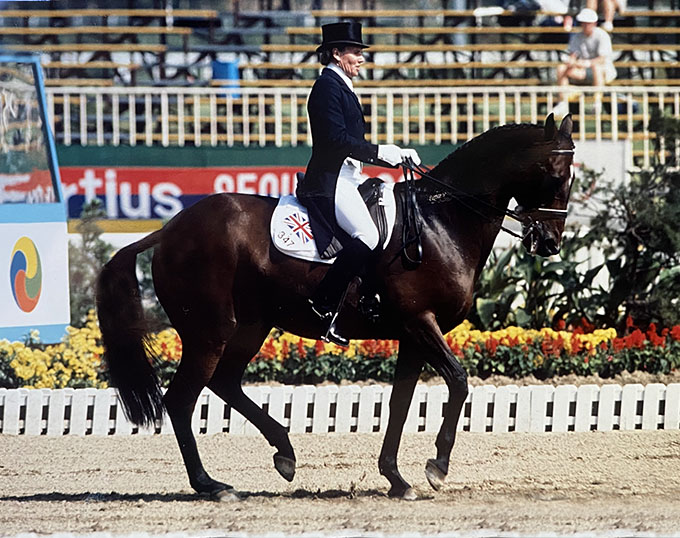 On the British team in Seoul the attractive dark brown Wily Imp xx was competed by long-time team member Trish Gardiner and missed the Grand Prix Special almost by the skin of his teeth. Gardiner, who today is known for being Valegro's "happy hacker", devoted her dressage career to the English thoroughbred and her Olympic ride on Wily Imp earned her positive recognition even from the German press back then.
The gelding by Impersonator xx competed in the 1987 European Championships in Goodwood and in 1991 in Donaueschingen. He also became British national champion in 1987.
Stirling Wilton xx, Mago xx
At the inaugural World Equestrian Games in Stockholm in 1990, Australia for the first time was able to send a dressage team to an international championships. On this team a pair stood out for that they placed a remarkable 36th of 68 starters at their championships debut: The native English Rozzie Ryan on the brown thoroughbred gelding Stirling Wilton xx. Just like Rozzie, the gelding started his career in eventing, but it would be dressage in which he and his rider found their destiny.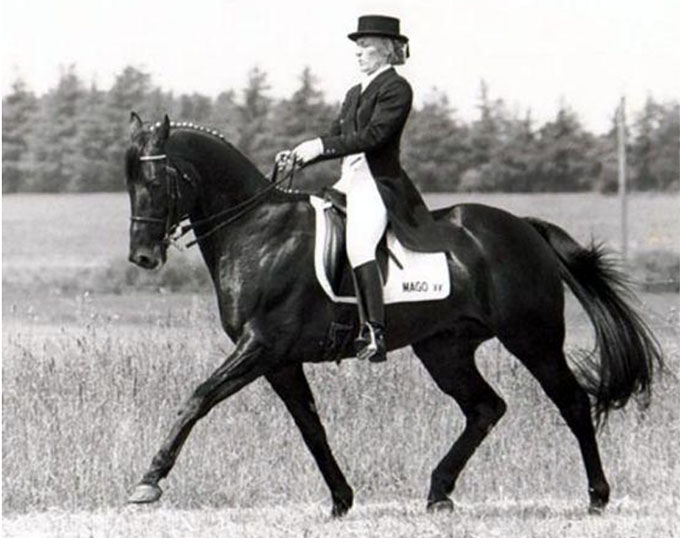 A year later at the European championships in Donauschingen the 8th placed Danish team included an 11-year-old thoroughbred stallion with the typical finesse and elegance of this breed: Mago xx by Diligo xx to of a Hornbeam xx dam, ridden by Margit Örum. Licensed in 1985, Mago xx almost made the 1992 Olympic team of Denmark and can be regularly found over all in the dam-line of dressage horses. Apart from that he sired the internationally successful dressage horses Miracle's Mirage, Maxim and Mastermind.
Arrak xx
In the second half of the 1990s Germany's Monica Theodorescu, a three time Olympic team champion and German national dressage coach today, appeared on the international dressage scene with a highly elegant black thoroughbred who was especially successful in the World Cup circuit. Arak xx (*1982 by Rocket xx-Espresso xx) came into her stables as a 5-year-old as a "project." It appealed to her to see how far she could come with this sensitive gelding, even though she faced some challenges in his training over the years which were related to his breed.
In 1994 Arak xx already placed 4th in the World Cup kur in Aarhus and 5th in Berlin, but two years later he really was on a roll. Starting in four World Cup qualifiers, he never placed lower than 5th and was even 2nd in Berlin. Thanks to his consistent success Arak qualified for the World Cup Final 1997 in 's-Hertogenbosch where he finished with an excellent 6th place.
The disappearance of xx in Dressage
Even though thoroughbreds were still occasionally seen competing at the highest level in Great Britain, the USA and Australia, their appearance on the international scene faded significantly at the beginning 1990s. Had the 1984 Olympic Games still five of them in the Grand Prix in dressage, as of the Games in Barcelona 1992 none made it to Olympic Games ever again.
Today big moving warmblood horses, most of the time with excellent conformation and outstanding gaits, set the tone. Andalusian, Lusitano and even Friesian horses have managed to enter the stage. Unlike the thoroughbred, their number is increasing since the mid 1990s and thanks to changes in their breeding some of them move pretty much like the traditional warmblood breeds today.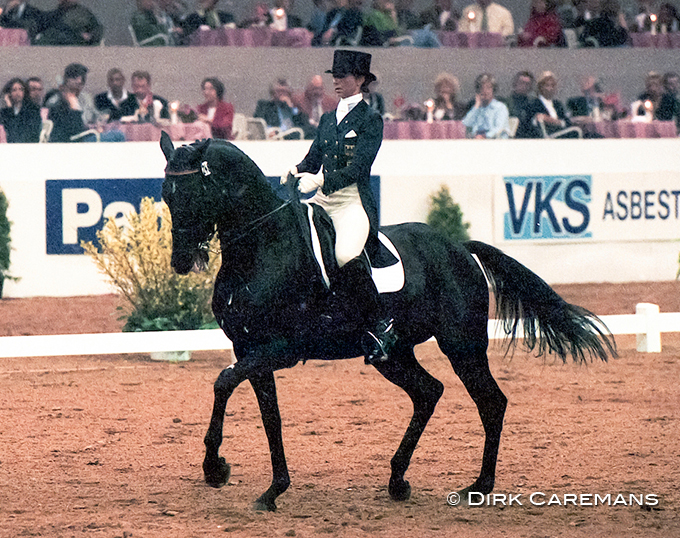 Unlike them, the thoroughbred has never been bred to excel in dressage. The thoroughbred often needs remedial dressage training to overcome challenges in conformation and to develop the gaits. A lot of patience and dedication are required to bring a thoroughbred to the higher levels, while the highly specified warmblood breeds of today deliver horses which have innate qualities which the thoroughbred has to achieve through training.
The development of the different warmblood breeds in more recent times with their now very specific way of moving and also a certain change in training approach have sadly eliminated a breed which can create a dance flair in the arena second to none.
"A good horse has no colour and a good dressage horse has not only one possible conformation or calibre," George Theodorescu once said. HIs range of horses he trained to international Grand Prix-level might be unparalleled. And while the truth of his words cannot be doubted, the circumstances in which international dressage sport happens today sadly excludes a breed like the thoroughbred.
Continue Reading: Being Successful with Thoroughbreds - Two Examples of Our Days: Louise Robson
By Silke Rottermann for Eurodressage
Photos © and courtesy Elisabeth Weiland - Dirk Caremans - Joan Gach - private archive
Related Links
From Flying Past to Flying Change - Part V: The Thoroughbred in the 1970s
From Flying Past to Flying Change - Part IV: On Thoroughbreds Losing Relevance in Dressage
From Flying Past to Flying Change - Part III: The Thoroughbred from the Post-War Times into the 1960s
From Flying Past to Flying Change - Part II: Thoroughbred Champions Between the Wars
From Flying Past to Flying Change - Part I: Thoroughbreds in Dressage Competition