Germany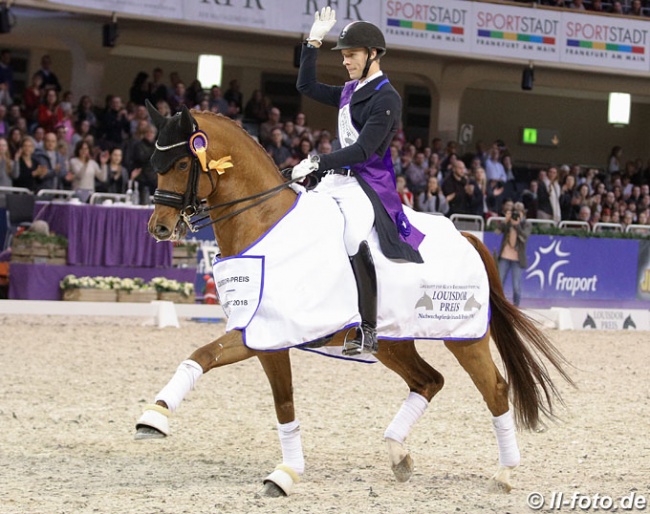 After the cancellation of the 2020 World Cup qualifier CDI-W Stuttgart in November, question marks were raised about the viability of the 2020 CDI-W Frankfurt. 
On 29 July Oceanside Events, the firm behind Ann Kathrin Linsenhoff and Matthias Rath that organizes the CDI-W Frankfurtn announced a stop on the ticket sales. 
"As a show organizer we can't lose sight of the current Covid-19 limitations for shows," said the organisation. "So please don't be surprised about our current ticket stop. As soon as there are changes, we'll notify all."
From Frankfurt to Kronberg?
The news was spreading that Frankfurt would be cancelled and the Nurnberger Burgpokal and Louisdor Cup Finals hosted at Linsenhoff's private yard, Gestut Schafhof in Kronberg. The Piaff Forderpreis Finals, which were supposed to take place in Stuttgart, would also move to Kronberg.
Oceanside has confirmed to Eurodressage that the CDI-W Frankfurt in the Festhalle exhibition center is still a go.
"We are still planning the "Festhalle" as usual," Fabiana Rutsch, the show managers behind Oceanside Events, told Eurodressage. 
Frankfurt is Still a Go
Due to the corona pandemic the amount of people allowed at indoor events has been limited by the German government and it is unsure what the measures will be in the winter of 2020. 
Frankfurt still wants to allow spectators to enjoy the show, but only the governement ste amount of audience will be allowed in the buidling. 
"We only (stopped the ticket sale) to be able to host the spectators, even under Corona-measures," Rutsch explained. "As we have been selling tickets since last event already, without the current distance-obligations, we needed to keep an eye on the numbers."
The World Cup qualifiers in Madrid and Stuttgart have already been cancelled, the CDI-W Herning has moved from the exhibition center to the national equestrian centre in Vilhelmsborg to cut costs. 
Photo © LL-foto
Related Links
CDI-W Stuttgart Canceled, More 2020 Indoor Competitions at Risk due to Corona Measures
Danish World Cup Qualifier for 2020 Moves from Herning to Vilhelmsborg
FEI Dressage Calendar Shows New CDI Dates and Covid Additions