Oldenburg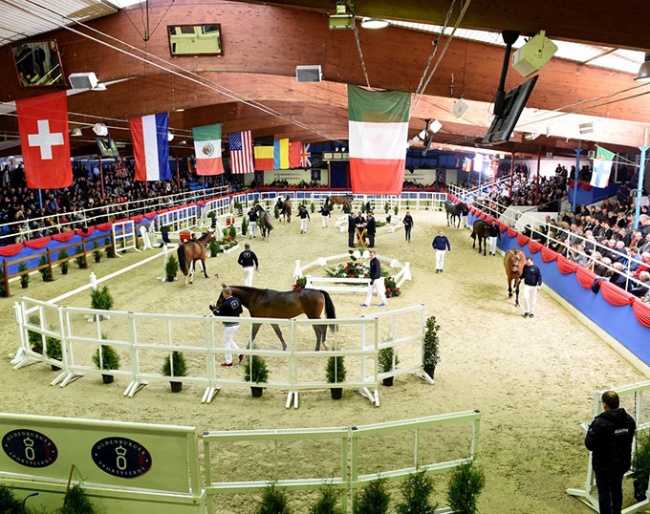 The 2020 edition of the Oldenburg Stallion Licensing in Vechta will go in the books as one without an audience. Due to COVID-19, the Oldenburg breed society decided to host the event behind closed doors.
The Oldenburg Stallion Days will take place from 19 - 21 November 2020 at the the Oldenburg Horse Center in Vechta. 
"Due to the current Corona requirements there will be no audience and therefore no ticket sales," said the Oldenburg press office. "However, you have the opportunity to follow the Oldenburg Stallion Days with all the highlights via livestream."
The Oldenburg (OL) stallion pre-selection will take place on 9, 10 and 12 October 2020. 
Related Links
Bellany Named Champion of the 2019 Oldenburg Stallion Licensing
Global Player, Champion of the 2018 Oldenburg Stallion Licensing
Benefit, Champion of the 2017 Oldenburg Stallion Licensing
Furst Fabrice, Champion of the 2016 Oldenburg Stallion Licensing 
Bonds, Champion of the 2015 Oldenburg Stallion Licensing
Morricone, Champion of the 2014 Oldenburg Stallion Licensing
Don Deluxe, Champion of the 2013 Oldenburg Stallion
Follow Me, Champion of the 2012 Oldenburg Stallion Licensing
For Romance 2011 Oldenburg Licensing Champion, Tight Junction Steals the Show
De Martino Captures Champion's Title at 2010 Oldenburg Stallion Licensing
Fairbanks, Champion of the 2009 Oldenburg Licensing
Furstenball, Champion of the 2008 Oldenburg Stallion Licensing
Sieger Hit, Champion of the 2007 Oldenburg Stallion Licensing
Sandro Hit Euphoria At 2006 Oldenburg Stallion Licensing
Marketing Above Quality at the 2005 Oldenburg Stallion Licensing
Furst Heinrich Fledglings Fly High at 2004 Oldenburg Stallion Licensing
Don Kennedy, Champion of the 2003 Oldenburg Stallion Licensing