2020 Bundeschampionate Qualifiers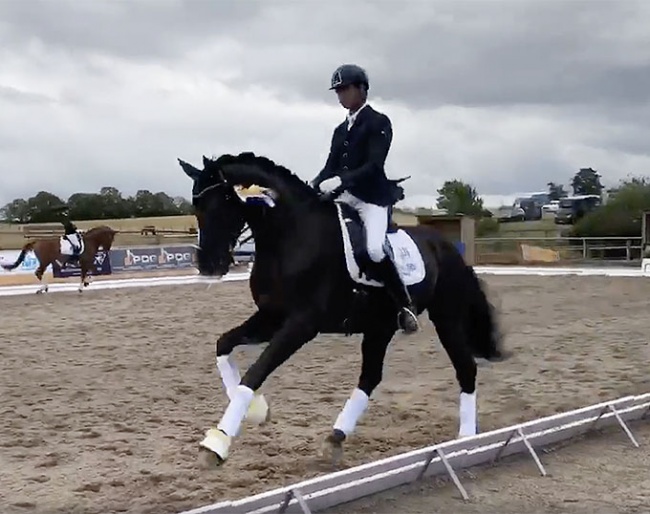 The 5-year old Beuys and the 6-year old Quattro Milione were the winners of the Bundeschampionate qualification classes held at the regional show in Pohlheim on 23 August 2020.
The show was one of the last qualifiers in Germany for the Bundeschampionate in Warendorf on 2 - 6 September 2020, which will be held without an audience due to corona. 
In the 5-year old division at Pohlheim the Portuguese Carlos Caetano topped the board on Rhenania's Hanoverian stallion Beuys (by Belantis x Lauries Crusador xx). The pair scored 8.3 as judges Andrea Haller-Schlittgen, Dieter Scheerman and Carsten Munk rewarded the black stallion with 8.5 for walk and canter, 8 for trot and submission and 8.5 for general impression. Anna-Catharina Schöffner and Gesine Kuntz' Hanoverian gelding Damion (by Damon Hill x Sir Donnerhall) were second with 8.2. The chestnut got 7 for walk, and 8.5 for trot, canter, submission and general impression. 
In the 6-year old division, judges Ralph Stitz, Carsten Munk and Dieter Scheerman preferred Dorothee Schneider on Fred Wendt's Oldenburg gelding Quattro Milione (by Quantensprung x De Niro). The pair scored 7.5 for walk, 9 for trot, and canter, 8.5 for submission and 9 for general impression which totalled into a winning 8.6. The runner up was Carlos Caetano on Rhenania's Westfalian gelding Federer (by Franzikus x Damon Hill). They got 8.5 for walk and trot, 8 for canter, 7.5 for submission and 8.5 for general impression to finish on 8.2 points. 
Results - 2020 Bundeschampionate Qualifier - Pohlheim
5-year olds
1 Carlos Caetano - Beuys (by Belantis I / Lauries Crusador xx) - 8.3
2 AnnaCatherine Schöffner - Damion (by Damon Hill / Sir Donnerhall) - 8.2
3 Jula Mayer - Sir Mokka Rocker (by Sarotti MoccaSahne / Dancier) - 8.1
3 Meike Lang -  Mali le beau (by Millennium / Quaterback ) - 8.1
5 Claudia Rassmann - Quedez (by Quantensprung / Sirtaki ) - 8
6 Johanna Laing -  Dante Royal (by Dante Weltino / Lord Sinclair) - 7.6
7 AnnaCatherine Schöffner - D' Agostini (by Don Nobless / Florestan) - 7.5
8 Anna-Luisa Herrmann - Divergent (by Diamond Hit / Ehrentusch) - 7.4
9 Kahra Alena Baumann -  Passion (by Grey Flanell / Sir Donnerhall) - 7.3
9 Carina Harnisch - Sheldon Cooper (by Sezuan / Rosenstein) - 7.3
9 KlarissaAlexandra Liss - Diva Benita L (by De Niro / San Amour) - 7.3
12 Henning Schlumbohm - Finest Star K (by Finest / Sir Donnerhall) - 7.1
12 Judith Knoch - Gretah (by Grey Flanell / Sir Donnerhall ) - 7.1
Dorina Wagner - For Diamonds Royal (by For Romance I / Rohdiamant) - RET
6-year olds
1. Dorothee Schneider - Quattro Milioni (by Quantensprung / De Niro) -  8.6
2 Carlos Caetano -  Federer (by Franziskus / Damon Hill) - 8.2
3 Anna-Catherine Schöffner - PBM Cosmopolitan (by Concetto / Larimar) -  8.1
4 Anina Gerhardt - Fürst Romantique (by Fürst Romancier / Flavio) - 8
5 Claudia Rassmann - Fireball MZ (by Franziskus / Donnerball ) - 7.6
5 Paulina Holzknecht -  Donnie Walker (by Den Haag / Belissimo M) - 7.6
7 Jana Freund - Lord Sandro K (by Lord Leopold / Sandro Song) - 7.4
8 Kim Pfeiffer - Speedway (by Schwarzgold / Anduc) - 7.3
9 Timo Kolbe - Lucky Diamond (by Like a Diamond NRW / Fürst Piccolo) - 7.2
10 Constanze Lindner - Bambolejo (by Best of Gold / Weltmeyer) - 6.6
Pia Sophie Wahlers - First Finest Lady (by  Finest / Donnerhall) - RET 
Jovanca Marie Kessler -  Frandanus (by Franziskus x Concetto) - ELI
Related Link
Eurodressage Coverage of the 2020 Bundeschampionate