2020 Norwegian Dressage Championships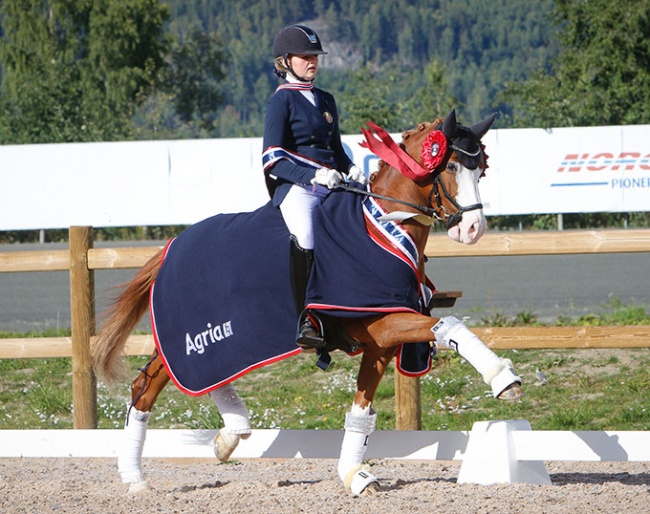 Pony rider Emma Løkken, junior rider Mathea Karlsen, young rider Siri Thelle Tønnesen, Under 25 rider Mathilde Merethe Klaesson and senior Grand Prix rider Louise Almlund Løkken were the winners at the 2020 Norwegian Dressage Championships held at the Gjøvik riding club on 26 - 30 August 2020. 
Youth in Charge
No less than 28 combinations took part in the Norwegian Pony Championships for category 1 ponies (D-size) and it was Emma Løkken on the 7-year old stallion Vercingetorix VB (by Voyager x Champion de Luxe) who finished on the highest step of the podium. They won the team test with 73.291%, were second in the individual with 73.089% and in the Kur with 76.350%. However her total of 222.730 points gave her gold. Sondre Torp Kristiansen and the 11-year old Danish bred Filur af Grønagergård (by Vasehojs Kashi) got silver with a total of 221.229 points. They posted 70.256%, 74.553% and 76.420%. Thea Victoria Harlem and the 14-year old Dutch bred Schermeer's Hof Simba (by Bodo x Cupkehofs Winobert) got bronze with 213.053 points. They scored 69.616%, 69.512% and 73.925%.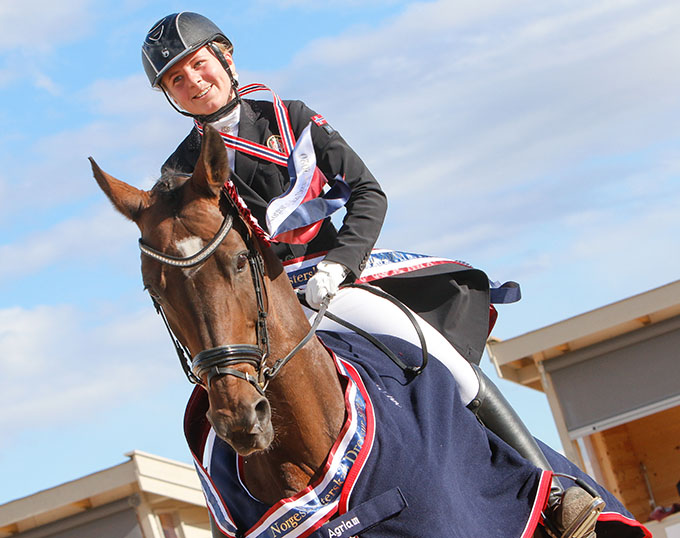 "It has been so much fun to start in my first Nationals with Vercingetorix VB," Emma told Dressursaklart.no. "The first two days I was very nervous, but today (kur day) I felt that I could just enjoy myself. I'm so grateful to ride such a nice pony. He has behaved very well, and did exactly what I asked for."
The Norwegian Championships also features an FEI pony level devision for smaller sized ponies. The winner was Thia Elise Nielsen on the 10-year old gelding Gjerdals Firefly (by Ekras Brilliant Edition x Vognmandsgårdens Firelight). She scored three times between 66 and 69% for the victory. Hedda Strandengen got silver, while Kaja Sipperstoen earned bronze in the category.
In the junior category, Mathea Karlsen and the 19-year old Danish warmblood mare Ravell's Hexia (by Hertug x Aspirant) stormed to the top. She ruled in the team test with 69.234%, dropped to third place in the individual with 67.807% and was back in the number one spot in the Kur with 72.620%. Her golden total was 209.661 points. The silver medal went to Maren Aarflot Strandheil with the 8-year old Danish mare Svalegards Alanya (by Tailormade Attention x Akinos), who improved throughout the weekend, scoring 66.937%, 68.289% and 69.470% to total 204.696 points. Nora Windgaetter and the 9-year old mare Noesmindes Miami (by Blue Hors Rockefeller x Michellino) scored the bronze with 204.054 points after earning 67.342%, 68.202% and 68.510%.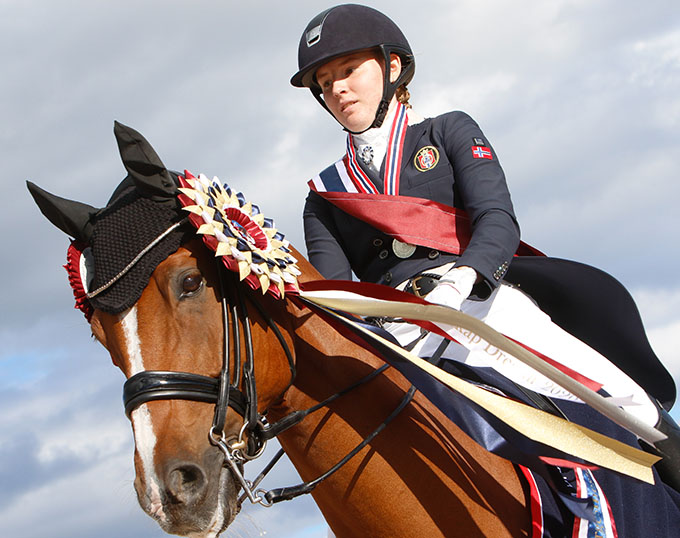 "Hexia is a fantastic horse who wants to do everything for me, and she has worked like a hero all weekend," Mathea told Dressursaklart.no. "The event has been absolutely fantastic and I have enjoyed myself. This gold means a lot because it is my first."
Siri Thelle Tønnesen and her 10-year old Bonifatius (by Belissimo M x Abanos) ruled the roost in the young riders division even though it was a neck to neck finish with silver medalist Anine Mørch-Aas on the 15-year old Swedish bred Maserati (by Metall x Purioso). Tønnesen scored a winning 69.298% in the team test, was second in the individual (70.746%) and then back on top in the freestyle (71.935%). Their golden total was 211.979 points. Mørch-Aas, who was the 2019 Norwegian Junior Champion, began with 69.079% in round 1, upped it to 70.921% in the individual test and posted 70.330% in the freestyle (total points 210.330). Josefine Amanda Hilling and the 9-year old Oldenburg mare Black Diamond (by Dante Weltino x Jazz Time) secured the bronze with 68.245%, 69.254% and 69.275% (206.774 points).
"It's such a blast, I never thought I would win," Siri Thelle Tønnesen told Dressursaklart.no Riding as the last to go is both fun and cruel. It's a lot of fun to actually be the last rider when you are in the lead, but it's also a little nerve-wracking."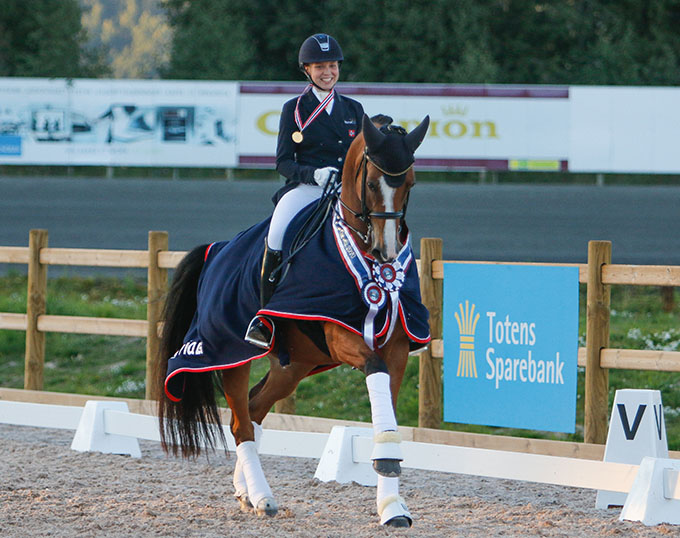 In the Under 25 division, the 20-year old Mathilde Merethe Klaesson moved into the number one spot in a field of competitors. Although still a young rider, Klaesson decided on Under 25 this year and her gamble paid off.  Aboard her loyal partner of seven years, the 10-year old Danish bred Sandbaeks Rio El (by Skovens Rafael x De Noir), she scored 71.816% in the Inter II, 70.387% in the Short Grand Prix and 73.375% in the freestyle to total 215.578 points. Sahra Edseth Solbakken and the 14-year old Hanoverian Kronborg's Highlight followed in the distance with a total of 197.095 points. They got 66.026%, 64.574% and 66.495% in the three rounds. The bronze went to Thea Katarina Braten on the 11-year old Swedish mare Pia Pia (by Highcruiser x Raphael) with 193.391 points. This combination posted 63.842% in the Inter 2, 61.899% in the Short Grand prix and 67.650% in the Kur.
"It's always good to have gold," Klaesson told Indre.no. "It had been going so well in the higher classes that I chose to start in the Under 25. It is much cooler to ride a test with more exercises. It's super difficult, and there's a little more happening." Klaesson just spent eight months training with Kyra Kyrklund and Richard White in the U.K. and at home is coached by Merete Blikstad.
Double Gold for Løkken Ladies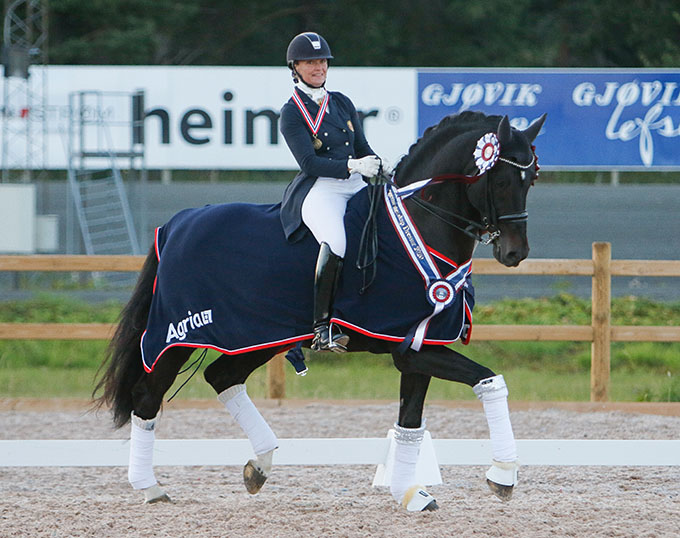 In the senior division  Louise Almlund Løkken and her 15-year old Danish warmblood gelding Mr Gold D (by Milan x Lobster) claimed the title. In the field of 11 competitors, Løkken was third in the Grand Prix with 68.685%, but bounced to the top of the board in the Special with 68.667% and in the freestyle with 73.485%. Her total of 210.837 points was good for gold with Mr Gold G. Helena Liholt Gulli rode Kristin Andresen's 15-year old Oldenburg gelding Don Massimo (by Don Larino x Santander) to silver with 209.665 points. The new duo produced three solid rounds with 69.105%, 68.600% and 71.960%. Last year's Norwegian Grand Prix champion, professional Jonas Elvebakk and the 13-year old Dutch warmblood mare Citta (by Jazz x Candyboy), got bronze with 207.147 points. They scored 67.579%, 67.433% and 72.135%.  
The senior gold medal was extra special as both mother and daughter became National Champions at the same event. 
"Taking double gold home is incredibly fun as we have put in an awful lot of work in advance," Louise told Dressursaklart.no. "Emma probably felt a little bit of the pressure, and I had to help her focus on riding as if she were at home. I'm so proud of her and Wirsing, and not least of Mr. Gold G. He's a work horse!"
Also Emma rung in, "my mother is my role model. She inspires me. I am so grateful to have here all the time as a trainer and supporter, and one day I want to be as good as her."
Para Gold
The 2020 Norwegian Dressage Championships also hosted a class for Para Grade V riders.
The gold medal was won by Stine Skillebekk on the 14-year old Danish stallion Calique V (by Come Back II x Lobster). She was joined on the podium by Christina Marcussen and Alise Kristine Nordvik. 
Photos © Norwegian Equestrian Federation/Rebecca Mender
Results - 2020 Norwegian Dressage Championships
Pony Riders
1.1 Emma Løkken - Vercingetorix VB  - 73.291 73.089 76.350   --- 222.730
2 Sondre Torp Kristiansen  - Filur af Grønagergård - 70.256 74.553 76.420   --- 221.229
3 Thea Victoria Harlem  - Schermeer's Hof Simba  - 69.616 69.512 73.925   --- 213.053
4 Adele Christensen Larsen -  Hedemand's Dumbledore  - 64.231 68.902 68.915   --- 202.048
5 Marthe Sylte Oppdal  - JDJ's Flash  -  65.427 66.911 69.680   --- 202.018
6 Ingvild Malene Abrahamsen -  Wotan  - 66.239 67.561 67.235   --- 201.035
7 Tyra Simensen Nittedal  - Casino -  63.633 65.976 68.630   --- 198.239
8 Adele Hauan Bræin - Rythm Forest  - 65.000 65.041 67.340   --- 197.381
9 Kristianne Flaarønning Foyn - Gulliver V - 66.068 65.366 65.350   --- 196.784
10 Lotte Lise Fjeldstad - Aladin II  - 65.256 64.350 62.425   --- 192.031
11 Silje Bringsvor Krakk -  Mr. Magic - 64.145 65.691 61.850   --- 191.686
Junior Riders
1.1 Mathea Karlsen - Ravell's Hexia  - 69.234 67.807 72.620   --- 209.661
2 Maren Aarflot Strandheim -  Svalegårds Alanya  - 66.937 68.289 69.470   --- 204.696
3 Nora Windgaetter Soma - Noesmindes Miami - 67.342 68.202 68.510   --- 204.054
4 Ylva Kristine Iversen - Scalas Schafero - 66.261 65.088 69.075   --- 200.424
5 Anna Konstanse Helberg - Fancy Nefertiti - 67.027 66.666 66.245   --- 199.938
6 Aurora Nærland Reime  - Egebjerggårds Boogie Woogie - 65.225 63.289 68.270   --- 196.784
7 Dina Ødegård-Martinsen  -  Lord Londonderry  - 64.640 63.333 68.510   --- 196.483
8 Sofie Magnussen Pedersen  -  Gørklintgårds Silagro  - 62.342 65.176 67.460   --- 194.978
9 Vilde Brekke  - Syringa Lerup  - 65.405 65.132 64.395   --- 194.932
10 Celine Karstensen  -  Don Priamos  - 64.054 64.079 66.420   --- 194.553
11 Marie Schilbred -  Teglvangs Radomir  -  60.811 65.965 67.750   --- 194.526
12 Kristina Vigre - Orighana - 65.000 64.167 61.660   --- 190.827
Young Riders
1.Siri Thelle Tønnesen  - Bonifatius  - 69.298 70.746 71.935  --- 211.979
2 Anine Mørch-Aas -  Maserati - 69.079 70.921 70.330   --- 210.330
3 Josefine Amanda Hilling - Black Diamond - 68.245 69.254 69.275   --- 206.774
4 Heidi Christin Elvenes -  Rio da Carma -  67.149 67.544 66.735   --- 201.428
5 Hedda Thomassen - Walther -  65.000 67.018 67.790   --- 199.808
6 Helen Richvoldsen Aasvangen - President's Cubald - 63.377 66.579 67.300   --- 197.256
7 Charlotte Mathiane Engedal  - Sirocco - 60.614 65.833 68.430   --- 194.877
8 Kine Oftedal Lode N- Vemmetofte Rochelle - 62.456 63.290 66.850   --- 192.596
9 Kristine Eline Levorsen Gjulem - Lindegårdens Luna  - 62.412 64.123 65.950   --- 192.485
10 Nora Saxebøl Eek -  ML Gold Rush -  60.438 64.956 64.785   --- 190.179
11 Thea Beitnes Kreken - Tjardo Fan De Fry-Sted - 61.184 63.860 64.240   --- 189.284
12 Sofia Leinum Seim - Ravell's Herkules  - 62.193 62.895 63.905   --- 188.993
Under 25 Riders
1.Mathilde Merethe Klaesson - Sandbæks Rio-El - 71.816 70.387 73.375   --- 215.578
2 Sahra Edseth Solbakken -  Kronborg's Highlight -  66.026 64.574 66.495   --- 197.095
3 Thea Katarina Bråten -  Pia Pia  -  63.842 61.899 67.650   --- 193.391
4 Cathrine Oppegaard - Diaster -  62.816 61.085 63.630   --- 187.531
Seniors
1 Louise Almlund Løkken - Mr. Gold G - 68.685 68.667 73.485  --- 210.837
2 Helena Liholt Gulli - Don Massimo - 69.105 68.600 71.960   --- 209.665
3 Jonas Elvebakk -  Citta  - 67.579 67.433 72.135   --- 207.147
4 Anniken Hals - Centano  -  68.079 68.133 69.895   --- 206.107
5 Grete Catherina Bergstrøm - Felicia  - 68.947 63.233 69.345   --- 201.525
6 Marte Svenkerud - Skoglys Wivienne  - 63.605 64.633 67.080   --- 195.318
7 Therese Bragstad -  Double Donnerhall  - 64.526 64.833 65.915  --- 195.274
8 Mona Mangseth -  Quater Figlio  -  64.368 63.067 65.400   --- 192.835
9 Linn Mimmi Gulliksen -  Roosgårdens Gogo  - 63.395 61.033 65.490   --- 189.918
10 Anniken Eide - Twilight  - 63.000 60.467 64.075   --- 187.542
11 Elisabeth Røisli - Liva af Skovsøgård - 61.631 58.833 64.965   --- 185.429
Related Links
Abrahamsen, Morch Aas, Hoff, Elvebakk Win 2019 Norwegian Dressage Championships
Martinsen, Skaug, Klaesson, Oppegaard, Løkken Win 2018 Norwegian Dressage Championships
Johannessen, Fjornes, Gulli, Rode, Lokken Win 2017 Norwegian Dressage Championships
Solbakken, Fjornes, Gulli, Lokken Win 2016 Norwegian Dressage Championships
Sunshine, Rain, and New Title Winners at 2015 Norwegian Dressage Championships
Hammer, Magnussen, Brynildsen, Jebsen Win 2014 Norwegian Dressage Championships
Rimestad, Andresen, Christensen, Hestengen Win 2013 Norwegian Dressage Championships
Jebsen Wins 2012 Norwegian Dressage Championships