Bits 'n Pieces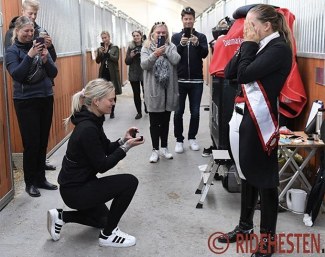 Fresh from winning the 2020 Danish Grand Prix Championships in Uggerhalne, Cathrine Dufour got engaged to her girlfriend Rasmine Roesdahl Laudrup. 
After the prize giving ceremony, Dufour and her long-time equine partner Atterupgaards Cassidy returned to the stables and after she finished signing autographs, Laudrup dropped on one knee and proposed. Dufour's reply was resounding yes.
"No words needed. It's been a YES since the day I met you #yesforever #iloveyou," she took to Instagram.
Dufour revealed that she had already been on the look-out for a ring and concocting a plan to propose to Rasmine herself, but Laudrup beat her to the punch.
Dufour and Laudrup have known each other for a longer time, but only met for the first time at the CDI-W Herning in October 2019. They began dating shortly afterwards. In January the couple set an equestrian business collaboration. Rasmine is an amateur show jumping rider and daughter of the world famous Danish soccer player Brian Laudrup. The couple recently spent a holiday together in Mallorca.
Photo © Ridehesten
Related Links
Cathrine Dufour and Jumping Rider Rasmine Laudrup Start Collaboration
Cathrine Dufour nominated for the 2019 Danish Rainbow Award