Westfalian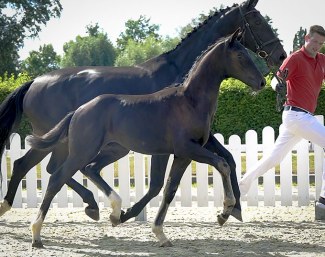 Friends for Life became the best seller in the next online auction of a massive string that the Westfalian breed society has been organizing this year. 
From the collection of 35 foals, 30 were sold and achieved an average price of 9,908 euro. 
The Polish couple Hanna and Tomasz Modrzejewski purchased the bestseller of the auction, colt Friends for Life (by For Romance x Diamond Hit) for 38,000 euro. The foal is bred by and owned by Gertrud and Erik Höckesfeld
The most expensive filly, Ebenholz B (by Escamillo x St. Schufro) will also travel to Poland for 22,000 euro, as well as Fürst Albert (by First Selection x Don Nobless) for 9,250 euro. 
A big group of foals sold for more than 10,000 euro. 
Vom Anderen Stern (by Vitalis x Escolar) fetched 18,500 euro, Estello (by Escamillo x Samarant) 16,500 euro, Funkelperle (by Franziskus x De Niro) 15,000 euro, Viel Erfolg (by Valdiviani x Swarovski) 14,500 euro, and Ein Traum (by Escamillo x Sandro Hit) 13,000 euro.
Emely (by Escamillo x Franziskus) and Eine Empfehlung (by Escamillo x Furstenball) sold for the same price: 11,500 euro. Viva Vitalis M (by Viva Gold x Vitalis) found a new owner for 10,500 euro.