France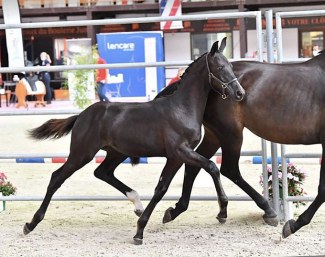 Kakaline de Ticop and Koeur de Jalehone as well as pony foals Klea de la Motte Jean and Kaducee de Franc Jeu were named the Foal Champions at the 2020 French Breeding Championships which were held at the Pôle européen du Cheval equestrian centre in Le Mans, France, on 27 - 30 August 2020. 
Traditionally the French Breeding Championships take place at the ENE National Equestrian Centre in Saumur but due the corona pandemic and budget cuts, the event relocated to Le Mans and took place in its indoor arena instead of outside. 
Kankaline de Ticop, Champion of Champions
In the Filly division judges Marian Dorresteijn (NED), Iben Stroem and Josef Freese (GER) placed Kankaline de Ticop (by Danciano x Soliman) on top. Bred and owned by Anne Jung, the black filly scored 88.40 points with a 9.2 for general impression. She was also the high scorer of the entire Foal Championships, making her the Champion of Champions. The Selle Francais bred Kyra de Villers (by Famous Grez Neuville x Olivi), bred and owned by Le Manoir, became the reserve champion with 83.75 points and 8.5 for general impression. 
In the colt category the Selle Français registered Koeur de Jalehone (by San Muscadet x De Niro) topped the board and received 83.90 from the judges' panel with an 8.5 for general impression. He is bred and owned by Lucie Demarez Pichavant. The reserve champion colt was Pendragon de la Morandiere, a KWPN registered Secret out of Talent (by Lennard). One of no less than three full siblings bred through embryotransfer, Pendragon scored 82.15 points with an 8.3 for general impression. He is bred and owned by Haras de la Morandiere. 
Pony Foal Power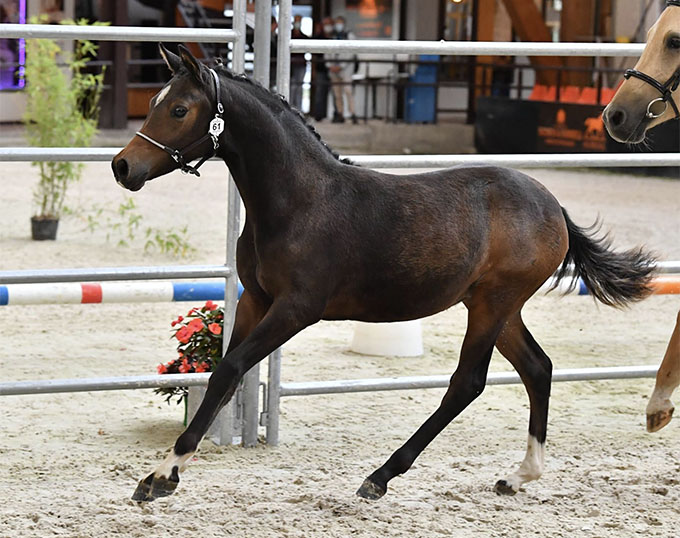 The 2020 French Breeding Championships also featured classes for ponies. The pony filly foal championship was judged by François Fischesser, Marc Besnainou, and Marian Dorresteijn; the colt category was judged by Fischesser, Besnainou and Josef Freese.
In the pony filly division Klea de la Motte Jean (by Binky x Dimension) received the champion's sash with a score of 80.25 points with an 8.4 for general impression. This filly is bred by Agnes le Berquier. The reserve title went to Karma de Chatelain (by Volupto des Bourdon x Royal du Bourray). He is bred and owned by Earl De La Perouse and scored 78.85 points with an 8.0 for general impression.
In the pony colt class the title went to Kaducee de Franc Jeu (by RM V Power x FS Pearcy Pearson), bred and owned by Sophie Bellot. This colt scored 79.75 points and 8.2 for general impression. The reserve title was won by Kanal Rip'Lays (by Pawnee x Machno Carwyn), bred and owned by Sophie Mavrocordato. He got 75.10 points and 7.8 for general impression.
Photos © Les Garennes.
Results - 2020 French Foal Championships - Le Mans
Fillies (top 10 only)
1. Kankaline de Ticop (OC, by Danciano x Soliman) - 88.40
2. Kyra de Villers (SF, by Famous Grez Neuville x Olivi) - 83.75
3. Kelly Grez Neuville (SF, by Springbank II x Don Juan de Hus) - 83.70
4. Kadanse Utopia (SF, by Danciano x Sandro Hit) - 80.60
5. Kasting de Valdi (SF, by Quaterbold du Payrol x Apache) - 79.70
6. Klem de Grez Neuville (SF, by Springbank II x Negro) - 78.40
7. Kaiserina du Minhir (SF, by Furstenball x Jazz) - 78.35
8. Promise Me All Erebor de la Morandiere (KWPN, by Secret x Lennard) - 77.15
9. Poerava Herenui de la Morandiere (KWPN, by Secret x Lennard) - 76.85
10. Klaudia du Prieure (OC, by Secret x Soliman) - 76.55
Colts (top 10 only)
1. Koeur de Jalehone (SF, by San Muscadet x De Niro) - 83.90
2. Pendragon de la Morandiere (KWPN, by Secret x Lennard) - 82.15
3. Zalanko (OLD, by Zalando x Rittmeister) - 79.95
4. Kenzo AL (SF, by First Step Valentin x Sandreo) - 79.75
5. Secret Dream (BAWU, by Secret x Foundation) - 79.05
6. Poker du Krystal (KWPN, by Galaxie x Gribaldi) - 78.70
7. Koenig von Bret'l (SF, by Famous Grez Neuville x Special D) - 77.0
8. Knockando de Chalezac (SF, by First Step Valentin x Belissimo M) - 75.60
9. Kadans AL (SF, by Einstein du Parc x Flemmingh) - 74.35
10. Kribalstein (SF, by Einstein du Parc x Gribaldi) - 72.70
Pony Fillies
1. Klea de la Motte Jean (PFS, by Binky x Dimension) - 80.25
2. Karma de Chatelain (PFS, by Volupto des Bourdons x Royal du Bourray) - 78.85
3. Komete des Rangs (WPB, by Misty la Chevalerie x Frankenhohe Golden Monarc) - 77.25
4. Kipsy Folaine (PFS, by Paolik Kersidal x ??) - 75.75
5. Katsumi du Centaure (WPB, by Eliott MC x Capitan) - 71.15
6. Konny du Petitmanoir (PFS, by Be Champion Supreme d'Ete x Envol d'Angrie) - 70.60
7. Kalinka de Chatelain (PFS, by Volupto des Bourdons x Linaro) - 53.10
Pony Colts
1. Kaducee de Franc Jeu (PFS, by RM V Power x FS Pearcy Pearson) - 79.75 points
2. Kanal Rip'Lays (PFS, by Pawnee x Machno Carwyn) - 75.10
3. Kiitos des Ondes (WPB, by Keizerskroon Edison x Malak de Navarre) - 73.15
4. Kasanova Vici (PFS, by Everest du Verdon x Quoutsou) - 72.80
5. Kenan Labcani (WTC, by Machno Hedd x Cwmmawz Hero) - 71.75
6. Kuzco Des Cabresses (PFS, by FS New Look II x Viersen K) - 80.85
7. Kakao des Boscherons (PFS, by Broadway de Mormoulin x Linaro) - 70.80
8. Kiowa du Haut Breil (COPB, by Westide Mirah II x Un Prince du Ruere) - 70.30
9. Kronos Mon Gosse (WPB, by Declci de Bannes x Doppelspiel) - 68.55
10. Kidior d'Irance (NFS, by Dein Prinz SL x Oosterbroek Francois) - 67.25
Related Links
Gucci de Hus and Donathello de Hus Win 2019 French Foal Championship
Qir Royal du Payrol and Briseis D'Arion Win 2015 French Foal Championships
Sinatra de Hus and Nacre des Pres Win 2013 French Foal Championships
Soleio d'Arion and Atomic Kitten LH Win 2011 French Foal Championships
Erasme de Voulx and Fantasy Boderes Win 2010 French Foal Championship
Shenandoah and Sambejah Win 2006 French Foal Championship