Sweden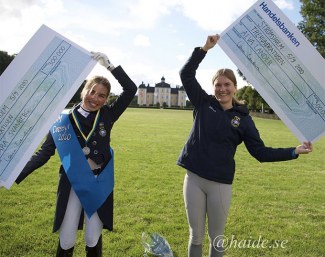 Young rider Klara Svanberg and former Under 25 rider Alva Lander are the recipients of the 2020 Ajax Stipend.
The Ajex stipend offers financial support to rising Swedish star riders for their training and competition career. They get a 300 SEK cheque to be spent on their training in the next two years. 
The annual Ajax recipients are chosen by founder Ulla Håkanson in co-operation with Kyra Kyrklund, Eva Karin Oscarsson, and Jan Brink, and this year they were assisted byJens and Peder Fredricson and Henrik Ankarcrona.
Traditionally the stipend recipients are announced at the CDIO Falsterbo, but due to the corona pandemic, Falsterbo was cancelled and the two recipients were announced at the 2020 Swedish Dressage Championships in Stromsholm. Ulla Hakanson unfortunately could not be present at this year's ceremony. 
This is the 16th time that the scholarship has been awarded. This year there were in fact three recipients, but the third one is show jumping rider Janelle Larsson, who received her scholarship before she moved to Belgium to train with Angelica Augustsson Zanotelli.
The dressage recipients are 26-year old Alva Lander, who went from the youth classes to U25 on Herbie Hancock Graftebjerg (by Blue Hors Hertug x Michellino). Last year she took silver at the Swedish U25 Championships.
"I will use the money for training and maybe try to go to Germany and train with Patrik Kittel," Lander stated. In Sweden she trains with Louise Nathhorst.
Klara Svanberg started out as an international pony rider in 2013 with Little Diamond's Doolitte. In 2018 she made her international debut as a Young Rider with Bon Geste at last weekend she won silver at the 2020 Swedish Young Riders Championships. She trains with and works for Johanna Due-Boje. 
Photo © Haide Westring
Related Links
Gyllensward, Eklund, Johansson, Recipients of the 2016 Ajax Stipend
Andersson and Hedin, Recipients of the 2015 Ajax Stipend
Larsson, Mattisson, Karlsson Win Ajax Stipend
Elin Aspnas and Michelle Hagman Receive 2012 Ajax Stipend
Due Boje and Lexner, 2009 Recipients of Håkanson's Ajax Fund
Ulla Håkanson Pays It Forward with "Ajax Fund"
Mia von Essen, First Recipient of Ajax Stipend
Greatest Oldies: Ajax, a Swedish Legend