KWPN Foal Auctions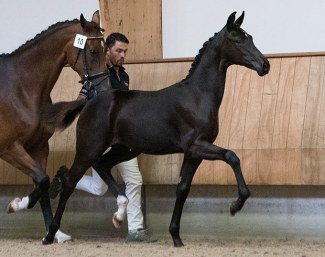 Fifteen highly talented dressage foals are part of the very first edition of the Future Dressage Foal Auction. All foals are very interesting and from young KWPN dressage stallions. Until tonight from 8 PM, you will have the chance to become an owner of one of these excellent foals.
What do you think of Champion stallions Le Formidable and Jameson RS2? Or reserve champion Lennox U.S., World Championship participant Iconic B? The sire's from these foals are not the only interesting thing. All fifteen foals know how to make an impression with their movements and model!
Triple Le Formidable
The Champion stallion Le Formidable has three talented offsprings within this new KWPN online auction. His daughter Pilena originates from the European Champions mare Rilena (s.Flemmingh) and contains the valuable blood from Ulft from both sides. Prada VDP is from the Apache dam Gucci VDP, who scored 90 points for her movement and participated in the final of the National Mare Championships. Dressage sire United is the grandsire of Le Formidable but also the dam's sire of Philida. His genes are anchored within this filly.
Champion stallion Jameson RS2
Everything Jameson RS2 touches changes into gold. He became Champion at the KWPN Stallion Show scored 90 points within the inspection test, is the twofold winner of the final of the stallion competition and became eight at the World Championships for Young Dressage Horses. His son Pac-Man seems to have these qualities and has the blood from Dream Boy and Jazz in his damline.
Extra movement from Ladignac daughter
The filly Promathika M has the Zonik son, Ladignac, like her sire. This charming foal knows how to move and has an outstanding dressage model. Many sport horses are from this same dam-line. She seems to have a very bright future!
Grand Prix horse in the making, Iconic B
Iconic B is from a proven Grand Prix origin and seems to have it all to make up till the highest level. He scored 9's for walk, canter, rideability, and character at the inspection, competed several times at the World Championships for Young dressage horses and is currently successfully competing Small Tour together with his rider Joyce Lenaerts, who also competed with his dam Niniek STV (s.Jazz) up till the highest level. The five-year-old Kadivette II (s.Governor) is combined with Iconic B. This elite mare is the half-sister of the Medium advanced horse Hadivette (s.Dorado). This dam-line continues with the elite sport mare Chablis Ter Kwincke (s.Dayano). Also, the international Junior horse Pablo (s.Cordial Medoc) is from the same dam-line like many other sport horses. Pamela-Divette has an amazing appearance and stands out by her grey color!
Koning's Princessa V.S.
The stallion Koning is making his name come true.  All eyes are on Koning as soon as he enters the field. This son of Governor is not only impressing with his appearance, but also by his movements. Besides that, he is out of a dam-line which contains a lot of sport. The elite mare Gucci Boa T is the dam of Koning, she got several 8's for her IBOP. Dam's sire of Koning is the Johnsons son Bretton Woods, who won bronze at the World Championships Young dressage horses as a five-year-old. The filly Princessa V.S. shows that she has a lot of self-carriage together with high-quality movements.
Your future talent
The bidding is open until tonight from 8 PM.
Are you not registered as a bidder yet? This is easily done via www.kwpn.auction. Once registered, you will get updated on all KWPN auctions.
Are you looking for a potential sport horse? A talent for the future? Look for the collection and make your choice. Feel free to ask questions to our KWPN inspectors about the foals.
Next to that our sponsor Horses2Fly can support you with international transportation.
Any questions? Feel free to contact Rianka Hazeleger via salespromotion@kwpn.nl, 0341-255511, or call Wim Versteeg via +316-54201800.
Photos © Anniek de Wit