F.O.C.U.S.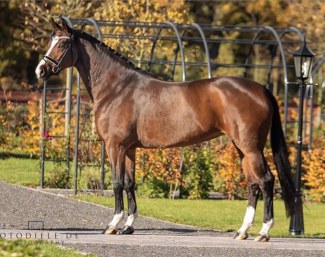 A partnership that is definitely keeping the fun alive on their way to Grand Prix is Bernadette Brune and her Oldenburg mare Feel Free OLD. 
Acquired through serendipity at the 2013 Oldenburg Elite Foal Auction, Feel Free was a gamble that has already paid off for 46-year old Brune as the mare took her to the World Young Horse Championships in Ermelo and is now making her mark as a developing Prix St. Georges Horse.
Gestüt Brune, Nursery for Dressage Talent
Brune made her international show debut as a dressage rider in 2011 after back problems forced her to call show jumping quits.
Initially she was based at the beautiful Domaine Equestre des Grands Pins in the sunny south of France (Vidauban), but when she felt that her dressage career was taking flight, she committed fully to it and built herself a magnificent property, "Gestut Brune" in Bad Zwischenahn and relocated permanently to Germany to be at the center of all horse sport.
Brune's state-of-the art equestrian center, fully landscaped to perfection, has all the amenities a demanding dressage rider needs. Bernadette uses the facility as her training base, where she combines dressage training with groundwork, the natural horsemanship-way. She also runs a small scale breeding operation, standing several licensed stallions (Spirit of the Age, Valeron, Tolergro) and breeding top quality foals out of exquisite mares, such as as Biscaya OLD (by Bordeaux).
Haphazard Auction Buy
The 7-year old Oldenburg mare Feel Free OLD (by Foundation x Sandro Hit x Donnerhall) is one of Bernadette's most exciting prospects for the future.
She discovered the bay mare haphazardly at the 2013 Oldenburg Elite Foal Auction in Vechta, where Feel Free was presented under the name "Fluglinie"
"I hadn't seen her before at the presentation, or in the box. I knew the vetting but when she came in I had goosebumps because of the regularity and the big strides of her trot," Bernadette reminisced. "She was not very pretty, because she stood too high behind, was too long and she had a white eye. As no one was raising his hand, I said to my friends: are they crazy? I want to have this foal!! I raised my hand once and she was mine."
The foal, which was purchased for 7,500 euro, stayed with breeder Indira Wallner until she was weaned and then moved to a herd to be reared. 
"A year later when I visited her in the field, I saw her trot again and named her Feel Free. She was quite impressive," Brune told Eurodressage.
Young Horse Success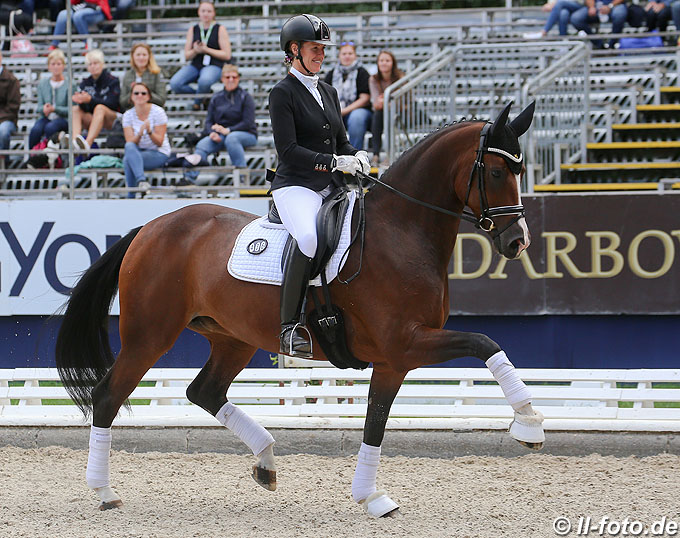 Feel Free was successful from the start as a young horse.  She was saddle broken by Patrick Meyn and then started by David Taylor.
Taylor and Feel Free OLD did their first show in Höven in 2016 and immediately qualified for to the 2016 Oldenburg Young Horse Championships in Rastede, where she became reserve champion. That same weekend she also became the bronze medalist in the Oldenburg Elite Mare Championship.
"After Rastede we put her again on the field in the herd and two weeks before the Bundeschampionat he rode her again to become 4th in the finals," said Brune. "Then she went back to the field in the herd. When she came in in November I started riding her."
Brune trained the 4-year old through the spring and qualified her for the Bundeschampionate. As Bernadette's summer programme with her FEI horses was too packed, competing at CDI's including the CDIO Aachen, she gave the ride to her assistant trainer at the time, Anja Engelbart. The new pair became reserve champions and silver medal winners at the 2017 Oldenburg Young Horse Championship and at the 2017 Bundeschampionate. 
World Championships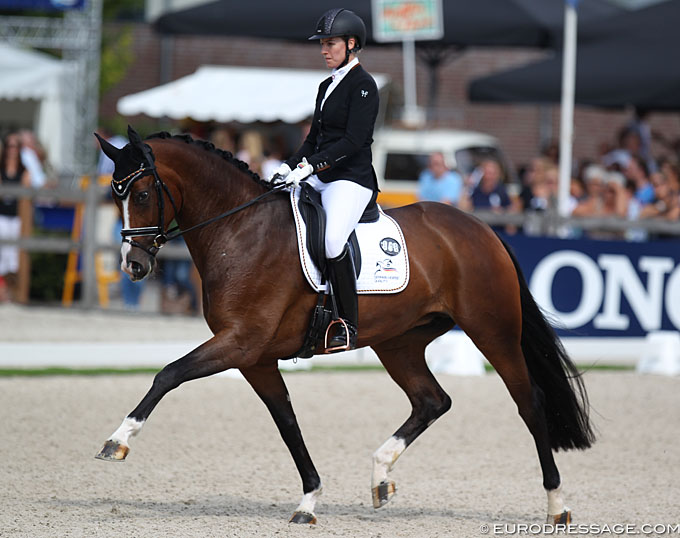 As of the autumn of 2017 Bernadette has been riding Feel Free exclusively with Anja as her eyes on the ground. Bernadette and Feel Free were fourth at the 2018 Bundeschampionate. 
In 2019 the pair made the very difficult qualification for the German team to compete at the World Young Horse Championships in Ermelo, The Netherlands. They exceeded all expectations in a world class field and placed 8th in the qualifier with 8.42 points and 13th in the Finals with 8.28 points.
"The world Championship were amazing," said Bernadette. "In the first test all went perfectly, but in the second class I had some problems with being first after the break and not all people were seated, so my mare became nervous, which was a pity."
Developing Prix St Georges
In the 2020 corona year Bernadette has been developing Feel Free at small tour level and competing her nationally as the international show circuit was upended.  Brune has been working with Hans-Heinrich Meyer zu Strohen, while the Grand Prix horses she takes to Jonny Hilberath for guidance.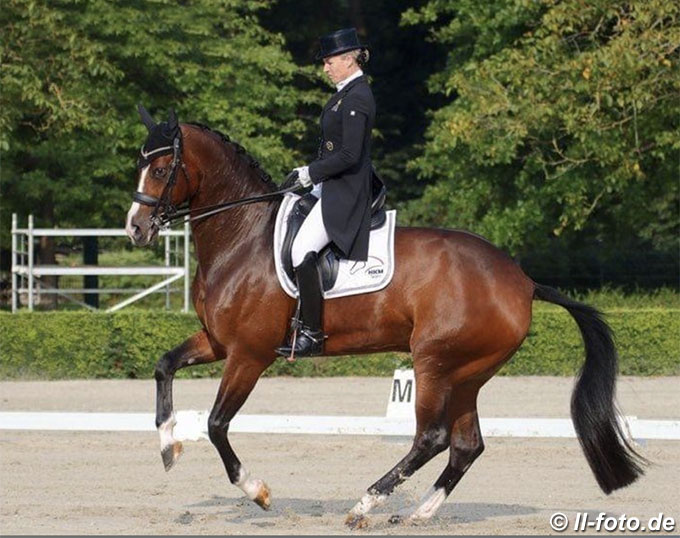 "At the beginning of this year I tried an S3 test in Vechta and she directly won with over 74%, then we were placed in the Prix St Georges in Herbergen, in the S3 in Vechta, and second of the Prix St Georges of Zeven," said Bernadette
On 11 - 12 September a very small CDI took place at Oleksandr Onychenko's Gut Einhaus in Herzlake, Germany, where Brune and Feel Free were third in the Prix St Georges (69.657%) and fourth in the Intermediaire I (69.853%). 
"I was very proud of her in Herzlake," she said. "On the first day I messed up first pirouette and the chief judge told me I could have won without that mistake. In the Intermediaire I she gave it her all, even though at home in the training of the test it wasn't ideal yet. However in the test in Herzlake, she was amazing! We just had two mistakes in the changes."
A Horse that Brings Happiness
Feel Free is a horse that brings pure happiness to Bernadette 's life.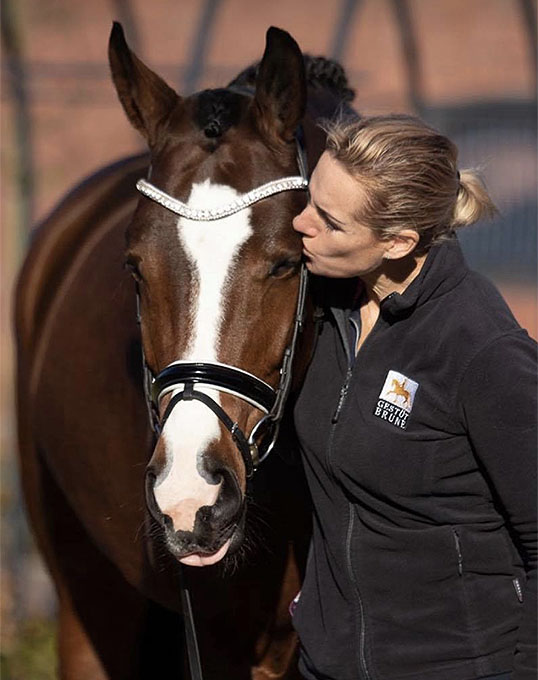 "She is really a one of the kind," she said. "Not only that, she is always in a good mood. She would die for sugar and she is angry when I go and see other horses close to her box. When riding her, she gives always her best, specially in competitions. She is so professional and this already since she was young. It always impresses me."
Amicably nicknamed 'princess' in the stable, Brune makes sure the mare wears her favourite colour, fuchsia, to live up to her princess status. 
When asked what Feel Free would say if she were to talk, Bernadette replied: "Do you have a sugar for me?"
Bernatte and Feel Free are now preparing for the German team qualifier for the 2020 World Young Horse Championships in Verden in December.
Photos © LL-foto - Astrid Appels - Fotodiele.de
Related Links
German Horses Selected for 2019 World Young Horse Championships
Zucchero Flies to 5-YO Title with Event High Score at 2018 Bundeschampionate
Zucchero and Furst William, Hot Favourites for 2018 Bundeschampion's Title
Feel Free OLD and Fiavola Win 2018 Scharnebeck Bundeschampionate Qualifier
From Outside the Sandbox: Some Personal Observations from the 2017 Bundeschampionate
Candy, Champion of the 2016 Oldenburg Elite Mare Show in Rastede
Mares Selected for 2016 Oldenburg Elite Mare Show in Rastede