Germany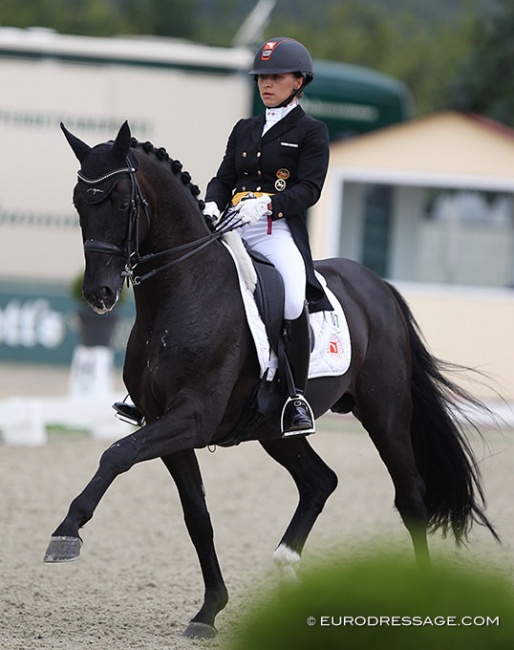 The German Equestrian Federation is hosting its first of two team selection trials for the 2020 World Young Horse Championships which will take place indoor this year in Verden, Germany, on 9 - 13 December. 
The first team selection trial will be held at the DOKR headquarters on 29 - 30 September 2020. On the first day the horses will be presented in training and on the second day they have to perform the preliminary test.
The list of entries for the first trial is known and the busiest rider will be Helen Langehanenberg who will bring four horses (Escamillo, Zoom, Candy, Schone Scarlett). 
A large delegation of riders is travelling from Helgstrand Dressage to qualify their German bred horses via Germany: Helgstrand, Jeanna Hogberg, Betina Jaeger, and Cathrine Dufour all represent the breeding stallions and sales horses of Helgstrand. They are now entered with six horses in total.
The first qualifier will focus primarily on the 7-year old division, with only a small group of 5 and 6-year olds entered. The German selectors already made their pick at the 2020 Bundeschampionate at the beginning of September and selected a group of 5- and 6-year olds that will be eligible to compete at the second qualifier later this autumn. 
The line up includes:
5-year olds
Helen Langehanenberg - Escamillo (Rhld, by Escolar x Rohdiamant)
Andreas Helgstrand - Finest Black Lady (Hann, by Finest x Royal Highness)
Jeanna Hogberg - Special Blend (Old, by Sezuan x Hotline)
Nicole Wego - Special Diva (Westf, by Sezuan x Sir Donnerhall)
Geertje Wadenspanner - Zansibar (DSP, by Zirkon x Don Argentinus)
6-year olds
Anna Magdalena Muster - Decastel FH (Hann by Don Olymbrio L x De Niro)
Juliane Brunkhorst - Elitist (Rhld, by Escolar x De Niro)
Cathrine Dufour - Espe (Westf, by Escolar x Dimaggio)
Cathrine Dufour - Eternity (Westf, by Escolar x Sir Donnerhall)
Stefanie Wolf - For Gold OLD (Old, by Franziskus x Zack)
Dorothee Schneider - Quattro Milioni (OLD, by Quantensprung x De Niro)
Marcus Hermes - Von Herzen FH (Old, by Van Vivaldi x De Niro)
Helen Langehanenberg - Zoom (Hann, by Zack x Don Schufro)
7-year olds
Svenja Kämper-Meyer - Amayara M (Hann, by Ampere x Davignon)
Stefanie Wittmann - Ben Vito (Hann, by Benicio x Lauries Crusador xx)
Jana Freund - Bob Marley (Hann, by Bon Bravour x De Niro)
Helen Langehanenberg - Candy OLD (Old, by Sir Donnerhall x Furst Heinrich)
Melanie Tewes - Caracciola MT (Holst, by Chin Champ x Calido)
Janina Tietze - Da Costa (Westf, by Dimaggio x Coriander)
Charlott Maria Schurmann - Damiro (Old, by De Niro x Sandro Hit)
Jeanna Hogberg -  Devonport (Hann; by Dancier x Ravallo)
Kirsten Brouwer - Don Clorentino des Paluds (Hann, by Don Juan de Hus x Florestan)
Sabrina Gessmann - Drama Queen (Westf, by Deveraux x Louis Le Bon)
Bernadette Brune - Feel Free OLD (Old, by Foundation x Sandro Hit)
Ann-Christin Wienkamp - Finley (Westf, by First Selection x Ehrentusch)
Betina Jaeger - For Emotion (by Foundation x Sandro Hit)
Nicole Wego - For Romance II (Old, by Furst Romancier x Sir Donnerhall)
Annika Korte - Fürst zu Bentlage (Old, by Fidertanz x Sandro Hit)
Frederic Wandres - Harrods (Hann, by Hochadel x Rotspon)
David Taylor - MDM Zodiac OLD (by Zonik x Donnerschwee)
Sarah Bentrup - Polartwister (Trak, by Oliver Twist x Michelangelo)
Lukas Fischer - Querida Mia (Rhld, by Quotenkonig x Ravallo)
Stefan Wolff - Qui'Well (Hann, by Quaterhall x Abanos)
Andreas Helgstrand - Revolution (Rhld, by Rocky Lee x Rouletto)
Nuno Palma e Santos - Rock 'n Roll Boy (Westf, by Rock Forever x Sir Donnerhall)
Sabrina Gessmann - S Rockyna (Westf, by Sir Donnerhall x Feuerschein)
Hannah Rother - Salvina (Bav, by Genesis x Rubin Royal)
Helen Langehanenberg - Schöne Scarlett (by Scolari x Londonderry)
Robin van Lierop - Zum Glück OLD (OLD, by Zonik x Florestan)
Photo © Astrid Appels
Related Link
Eurodressage Coverage of the 2020 World Championships Young Dressage Horses