2020 CDI Hagen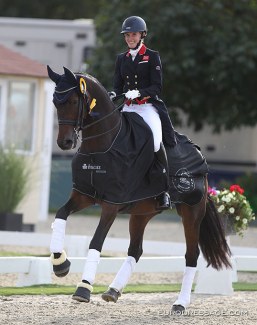 Great Britain's Lara Butler came to Germany for the first time post corona lockdown and gave a taste of what modern British dressage rider is all about: harmony and lightness. 
On the opening day of competition at the 2020 CDI Hagen - the second international and "September edition" Hof Kasselmann is hosting due to a massive lack of international dressage competition opportunity in this corona year - Lara Butler showed what she has been practising at home!
Not only did she win the morning class, the Prix St Georges, aboard her own and Anne Hutton's 10-year old Westfalian Amiek C (by Ampere) with a massive 75.588%, but more importantly she swept the board in the Grand Prix 4* for Freestyle on Ursula and the late Wilfried Bechtolsheimer's home bred Oldenburg Kristjan (by Polarion x Napoleon Quatre) with 74.500%.
4* Dressage at Hof Kasselmann
The Big Tour division at the 2020 CDI Hagen September Edition is split up into a Special and Freestyle Tour. Nineteen riders opted to ride the Grand Prix for Freestyle and the class served massive horse quality, some green rising hopes, other more confirmed pairs seeking mileage in this strange show year. 
The class was judged by a highly experienced panel of judges, including Ulrike Nivelle, Henning Lehrmann, Francis Verbeek, Alice Schwab and Susanne Baarup. 
"I must have had someone special watching over me"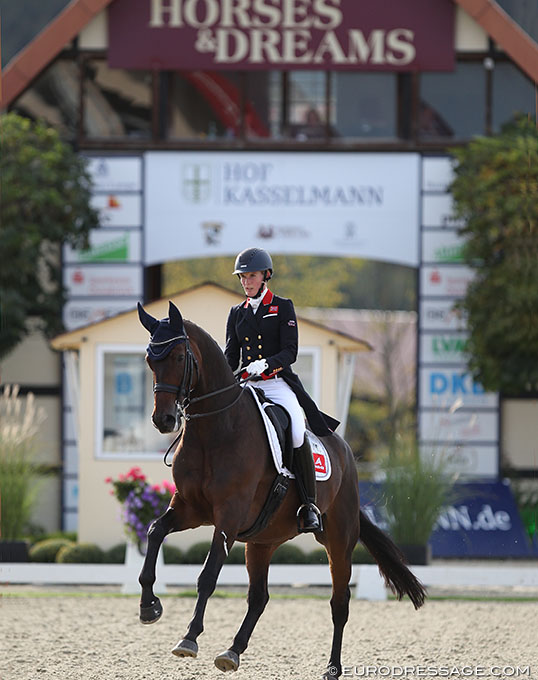 The Oldenburg gelding Kristjan is 15 years of age and made his international GP debut in 2018. The 2020 CDI Hagen is his first international Grand Prix test in almost a year but the horse showed little ring rust. Butler presented him so beautifully: light on the aids, harmonious and elegant. The full Trakehner Bred horse is a bit fidgety in the mouth despite the gentle contact and is not yet truly carrying himself in the passage and piaffe, but the rhythm is regular and the willingness there. They produced a high class test that was a pleasure to watch and posted a winning 74.500%. Three judges had them first, one second and one third with marks going from 72.065% to 75.978%. 
"It was the first Grand Prix (victory) with Kristjan and I still can't believe what happened today. It is a great show and I am happy to be here," Butler commented. "Some wins mean more than others, today was one of those days. I can't quite believe it. It's a special day winning both international classes, I must have had someone special watching over me. What a special homebred this horse is!"
Kristjan is homebred by the late Wilfried Bechtolsheimer, father to British Olympian Laura Tomlinson (née Bechtolsheimer) and one of the most significant benefactors of British dressage sport. Wilfried sadly passed away on 8 April 2020 and this was the first international away from home for both Laura and Lara, without Wilfried by their side.
Talent, Old and New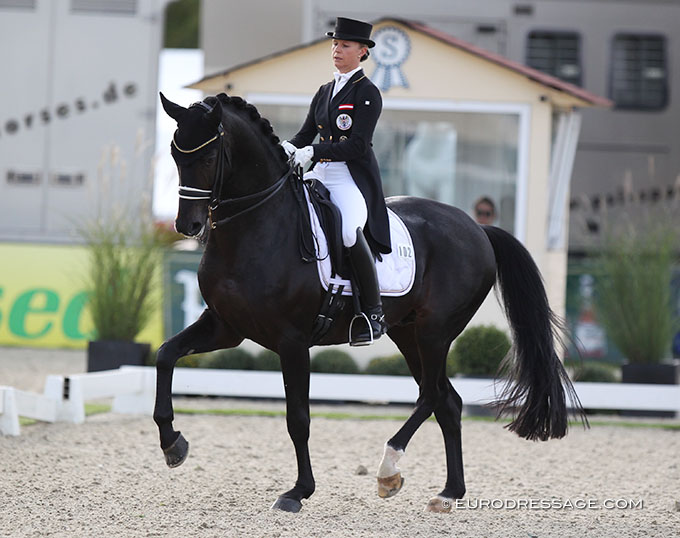 The judges considered Victoria Max-Theurer's test on the 10-year old Westfalian stallion Rockabilly (by Rock Forever x Ehrentusch) the second best of the day. The impressive bay stallion is a very eager worker with lots of expression and flash in his trot and passage work. 
The pair has only been competing at international Grand Prix level for 11 months and one notices that the horse is still green at Grand Prix. The power and self carriage in the hindlegs have not yet come to full power and development and at the moment the horse tries to escape with the hind legs in the collected work. Max-Theurer had to work hard to keep him straight in the body as he was often swaying the hindquarters to the right or being bent to the right. Nonetheless, the stallion certainly brims with potential and will be a power to be reckoned with in Austria once he comes of age.  They were second with 72.913%
A familiar face entered the arena with a new rider. Danish 2018 WEG team horse Belstaff has been moved to Germany and the ride has now been allocated to Hubertus Schmidt. Owned by Korean Olympian Dong Seon Kim, the 13-year old Hanoverian stallion (by Brentano II x De Niro) competed for Denmark with Betina Jaeger at the 2018 World Equestrian Games in Tryon. He then almost disappeared for a year from the show scene, to surface with the owner in Wellington, Florida in January 2020 in an attempt to obtain the Korean individual slot for the 2020 Olympic Games in Tokyo. When those were cancelled, Belstaff returned to Denmark to be sold, but a sale never happened. Kim now decided to have the horse ridden by his long-time trainer Hubertus Schmidt.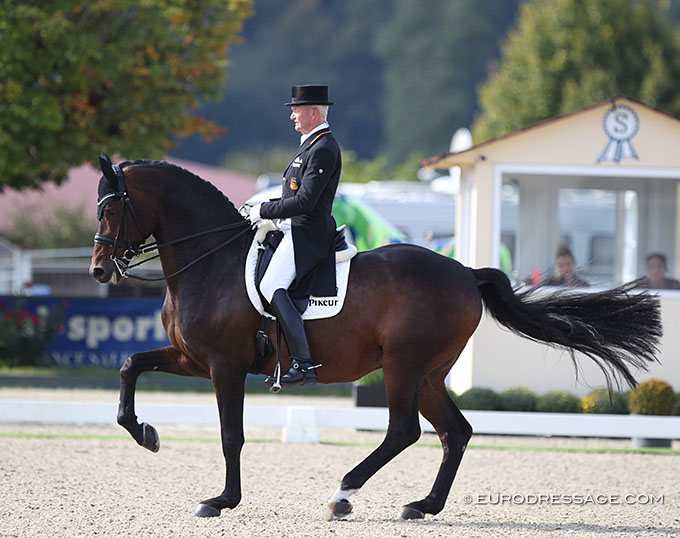 Only together for a few weeks, the German professional produced a solid round on the bay stallion with lovely trot extensions and half passes. Also the piaffe and passage have promise, but horse and rider are not yet fully tuned in together. The pair scored 72.717% for third place.
Danish Lone Bang Larsen returned to Hagen with her 13-year old Danish bred Bakkely's Onandt (by Onassis x Michellino). They have been an international duo since 2016 and made their GP debut in 2018. Bang Larsen and Onandt competed at the July edition of the CDI Hagen and scored 68.565% in the Grand Prix. Three months later the horse showed more polish in the Grand Prix work and it all looked much better put together, even though the piaffe could be more on the hindquarters. They slotted in fourth with 72.696%. 
British Charlotte Fry made her international debut on the 13-year old KWPN stallion Chippendale (by Lord Leatherdale x Negro) and were mainly rewarded by the judges for the what's in the tank instead of what was produced in the ride.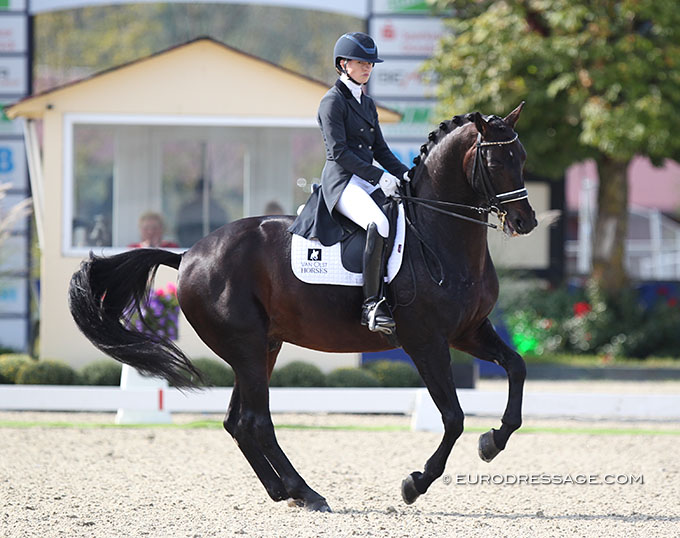 The two have only been a pair for a short while and certainly had a lot to offer, but Chippendale appears a bit ring rusty and the movements are not yet coming out in the textbook way. The stallion is very gifted in passage with a lot of airtime and bounce, but there were many uneven steps and double beats and in the piaffe he still stayed a bit timid in his steps. The walk was problematic today with an almost fully lateral rhythm and little ground cover. However, in canter the pair showed much potential. Fry just needs to keep chiseling at this new ride and there certainly will be more to offer. Today they already got a big 71.957% for fifth place. 
Text and Photos © Astrid Appels - No Reproduction Allowed
Eurodressage is live on the scene at the 2020 CDI Hagen taking photos of all riders. If you are interested in photos for your social media or prints, send us an email. Please respect our copyright and DO NOT reproduce our photos without permission. 
Related Link
Scores: 2020 CDI Hagen