2020 CDI Hagen
Hungarian Berill Szoke-Toth is being heralded as one of the big shooting stars on the international Under 25 circuit. Aboard the Oldenburg gelding Qatar she has strung together her third CDI victory in a U25 class this summer, her latest in the Intermediaire II at the 2020 CDI Hagen.
Szoke-Toth and her 11-year old Qatar (by Quaterback x Stedinger) swept the U25 division at the 2020 CDI Sint-Truiden in August and one month later she won the Intermediaire II with 72.598% and placed third in the Short Grand Prix with 70.077% at Hof Kasselmann in Hagen. Her elegant chestnut gelding is a stunning, ground covering mover and has a very lightfooted passage. Only in the piaffe he still stays a bit small. 
"Qatar was super focused and gave it his all," Szok Toth told Eurodressage. "I had so much fun to ride in this beautiful atmosphere. I'm very grateful to the Kasselmann family for organizing such a wonderful show in these difficult times. It's a dream to ride here."
Pony Start
The 21-year old Berill Szoke Toth is a familiar face on the European show circuit having gone through the levels from ponies to junior/young riders and now Under 25 Grand Prix.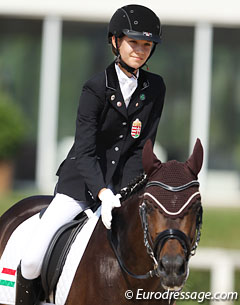 She began riding at age 7 and got her first FEI pony at age 11 from dad Robert. With the Dutch bred Welsh pony gelding Casper F (by Wengelo's Ricardo x Bjirmen's Wytse) she made her international show debut at the CDI Brno in June 2012 and one month later rode her first European Pony Championships in Fontainebleau, France.
She rode pony level with Casper F through 2014 and made it to one more Europeans, in 2013 in Arezzo. In 2014 she had already begun competing on horses at junior level and decided that year to make the permanent switch at age 15.
Junior-Young Riders Time
In the summer of 2014, Berill competed at the European Junior Riders Championships in Arezzo with Oldenburg jumper bred Landbacker (by Ludwig von Bayern x Azarro). 
In 2015, at age 16, Berill made an important decision that shifted her riding career into a new gear. She began training with Hungarian Grand Prix rider Robert Acs. 
"First I trained with him in Neu-Anspach at Wintermuhle (in Germany) and later joined the entire team in Mariakalnok (Hungary)," Berill explained. "There I spent two years and in that time I had a lot of international success in the junior-young riders tour. It was a wonderful time in my life."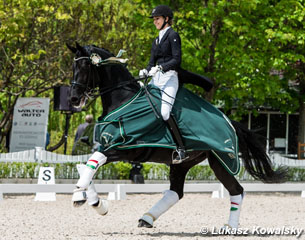 Between 2015 and 2018, Berill got the opportunity to compete a string of horses at international shows throughout Europe. Her horse power included her father's Westfalian mare Evita (by Ehrenwort x Fabuloso), the Rhinelander bred Donnington Park (by Damon Hill x Mister A), her own Hanoverian mare Donna Romma, and Qatar. 
"I rode at six European Championships in total and had the opportunity to gain experience on many horses," said Berill about her whirlwind time with the Acs-Losonczy team at Mariakalnok. "All horses, which I have ridden until now, contributed to where I am now. Without my family this wasn't possible."
Life in Germany
Berill discovered Qatar in 2015 when he was six years old through horse dealer Arnold Winter. In the FEI database Qatar has been listed as owned by Gerd Sosath in 2009, then co-owned by Berill's father Robert and Aniko Losonczy in 2015 and fully owned by Berill as of 2018. Berill, however, told Eurodressage that she bought  full ownership in 2015, while Losonczy confirmed there was an initial shared ownership. 
Losonczy's business partner Robert Acs competed Qatar at the 2015 Bundeschampionate.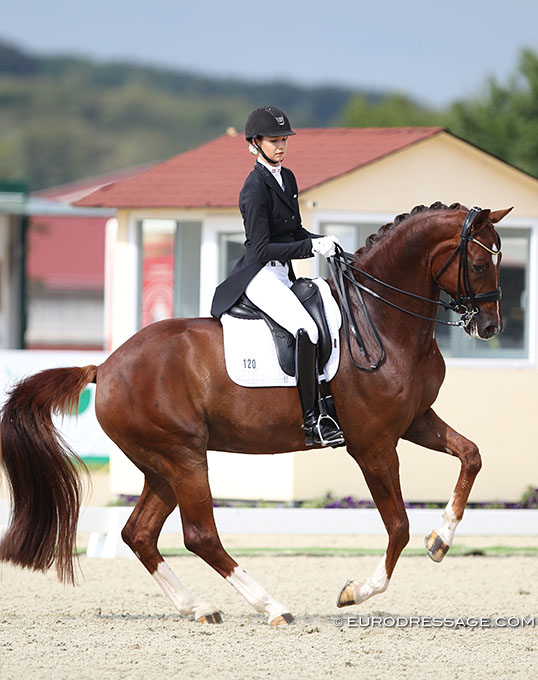 In 2018 Szoke Toth also moved back to Germany, where she has been training with Dr. Ilka Boening ever since. 
"I'm very happy and grateful that I can learn from her," said Berill. "With her by my side I made the jump to Under 25 and she supports me daily with all her heart. We understand each other well and I can't imagine a better trainer in Germany. She's my example, not only as a rider, but also in life."
Qatar gained his first miles at FEI level with Acs and Boening. 
"Initially my then trainer Robert Acs rode him, but Ilke Boening competed him in the big tour first," said Berill. "They have many Grand Prix and Grand Prix Special victories together and were the 2019 Westfalian Regional Champions. Qatar is a sweat heart and makes me happy every day."
Skipping the 2020 Euros
Berill and Qatar already made a big impression at the 2020 CDI Hagen at the beginning of July, a team selection trial for the 2020 European Under 25 Championships. The pair scored 67% and 68% in the two U25 classes.
It came as a big surprise when Berill decided not to compete at the Under 25 Euros, hosted in her home country Hungary for the first time. Her decision not to ride in Pilisjaszfalu had big consequences as it left Hungary out of the team championship with no U25 team fielded, but stuck with  two individuals (Jazmin Yom Tov, Benedek Pachl).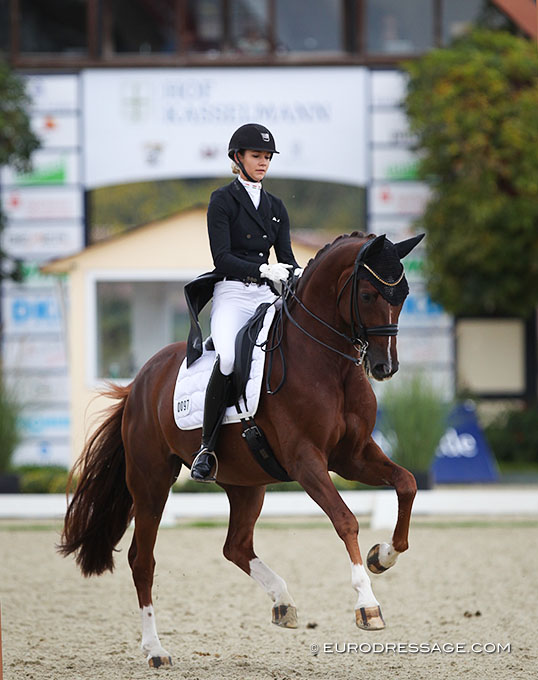 "It wasn't an easy decision, but in the end it made sense," said Berill. "I'm 21 years old and this is my first season in the U25 tour. Qatar is still young and because corona we couldn't get as much experience as we had planned. I'm not in a hurry. He gets the time he needs and I need more mileage. We will surely show ourselves at a Championships, when everything is more secure."
A Future with Horses
Berill completed her A-levels at Katona József Gimnázium when she was 18 and then moved to Telgte, Germany, opting for a career in horses instead of academics. 
"At the moment I focusing full force on horses," she said. "I feel good here in Germany and am having so much fun. I enjoy being here every day."
Photos © Astrid Appels - Lukasz Kowalski - No reproduction allowed
Related Links
Eurodressage Photo Database: Berill Szoke Toth
Scores: 2020 CDI Hagen
Scores: 2020 CDI Sint-Truiden
Scores: 2020 CDN Munster Indoor
2019 Almased Dressage Amateurs Approaches Season Finale in Herning
Mariakalnok Dressage Centre Boosting Dressage in Hungary, First Major Successes Achieved
Photo Report: Kittel Coasts to World Cup Victory at 2017 CDI-W Brno
Nikolett Szalai Extends Title by Winning 2017 Hungarian Grand Prix Championships
Nikolett Szalai Wins 2016 Hungarian Grand Prix Championships
Hungarian Berill Szoke Toth Makes a Clean Sweep at 2016 CDI-W Zakrzow
Hungarian Team Selected for 2012 European Pony Championships