2020 German Professional Dressage Riders Championships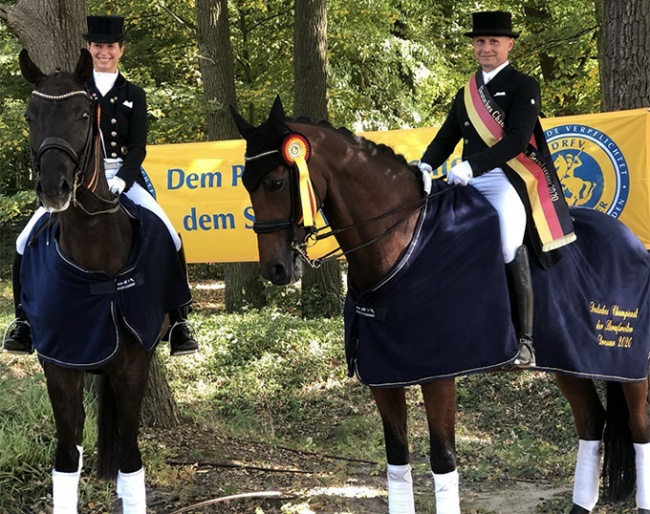 Martin Pfeiffer became the winner of the 2020 German Professional Dressage Riders Championships held at the national "Kranichsteiner Autumn Meeting" at Hof Kranichstein in Darmstadt, Germany, on 18 - 20 September 2020.
From Unna to Darmstadt
It was the 26th edition of the "Berufsreiterchampionat" and after six runs at equestrian centre Massener Heide in Unna, the Championship moved to Darmstadt for the 2020 edition. 
The German Professional Dressage Riders Championships consists of three rounds: the Grand Prix and the Special after which the three best scoring riders move to a Finals with horse change and ride a short Grand Prix test on each other's horses.
Pfeiffer Wins Title
This year 13 pairs competed in the Championship and in the Finals for Horse Change it was Martin Pfeiffer, Heiner Schiergen and Aline Röhricht battling it out for the  medals. 
The 33-year old Martin Pfeiffer and the 10-year old Oldenburg bred Riccio (by Rock Forever) were the winners of both qualification rounds (69,667% and 71,02%) and rode the highest score in the Short Grand Prix of 72.444% in the Finals with Horse Change. He scored 71.528% on Rohricht's Dinario and 70.222% on Schiergen's Henny Henessy.  With a total of 214.194 points he became the champion. 
The Dusseldorf based Pfeiffer has been trained by Belgian Johan Zagers and worked as an assistant rider for Johann Hinnemann for three years. Last month he left Hinnemann and relocated to  Gut Schrödersberg. He is trained by Ton de Ridder.
Schiergen Silver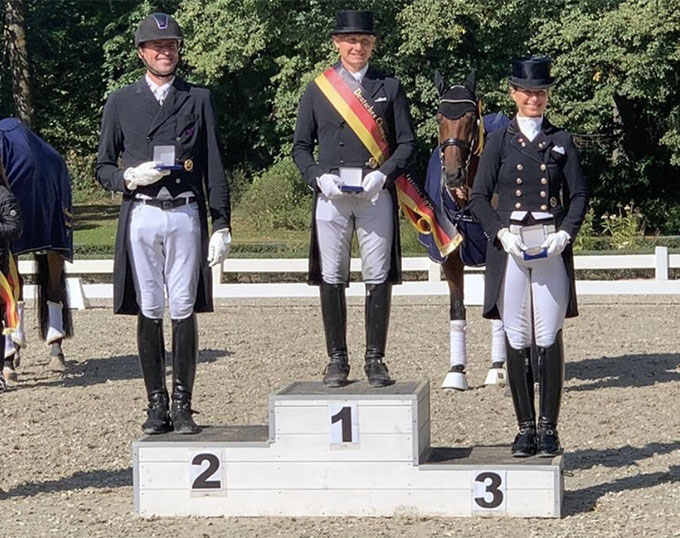 Heiner Schiergen has been the Profi Champion four times in a row (2015 - 2018), but in 2019 he was reserve champion and also this year he finished in the silver medal position.
He brought along his student Anna Christina Abbelen's Under 25 Grand Prix horse Henny Henessy (by Hofrat), which he had trained to Grand Prix level. The 51-year old from Krefeld rode two horses in the Championship. He brought along the Westfalian stallion Bordeaux' Barolo (by Bordeaux) as well as 17-year old Henny Hennessy, but the latter showed more experience in the second round and became his choice for the Finals. 
Schiergen totalled 208.445 points for silver, but the trainer could be proud in the fact that his horse was the best performer under all three riders. 
Röhricht Bronze
The 34-year old Alina Röhricht scored the bronze medal with a total of 205.750 points.
Röhricht is originally from Dortmund but works as an independent rider at Hof Kasselmann in Hagen. She brought Dinario (by Dimaggio) to Darmstadt, a horse previously shown by Kasselmann riders Insa Hansen and lady of the house, Bianca Kasselmann.
Related Links
Frederic Wandres Wins 2019 German Professional Dressage Riders Championship
Heiner Schiergen Wins 2018 German Professional Dressage Riders Championship
Schiergen Takes Three in a Row at 2017 German Professional Dressage Riders Championship
Schiergen Renews Title at 2016 German Championships for Professional Dressage Riders 
Marcus Hermes Edges Out Timpe in 2014 German Professional Dressage Riders Championships
Thomas Wagner Wins the 2013 German Professional Dressage Riders Championships
Hartwig Burfeind Wins 2009 German Championships for Professional Dressage Riders
Photo Report: 2008 German Championships for Professional Dressage Riders
Scores: 2007 German Championships for Professional Dressage Riders
Scores: 2005 German Championships for Professional Dressage Riders
Hubertus Schmidt wins 2004 German Professional Dressage Riders Championship