Germany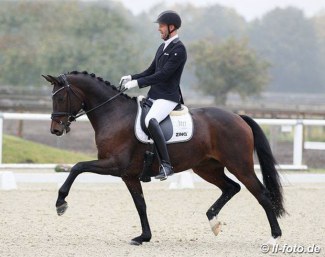 The young horse selectors at the German Equestrian Federation have organized their first of two selection trials to decide on the German delegation for the 2020 World Young Horse Championships. 
The first trial took place in Warendorf on 29 - 30 September and consisted of a training day, followed by a preliminary test riding day.
A small group of 5 and 6-year olds, that had not competed at the 2020 Bundeschampionate, and a large group of 7-year olds were entered for the first trial. 
The selectors picked a group of horses, which will have to return to the second selection trial on 19 - 20 October. A large group of 5 and 6-year old Bundeschampionate finalists will  also be invited to this second trial.
One horse is excused from the second trial and automatically qualified to compete at the 2020 World Young Horse Championships in Verden on 9 - 13 December : Andreas Helgstrand's Revolution. The 2018 World Champion and 2019 reserve World Champion impressed the German selectors enough to get a direct ticket to the event. 
Invited to the second selection trial are:
5-year olds
Escamillo, Rhinelander stallion by Escolar – Rohdiamant (Helen Langehanenberg 
Finest Black Lady, Hanoverian  mare by Finest - Royal Highness (Jeanna Högberg/SWE)
6-year olds
Elitist, Rhinelander stallion by Escolar - De Niro (Juliane Brunkhorst)
Espe, Westfalian mare by Escolar – Dimaggio (Catherine Dufour/DK)
Eternity, Westfalian mare by Escolar - Sir Donnerhall I (Catherine Dufour/DK)
For Gold OLD, Oldenburger stallion by Franziskus – Zack (Stefanie Wolf)
Von Herzen FH, Oldenburger mare by Van Vivaldi - De Niro (Marcus Hermes)
Zoom, Hanoverian stallion by Zack - Don Schufro (Helen Langehanenberg)
7-year olds
Helen Langehanenberg on Zoom

Bob Marley, Hanoverian stallion by Bon Bravour - De Niro (Jana Freund)
Candy OLD, Oldenburger mare by Sir Donnerhall I - Fürst Heinrich (Helen Langehanenberg)
Devonport, Hanoverian stallion by Dancier – Ravallo (Jeanna Högberg)
Drama Queen, Westfalian mare by Deveraux - Louis le Bon (Helen Langehanenberg)
Finley, Westfalian gelding by First Selection – Ehrentusch (Ann-Christin Wienkamp)
Harrods, Hanoverian gelding by Hochadel – Rotspon (Frederic Wandres)
Querida Mia, Rhinelander mare by Quotenkönig – Ravallo (Lukas Fischer)
Schöne Scarlett, Hanoverian mare by Scolari – Londonderry (Helen Langehanenberg)
S Rockyna, Westfalian mare by Sir Donnerhall I - Feuerschein I (Sabrine Geßmann)
Zum Glück RS2, Oldenburger stallion by Zonik - Florestan I (Robin van Lierop)
Photo © LL-foto
Related Links
Eurodressage Coverage of the 2020 World Championships for Young Dressage Horses
Line-Up Known for First German Qualifier for 2020 World Young Horse Championships
It's Official! 2020 World Young Horse Championships to Take Place 9 - 13 December 2020