2020 Swiss Dressage Championships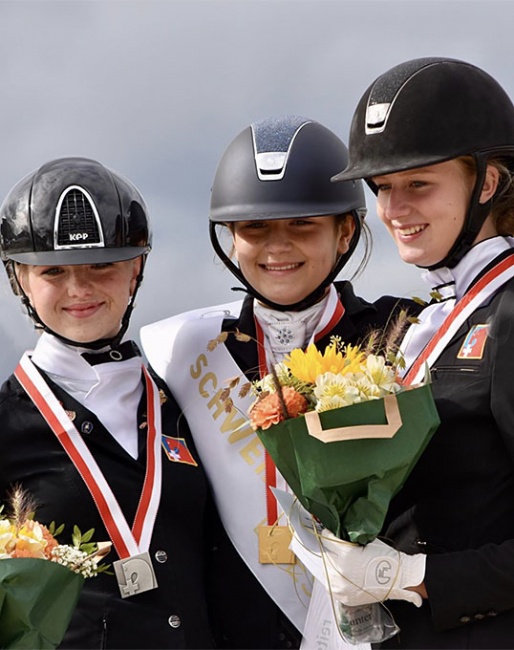 A party of three riders ruled the five FEI level divisions that were contested at the 2020 Swiss Dressage Championships in Roggwil on 26 - 27 September 2020. Pony rider Robynne Graf captured the title in her age division, while Meilin Ngovan grabbed both the junior and young rider's title, while Estelle Wettstein took home two gold medals: the Under 25 and Senior Grand Prix one.
In some countries, riders have to declare for only one age category for a Championship, in others they can compete at all levels as long as they fit the age. 
Graf Claims Third Pony Title
Just four pony pair competed in the division for 12 to 16 year old riders on ponies. Biggest absentee was Antonia Winnewisser on PAV's Nobility who skipped the entire 2020 show season. Switzerland's team riders at the European Pony Championships had plenty of space to move onto the podium. 
Robynne Graf and her 11-year old German bred Dallas (by Dressmann x Donatelli) were unrivalled, winning both rounds with 71.59% in round one and 75.46 in the Kur. 
Layla Schmidt and the Belgian bred German riding pony Ashen Dew Drop (by Dornik B x Pavarotti) scored the silver with 66.72% and 74.05%. The bronze went to Valentina Bona on Douglas de Luxe (by FS Dior de Luxe x FS Cocky Dundee), after posting 66.21% and 70.17% 
"The third time in a row, 2018, 2019 and 2020," said a thrilled Graf. The 15-year old took to Instagram praising her pony: "Dallas, you're just incredible, you always fight for me and make me the happiest girl in the whole world , that's not self-evident! You're just unique, one in a million, the BEST. You always make me speechless! You really deserved your long holidays."
Ngovan Claims Junior and Young Riders Title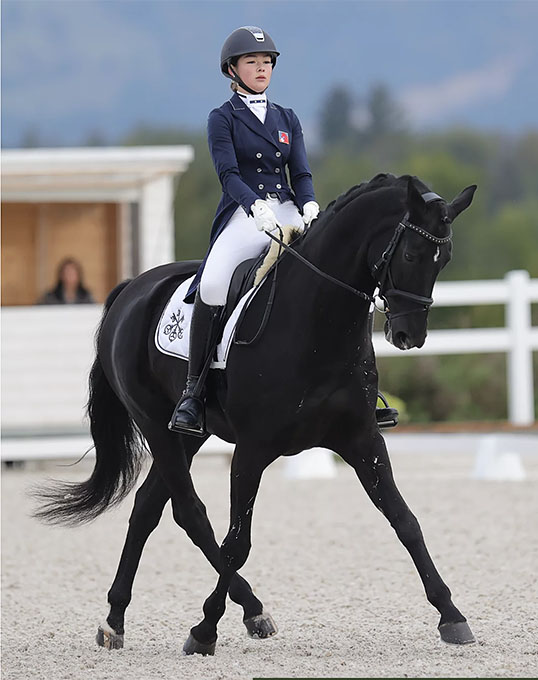 The 17-year old Meilin Ngovan, who was strikingly absent from competing at this summer's European Junior or Young Riders Championships, ruled the roost in her own country. While the rider has not been out to a CDI competition since the 2018 CDI Aachen Indoor almost two years ago, at national level she reigns supreme. 
In the junior division with seven pairs in total, Ngovan an the 10-year old Dormello II (by Dancier x Weltmeyer) won both rounds with 69.76% and 74.52%. Noemi Zindel and the 12-year old Hanoverian gelding Delphino (by Danone II x Wolkentanz) landed the silver after posting 68.86% (3rd) and 72.34% (2nd), while the bronze medal with to Tallulah Lynn Nater on her new ride, 10-year old Rhinelaner San Ravallo (by San Amour x Ravallo) which was previously owned by Korean Dong Seon Kim and sold to Switzerland through Hof Kasselmann. She placed fourth in round 1 with 68.73% and third in the freestyle with 71.88%.
At Young Riders level 10 combinations competed and Ngovan rode Urs Flury's 18-year old Swiss bred Dream of Night Fluswiss (by Dream of Glory x Rubinstein) to victory and the title. The big black was internationally competed at Grand Prix level by father Gilles, before Meilin took over in 2017. Ngovan and Dream of Night dominated both rounds with 68.55% and 73.93. Lars Bürgler and his 14-year old Westfalian Remember Passion (by Rousseau x Pik Donnerhall) settled for silver after scoring two second places with 68.26% and 72.22, while new duo Laura Maria Grunder and the Hanoverian auction horse, 9-year old Rapace (by Romanov x Sandro Hit) were good for bronze with 68.11% (3rd) and 70.44% (4th). 
Wettstein in Charge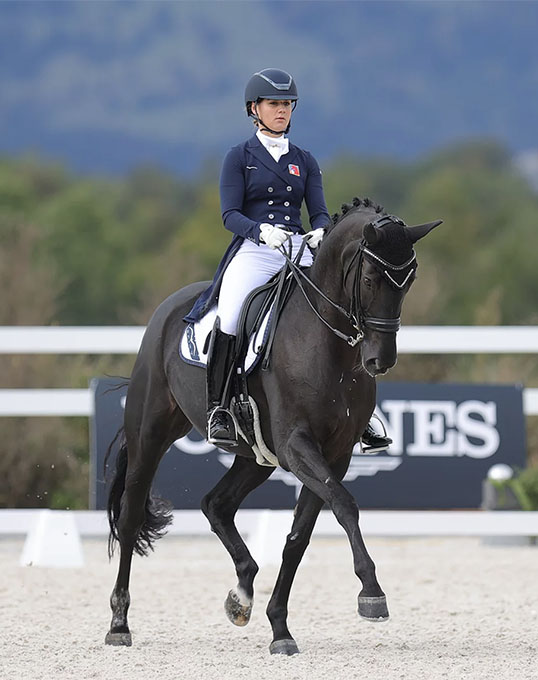 At Grand Prix level, the 23-year old Estelle Wettstein wielded the axe of power in both the Under 25 division as well as in the senior ranks. 
Only three combinations competed in the Under 25 category so everybody was a medalist. Wettstein and the 10-year old Oldenburg Quaterboy (by Quaterback x Rubinstern Noir) outclassed her peers and won the Intermediaire II with 72.50% and the Kur to Music with 75.63%. Carlotta Rogerson, who was selected for the 2020 European U25 Championships but did not show up, finished with silver on the 10-year old KWPN mare Famora (by Zack x Krack C) after earning 67.50% and 70.84%. The bronze went to Carl-Lennart Korsch on the 16-year old Oldenburg bred Ayers Rock BB (by Amidou x Waldsee) who scored 64.39% and 65.39%.
The senior Grand Prix division featured a big group of sixteen combinations, which breathes hope into the future of Swiss elite dressage sport. Wettstein and her 2018 WEG team horse West Side Story OLD, a 12-year old Oldenburg mare by San Amour x Donnerhall, reigned supreme. They won the Grand Prix with 72.28% and the Kur with 77.21%. Antonella Joannou and the 15-year old Swiss bred Dandy de la Roche (by Dressage Royal x Walt Disney) got the silver with two second places on 70.80% and 74.17%.  Elena Fernandez secured the bronze about the 15-year old Baden Wurttemberger Sueno II (by Samba Hit x World Man G) They were fifth in the Grand Prix with 69.90% but moved up the board to a third place in the Kur with 72.68%.
"There are no words to describe this feeling," said Wettstein with her brand new double Swiss title. "i still can't believe it! Double Swiss Champion. My two superstars gave their best and went for gold."
Photos © Reitsportarena.ch
Related Links
Graf, Nater, Ngovan, Wientzek-Pläge Win 2019 Swiss Dressage Championships
Graf, Guerra, Schmid, Aerne-Caliezi Win 2018 Swiss Dressage Championships
Scheufele, Guerra, Rogerson, Suter, Krinke Susmelj Win 2017 Swiss Dressage Championships
Scheufele, Guerra, Winnewisser, Suter, Krinke Win 2016 Swiss Dressage Championships
Neuhauser, 2015 Swiss U25 Champion, Wettstein Stripped Of Title After Positive Doping Test
Korsch, Winnewisser, Wettstein, Aerne-Caliezi Win 2015 Swiss Dressage Championships
Winnewisser, Wettstein, Neuhauser, Aerne-Caliezi Win 2014 Swiss Dressage Championships
Huet, Winnewisser, Wettstein and Krinke-Susmelj Win at 2013 Swiss Dressage Championships
Wettstein, Lehmann, Krinke-Susmelj Win 2012 Swiss Dressage Championships
Surprise, Surprise: Markus Graf is the 2011 Swiss Dressage Champion
Corinth Did It Again at the 2010 Swiss Dressage Championships
Veronika Marthaler, 2007 Swiss Dressage Champion
Widmer, Reutimann and Wettstein, 2006 Swiss Dressage Championships