2020 British Young Horse Championships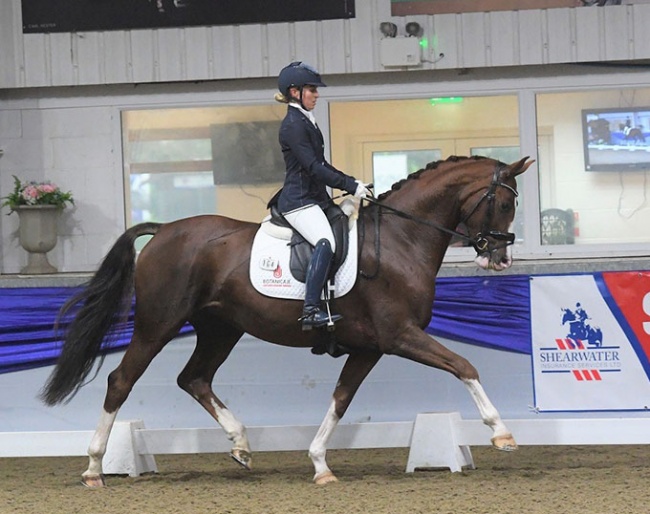 The 4-year old Mount St John Diamonds are Forever, the 5-year old Waverley Fellini, the 6-year old High Hoes Estelle, and the 7-year old MSJ Dante became the winners of the 2020 British Young Horse Championships which were held indoors at Keysoe College on the postponed dates of 1 - 4 October 2020.
They may be a few weeks later than planned but this year's British Young Horse Championships didn't disappoint. Top quality horses, class riding and world class presentation was a joy to behold. A significant number of horses in the top ten across the four, five and six year old championships were home bred which is exciting news. Held at Keysoe, the wet weather did little to dampen the spirits – thanks to all who took part and helped provide a safe competition environment under COVID protocols.
4-YO: Mount St John Diamonds are Forever
A total of 38 starters came forward in front of judges Jenny Ward and Jane McGarel-Groves for the 2020 British Four Year Old Championship. Many of the horses involved won't have had a traditional first year under saddle with the disruption caused by COVID-19 but the overall quality was outstanding.
Grimsby rider Amy Woodhead has been riding a number of youngsters for the Mount St John Stud and Emma Blundell and brought three forward for the final. Chestnut mare Mount St John Diamonds are Forever proved to be the cream of the crop with a score of 82.4% in only her second competitive start.
Emma found Diamonds are Forever (by Diamond Hit) as a foal in Germany from breeder Andre Obermeyer, indeed she was the only foal she bought in 2016, as she wanted to get the prolific stallion's bloodlines in her breeding programme at her Yorkshire stud. Emma commented; "She has three good paces and such scope. She's not spooky and is level headed so we know that we won't lose any marks. It's all very natural as it should be at this age – Amy just works on balance and confidence but once we start asking more, the future will be exciting. Amy has done a great job with her and it was great to see how she coped with the prize giving today, her attitude was amazing."
Rider Amy gave an insight into her preparations; "I had her at the yard for a couple of weeks before the qualifier and then she had some time back with Emma before the group I had to ride here came to us for their final preparation. We've been careful not to overdo it and incorporate plenty of hacking."
And on 'Diamond', "She's very mature and so great to handle on the floor – she's a bit of a yard favourite. She's very placid when you're on the ground but then the power comes when you sit on her, she's exceptional. I'm so grateful to my team and those who loyally support me, I couldn't do it without my parents, Ian and Tracy, Paul Fielder and the guys at the yard."
The title of reserve champion went to the Finnish bred Vaudeville Carrus (by Vivaldi x Davignon II) ridden by Luke Baber-Davies, who co-owns the AES licensed stallion with Yula Skornyacova with a score of 79.2%.
Luke said; We bought him last year from a video – we just fell in love with him! This is his second ever show with the first being the qualifier at Parwood. With a horse like him there's a real temptation to do too much but Grand Prix is our aim with him so we'll take it slowly. He's so kind and so trainable - he's a proper eye filler. We're still in touch with his breeder in Finland and they have a full and half-brother which are to die for and we're very tempted!"
Third spot went to the British bred Tiger on 79.6%, ridden by Alex Baker and owned by Elite Dressage. The mare is by young stallion Blue Hors First Choice, who was used by Anna Ross on a recommendation for her mare. Alex rides for Ireland but is based with the team at Elite Dressage in Devon.
5-YO: Waverley Fellini
The Five Year Old Championship was a huge success for British breeding with all three podium horses being bred on home shores. Judges Sandy Phillips and Andrea Smith had a feast of quality to select from but there was clear winner with the highest score of the weekend.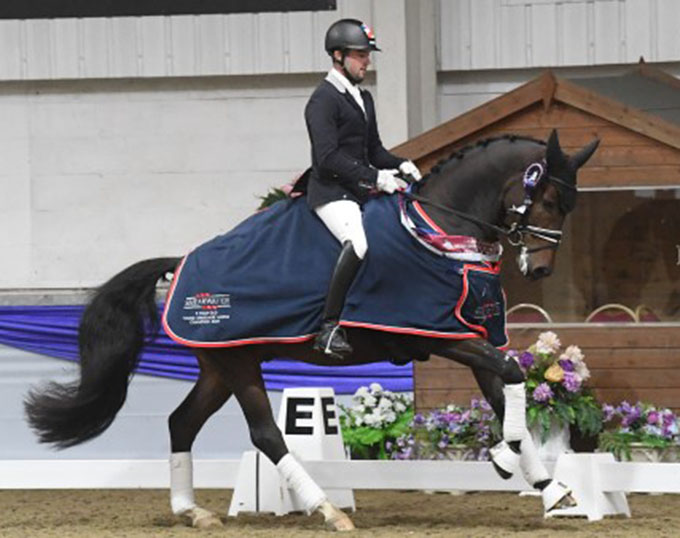 The accolade went to Waverley Fellini (by Furstenball x Sandro Hit x De Niro), expertly partnered by Greg Sims to score 92.6%. The duo won Friday's selection with 87.2% and they were even better this time. Bred by the small scale Waverley Stud in Warwickshire under the expertise of Sara Longworth, Fellini went to Greg to break aged three, as do many of Sara's youngsters but he stood out and Greg and partner Stenna Hoerner, with whom he runs GSH Dressage, decided to buy him. As a four year old, the duo finished third in the British YH Championships and have had a great year already having claimed the Novice Gold title at the rescheduled British Winter Championships.
"He's so straightforward and finds everything quite easy; whatever you ask in training he picks up. I really feel he has the potential to go all the way, he gives you such a great feeling on top and doesn't really have any weaknesses. He gives you the same in any situation, if anything, being in the arena lifts him in the atmosphere," beamed Greg, a former winner of the Young Professionals Award.
And the question of going to Verden for the FEI World Breeding Championships? "If I'm given the chance, I'll definitely take him. It's something I've always dreamed of and wanted to do, it's a once in a life time chance. We'll just have to wait and see," said Greg.
It was another impressive showing for Yorkshire's Mount St John Stud with their own MSJ Florenza (by Furstenball x Dimaggio) under Amy Woodhead to score 84.8% for runners up spot. The stunning grey mare is out of Emma Blundell's own Keystone Diaz, who was also British bred.
Third spot went to Swanmore Dantina (by Dante Weltino x Charatin), bred by Ben St John-James in Hampshire and ridden by her now owner, Sadie Smith with 83.4%.
6-YO: High Hoes Estelle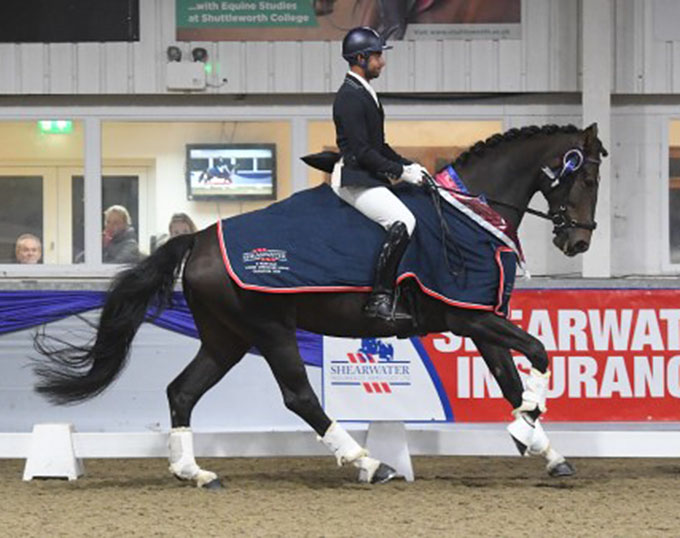 The Six Year Old Championship yielded another British winner, this time it was a mare bred at the High Hoes Stud in West Sussex. High Hoes Estelle (by Escolar x Laudabilis) was bred by Nicky Callum and she continues to own a stake in her with rider Dannie Morgan. Dannie took her on as a recently-backed leggy five year old and the mare has taken some time to mature due to her size but in recent weeks, their patience has been rewarded. The combination produced a fluent, supple and elastic test in front of judges Helen Bradley and Maria Eilberg which they duly rewarded with 83%.
A delighted Dannie said' "I'm so excited – for me but also Nicky, her breeder and co-owner. Nicky isn't a large scale breeder but concentrates on quality and mixing ideal bloodlines. Estelle is very big and has taken time but in the last six months she's really found some strength. My trainer Nicky Barratt has really helped bring her on and she's already showing a talent for piaffe and the collected work. Nicky has her full sibling due next year which will be exciting."
Second place went to another internationally recognised British stud, Hawtins Stud from Gloucestershire. Judith Davies' Hawtins Finaello is a real ball of fire and stable rider Lucinda Elliott presented the Floriscount x Cardinal gelding expertly to score 82.4%.
Proud Breeder Judith told us; "He was reserve as a four year old. We've taken time with him as he keeps growing and he's now much stronger. He's so talented and vey trainable and Lucinda has found a great balance with him on riding him carefully with tact to get the best from him. He's a nice person and we're excited for his future."
The third place went to Lucy Amy on Jaliva with a score of 82.2%
7-YO: MSJ Dante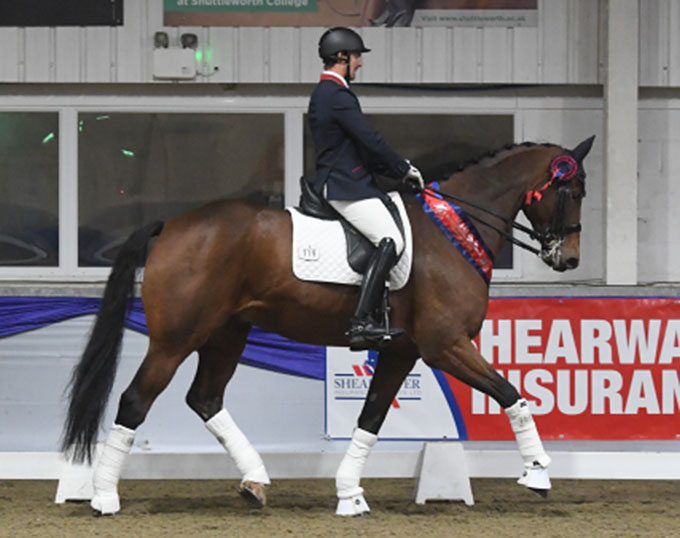 The inaugural British Seven Year Old Championship was also due to feature at the Nationals and it could have been easy to hold fire until next year but it was important to get this new feature class established so it too moved to Keysoe. A strong entry came under judges Richard Baldwin at C and Pam Bushell at E to ride Advanced Medium 96 and it was another victory for a horse bred on our shores.
Michael Eilberg may have found his next British team horse in MSJ Dante, owned by mum Geri and Nicky Reid. The tall, elegant gelding was of course bred by Emma Blundell at the Mount St John Stud using Dante Weltino on a Quattro B mare. He's taken time to mature and still suffers from stage fright but today he looked most grown up and was expertly presented by Michael to score 76.38%.
Friday's FEI World Breeding Championship Selection Trial Winner Impressive (Charmeur x Krack C) under Sarah Millis held the lead for much of the class but was pipped by just .08%. They may have been reserve today but this partnership have Grand Prix written all over them and are certainly ones to watch.
Dan Sherriff was back on the podium with his own Dutch bred Bayford Hall Incognito (by ??) in third with 74.4%.
Champion Michael said; "I'm thrilled with him today. He's very low mileage and generally needs outings to keep him happy but the time away from competition has suited him and he's coping much better. I'm so pleased with the judges' comments and what they see matches what I feel. He's truly a class horse – his scope, the reach he gets, I've always believed in him and he's finally finding his bravery badge!"
Text by British Dressage, edited by Eurodressage - Photos © Kevin Sparrow
Related Links
Special Diva, Hawtins Lirica, Freeman Win 2019 British Young Horse Championships
Hawtins Lirica, Izonik, Hawtins San Floriana Win 2018 British Young Horse Championships
Waverley Dante, Hawtins San Floriana, Mount St. John VIP Win 2017 British Young Horse Championships
Hawtins San Floriana, Mount St. John VIP, San Marco Win 2016 British Young Horse Championships
Hawtins Duchessa and Florentina Win 2015 British Young Horse Championships
FJ Veyron and River Rise Escarla Win 2014 British Young Horse Championships
Eldorado and Romanno Stromboli Win 2013 British Young Horse Championships
Romano Ruinart, Zolansky, Royal Concert Win 2009 British Shearwater Young Horse Championship
2007 British Dressage Young Horse & Breeding Championships