Danish Warmblood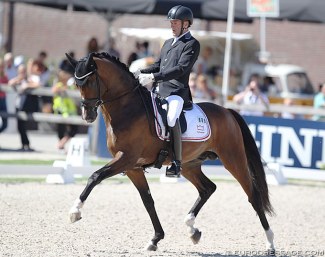 The Danish warmblood society has decided to bestow the 8-year old Hesselhøjs Donkey Boy with Elite Status. He is one of the youngest stallions to ever do so.
Hesselhøjs Donkey Boy is by the late ERA Dancing Hit x Milan and bred by the Sjobeck Hoeck family of Stutteri Hesselhoj. He is owned by Norwegian Kristin Andresen.
The criteria to be named Elite stallion i the Danish warmblood society includes top level performance of the stallion himself as well as his offspring. Donkey Boy meets the criteria at the young age of 8. 
Under Jan Möller Christensen he won the Danish Young Horse Championships as a 4,5, 6 and 7-year old. He won bronze as a 5-year old and silver as a 7-year old at the World Young Horse Championships. He was the licensing champion as a 4-year old and won the performance test with 900 points.
No less than 85% of the 33 daughters that have been performance tests passed the testing and received a medal. He sired two licensed sons so far: Hesselhoj Downtown and Ambjergs Delgadino. 11 offspring from his first crop qualified for the Danish Young Horse Championships as 4-year olds. 
Photo © Astrid Appels
Related Links
Eurodressage Photo Database: Hesselhoj Donkey Boy
Hesselhøj Donkey Boy Relocates to Helgstrand for Breeding and Training
Kardieno, Queenparks Wendy, Revolution, Hesselhoj's Donkey Boy Win 2019 Danish Young Horse Championships
Hesselhoj Donkey Boy Sold to Norway
Hesselhoj Donkey Boy Wins 2015 Danish Warmblood Autumn Stallion Performance Testing
Springbank II, Revolution, Hesselhoj's Donkey Boy, Heiline's Danciera Win 2018 Danish Young Horse Championships
Revolution, Hesselhojs Donkey Boy, Heiline's Danciera, Fiontini Win 2017 Danish Young Horse Championships
Hesselhoj Donkey Boy, Victoria's Secret, Fiontini Win 2016 Danish Young Horse Championships
Don Martillo Prevails in 5-YO Finals at 2017 World Young Horse Championships
Poster Boy D'Avie Enthuses and Wins 6-YO Final at 2018 World Young Horse Championships
D'Avie Renews Title Winning 7-year old Finals at 2019 World Young Horse Championships