Westfalian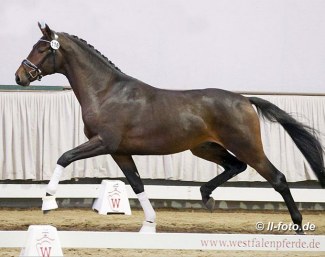 No less than 55 dressage bred colts have been selected for the 2020 Westfalian Stallion Licensing in Munster-Handorf on 23 - 25 November 2020.
During the pre-selection days the licensing committee assessed approximately 300 colts and decided to accept 32 jumper colts and a huge group (55!!) of dressage colts. 
The best represented sire is the Hanoverian bred Zoom (by Zack x Don Schufro) who has 8 of 16 presented colts through to the Licensing. 
Secret (by Sezuan) had 16 colts at the pre-selection and five of them were accepted. 
The accepted dressage colts are:
Ibiza / Davignon I / Apart
Ibiza / For Romance I / Wolkentanz II
Baron (DK) / Johnson / Walt Disney I
Benicio / Brentano II / Weltmeyer 
Benicio / Fidermark / Weltmeyer 
Benicio / Sir Donnerhall I / Maurice
Benicio / Zack / Werther 
Bernay / Lucky Champ / Cassini II
Bernay / Millennium/T. / Lancer II
Bonds / Don Frederico / Weltmeyer
Daily Diamond / Johnson / Scandic
Dancier / Floriscount / Rascalino
Dankeschön / Ampere (NLD) / Fidermark
Destacado / Quaterback / Weltmeyer
Diamond Deluxe / Lissaro / Labrador
Don Allegro / Belissimo M / Sir Schölling
Don Allegro / Donnerschlag / Weltmeyer 
Don Nobless / Florestan I / Rosenkavalier
Fair Game / Destano / Harvard
Farrell / Lord Loxley / Damon Hill
Floriscount / San Amour I / Fürst Heinrich 
For Final / Lissaro / Davignon
For Gold / Sir Donnerhall I / Don Cavallo 
Foundation / De Kooning / Farewell III 
Fürst Wilhelm / Don Jovi / Lord Loxley
Fürstenball / Sir Donnerhall I / Weltmeyer
Fürstenball / Zack / Sandro Hit
Glamourdale / Millennium/T. / Lord Loxley
Henkie / Sir Donnerhall I / Rohdiamant
Indian Rock / Springsteen / Weltart
Morricone I / Diamond Hit / Krack C
Rock Forever I / Franziskus / Ehrentusch
Secret / Biasini / Ehrentusch
Secret / De Niro / Hohenstein/T. 
Secret / Desperados / His Highness
Secret / Dimaggio / Florestan
Secret / Don Schufro / Rohdiamant
Sensation / Belissimo M / Florestan
Sezuan / De Niro / Furaldo
Sir Donnerhall I / Totilas / Florestan I 
Sir Heinrich / Escolar / Louis le Bon
Vitalis / Don Frederic / For Compliment
Vitalis / Florencio I / Jazz
Vitalis / Rock Forever I / Florestan
Vitalis / San Amour I / His Highness
Zack / De Niro / Florestan
Zackerey / Lauries Crusador xx / De Niro
Zoom / Blickpunkt / Pik Donnerhall
Zoom / Davignon I / Matcho AA
Zoom / Diamo Gold / Lord Sinclair 
Zoom / Don Bedo I / Florestan
Zoom / Don Vino / Werther
Zoom / Fürst Romancier / Frenchman
Zoom / Rock Forever I / Fleurop
Zoom / Rocky Lee / Fibonacci
Photo © LL-foto
Related Links
Dynamic Dream, 2019 Westfalian Licensing Champion and 1.9 Million Auction Horse, Tests Positive to Medication
Forty-Nine Dressage Colts Selected for 2019 Westfalian Stallion Licensing
Forty-Seven Colts Selected for 2018 Westfalian Stallion Licensing
Fifty-One Dressage Colts Selected for 2016 Westfalian Stallion Licensing
Eighty-Two Colts Accepted for 2015 Westfalian Stallion Licensing