Germany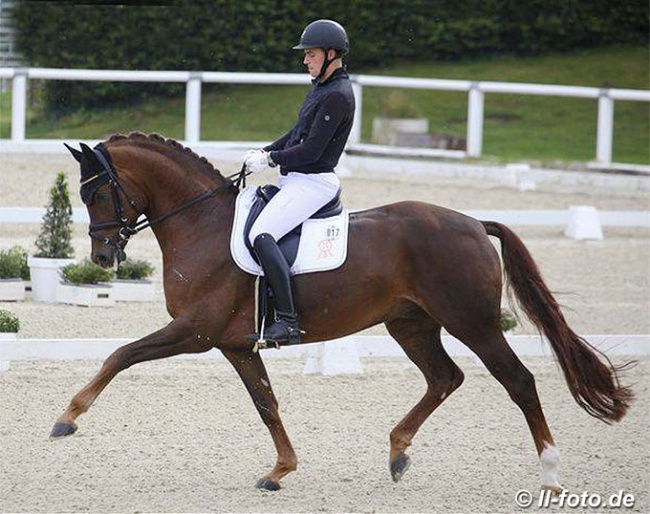 The German equestrian federation has announced the horse-and-rider combinations which have been selected to represent the German breed societies at the 2020 World Championships for Young Dressage Horses. 
The dates for the 2020 WCYH moved from August to 9 - 13 December 2020 because of the corona pandemic. The event will be hosted indoor. 
The German NF hosted two selection trials for Verden. The first took place in Warendorf on 29 - 30 September and featured a small group of 5 and 6-year olds, that had not competed at the 2020 Bundeschampionate, and a large group of 7-year olds were entered for the first trial. 
The second selection trial took place indoor in Warendorf on 19 - 20 October 2020 to which a larger group of 5 and 6-year olds was invited, as well as the qualified horses from the first trial. The selection was supervised and commented on publicly by German Grand Prix team trainer Monica Theodorescu.
The selected horses are:
5-year olds
Danny Cool, Bavarian gelding by Danciano - Sandro Hit (Lisa Horler)
Escamillo, Rhinelander stallion by Escolar – Rohdiamant (Helen Langehanenberg)
Finest Black Lady, Hanoverian mare by Finest - Royal Highness (Jeanna Högberg/SWE)
Forever Valentine, Westfalian mare by Franziskus – Laurentio (Thomas Schulze)
Sommernacht, Oldenburger mare by Rocco Granata - San Remo (Greta Heemsoth)
So Unique, Rhinelander stallion by Sezuan – Donnerhall (Eva Möller)
Tara OLD, Oldenburger mare by Tomahawk – Hotline (Annika Korte)
The reserve horse is Jetset, a Hanoverian  stallion by Johnson - Beltoni (Kira Laura Soddemann)
A renowned 5-year old that did not make the final team selection is the Hanoverian and Bundeschampion Feingefuhl (Sandra Kötter)
6-year olds
Anthrazit, Westfalian gelding by All at once – Weltmeyer (Greta Heemsoth)
Dolciario, Hanoverian stallion by Danciano - Don Frederico (Eva Niklova)
Eternity, Westfalian mare by Escolar - Sir Donnerhall I (Catherine Dufour/DK)
Secret, Baden Wurttemberger stallion by Sezuan - St. Moritz (Jessica Lynn Thomas/SWE)
Señor Charming, Westfalian gelding by Stanford - Fürst Piccolo (Kira Soddemann)
Zoom, Hanoverian stallion by Zack - Don Schufro (Helen Langehanenberg)
Valverde NRW, Westfalian stallion by Vitalis - Ampère (Eva Möller).
Remarkably not selected in this lot were last year's German team horses Espe (then under Eva Möller, now under Cathrine Dufour. Espe was withdrawn from second selection trial after knocking herself in the stall) and For Gold OLD (Stefanie Wolf) as well as Caty OLD (Eva Möller), Bundeschampion Finest Selection (Patrick Kraft), and the internationally competed Eyleen (Yvonne Kläne).
7-year olds
Bob Marley, Hanoverian stallion by Bon Bravour - De Niro (Jana Freund)
Drama Queen, Westfalian mare by Deveraux - Louis le Bon (Sabrina Geßmann)
Finley, Westfalian gelding by First Selection – Ehrentusch (Ann-Christin Wienkamp)
Harrods, Hanoverian gelding by Hochadel – Rotspon (Frederic Wandres)
Schöne Scarlett, Hanoverian mare by Scolari- Londonderry (Helen Langehanenberg)
Revolution, Westfalian stallion by Rocky Lee – Rouletto (Andreas Helgstrand/DK)
S Rockyna, Westfalian mare by Sir Donnerhall I - Feuerschein I (Sabrina Geßmann)
The first reserve is Querida Mia, a Rhinelander mare by Quotenkönig – Ravallo (Lukas Fischer)
The second reserve is Zum Glück RS2, an Oldenburger  stallion by Zonik - Florestan I (Robin van Lierop).
Photo © LL-foto
Related Link
Eurodressage Coverage of the 2020 World Championships Young Dressage Horses
German Horses Selected for Second Trial 2020 World Young Horse Championships
Germany Announces Selection Trials for 2020 World Young Horse Championships