WBFSH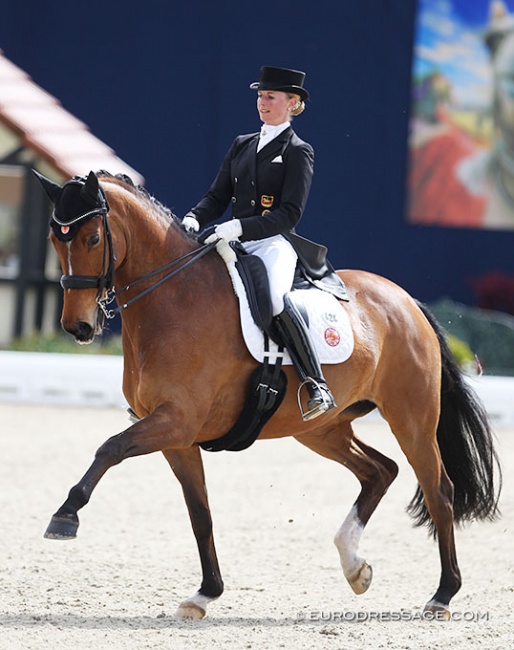 The KWPN breed society topped the 2020 WBFSH World Ranking List for Dressage, while the Oldenburg mare Weihegold is the number one ranked dressage horse at the end of the year. 
KWPN has made an incredible push for power in 2020, topping not only the Dressage ranking but also the Show Jumping AND eventing one!
KWPN Dominates
The KWPN studbook topped the dressage ranking for 2020 with a total of 12,923 points. 
The six internationally competed Grand Prix dressage horses that contributed to this ranking were Jessica von Bredow-Werndl's Zaire (by Son de Niro x Jazz) with 2421 points, Emmelie Scholtens' Desperado (by Vivaldi x Havidoff) with 2299 points, Steffen Peters' Suppenkasper (by Spielberg x Krack C) with 2239 points, Charlotte Fry's Dark Legend (by Zucchero x Tango) with 2120 points, Matthias Bouten's Meggle's Boston (by Johnson x Partout) with 1928 points, and Thamar Zweistra's Hexagon's Double Dutch (by Johnson x Rubiquil) with 1916 points. 
Oldenburg and Westfalen in Top Three
The second ranked studbook is the Oldenburg society with 12,518 points. The top contributor is Isabell Werth's Weihegold OLD (by Don Schufro x Sandro Hit) with 2753 points, the highest score of all horses on the ranking. Other Oldenburg contributor's are Benjamin Werndl's Famoso, Morgan Barbançon's Sir Donnerhall II, Agnete Kirk Thinggaard's Blue Hors Zatchmo, Victoria Max-Theurer's Benaglio and Estelle Wettstein's West Side Story.
Because of Weihegold's number one spot on the WBFSH Dressage Ranking, her breeder Inge Bastian has been named the WBFSH Breeder of the Year 2020.
The third ranked studbook is the Westfalian society with 12,344 points. Their top horse is Isabell Werth's Emilio, who ranked third overall with 2602 points. Other Westfalians boosting the score are Benjamin Werndl's Daily Mirror, Victoria Max-Theurer's Abegglen and Rockabilly, Dane Rawlins' Espoire and Christian Schumach's Donna Karacho. 
Trakehner and Lusitano
Interestingly the horse that placed second on the ranking was the Trakehner mare Dalera (by Easy Game x Handryk), shown by Jessica von Bredow-Werndl. She scored 2604 points. The Trakehner studbook is ranked 10th.
An interesting feat worth mentioning is the sixth place for the Lusitano studbook amongst all other warmblood societies. The Portuguese Lusitano horse studbook scored 10,007 points with Joao Torrao's Equador MVL (by Quo Vadis) and Anne Sophie Serre's Actuelle de Massa (by Pastor) as biggest contributors. 
Complete 2020 WBFSH Dressage Ranking here.
Complete 2020 WBFSH Dressage Breeders Ranking here.
Photos © Astrid Appels
Related Links
Bella Rose's Breeder, ZG Strunk, Honoured at 2019 WBFSH Breeders Awards
Hanoverian Society Wins 2019 WBFSH World Championships for International Young Breeders
KWPN and Verdades Top 2018 WBFSH Dressage Ranking
KWPN and Weihegold Top 2017 WBFSH Studbook and Dressage Horse Ranking
Hanoverian Society and Desperados Top 2016 WBFSH Studbook and Dressage Horse Ranking 
Valegro and KWPN Top Final 2015 WBFSH Dressage Horse and Studbook Ranking
Valegro and KWPN Top the 2014 WBFSH Dressage Breeding Ranking
KWPN Tops 2013 WBFSH Breeding Ranking for Dressage and Show Jumping
KWPN Society and Valegro Lead 2012 WBFSH Dressage Ranking
KWPN Leads 2011 WBFSH Ranking in Dressage
Totilas Takes KWPN to the Top in 2010 WBFSH Ranking
Hanoverians Win 2006 WBFSH World Breeding Dressage Ranking