2020 Luxembourg Dressage Championships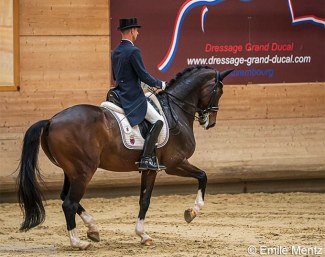 Junior rider Tim Löffler, young rider Marie Schiltz and senior Grand Prix rider Sascha Schulz became the winners of the 2020 Luxembourg Dressage Championships held at Ecuries des Pres in Leudelange on 7 - 8 November 2020. 
Small Youth Divisions
The junior rider division had five combinations participating and the category was a mixture of four Under 18 juniors and one Under 16 FEI pony rider competing at M-level. 
Tim Löffler and the 16-year old Hanoverian gelding Hofgraf (by Hofrat x Weltruhm) reigned supreme and earned the gold medal with a total of 138.63 points over two rounds. He scored 70.34% in the first test and 68.29% in the second round. The silver medal went to Line Kandel on the 14-year old Westfalian mare Fee Ferra (by Flovino x Ferragamo). She scored 66.03% and 64.91% to finisjh on 130.94 points. Pony rider Alice Rouyr and her 9-year old French Camargue pony Bolero des Baux (pedigree unknown) finished with the bronze on 130.19 points. She posted 65.05% for third place in round one and 65.14% for second place in round two.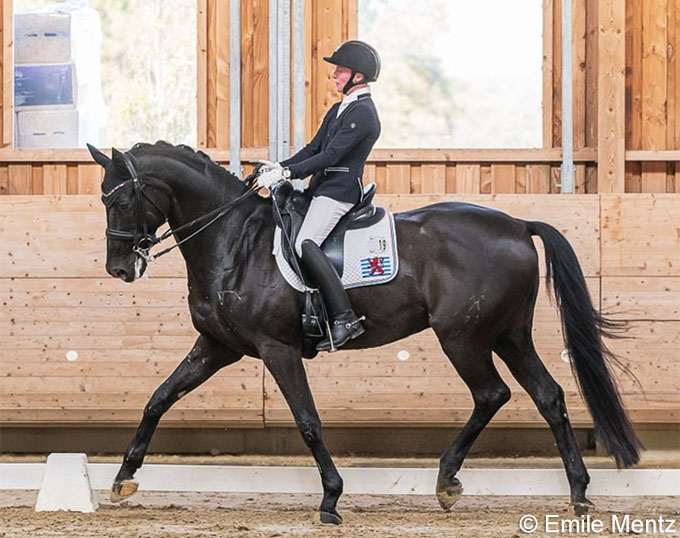 At Young Riders' level there were only three combinations entered so they rode in the same small tour championship as the seniors. Maria Schiltz and the 8-year old Hanoverian mare Quantina W (by Quaterhall x San Remo) scored 66.140% in the Prix St Georges and 69.123% in the second S-level test on Sunday. She totalled 135.26 points for the Young Riders title. Lynn Thill and the 10-year old Trakehner gelding Aviator Red (by Editorial x Sixtus) landed the silver medal with 124.96 points. She got 62.675% in the Prix St Georges and 62.281% in the second S-level test. The third place went to Isabelle Rennel aboard Decoeur, Martine Lamesch's 14-year old Hanoverian by Don Frederico x Michelangelo. They posted a total of 123.86 points with 62.02% and 61.84%.
At senior small tour level professional Fie Skarsoe took highest honour aboard Emma Lou Becca's Gucci Sinclaire (by Silvano) with 71.80% and 70.45% in the two S-level tests. Veronique Henschen and Rayman Delux (by Rosandro x Ramires) got silver with 69.74% and 68.86%.
Senior Sascha Schulz Wins with Chinese Owned Dayman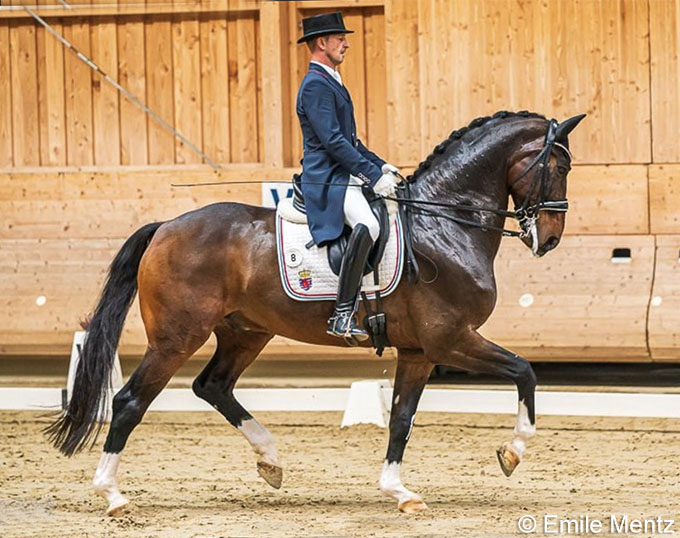 The 2020 Luxembourg Grand Prix Championships were held in a "Light" version with only three riders present.
Biggest absentee was Nicolas Wagner on Quater Back Junior, whose horse got a break after a recent, minor health issue. However also Fie Skarsoe (So Dark), Alexandra Hidien (Dancing Dynamit D), Anni Rossi (Chili Bang Bang), and Mandy Zimmer (Saladin MZ) were not there with their number one GP horses. Although Luxembourg is a tiny country, it can boast a good list of Grand Prix riders in principle, with former international GP riders Gaston Chelius, Diane Erpelding, and Isabelle Constantini (based in Spain) thrown in the mix.
German born Sascha Schulz, who hosted the Nationals at his base at Ecuries des Pres, took highest honour and the title for the fourth consecutive year, this time on a brand new horse: the 8-year old Westfalian gelding Dayman (by Daily Deal x Flovino). Schulz' previous Grand Prix team horse, Lusitano Dragao, is for sale.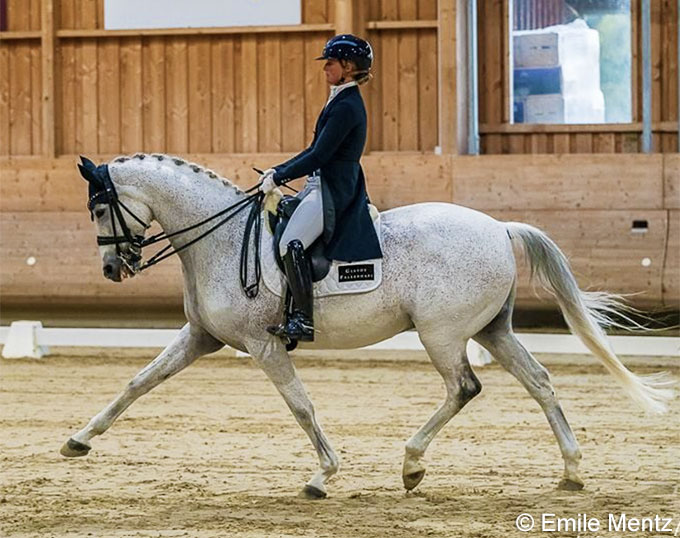 Sascha's new star is the dark bay Dayman, who is bred by Hermann Gerland and was previously owned and competed up to small tour level by German Jurgen Höfler. The German company Lian United, headed by Chinese entrepreneur Qiujuan He, purchased the horse as Finnish Terhi Stegars' 2024 Olympic hopeful. He also built a brand new barn in Mettlach, Germany, to which he moved all his horses. Stegars, who is the head rider at the Contern Dressage Center and building a new business there, did not want to do the daily commute so gave up the ride. Schulz took over three months ago.
At the Nationals, Schulz and Dayman won the Grand Prix with 69,73% and the freestyle with 74,00% to finish with the title on 143,73 points. Kristine Möller and Jens Thorsen's 15-year old Trakehner gelding Hamilton (by Distelzar x Fahnentrager II)  got silver with 67.60% and 71.25% (total 138.85 points). The bronze went to Under 25 rider Emma Lou Becca aboard her schoolmaster, 14-year old German bred Fiero (by Furst Heinrich x Diabolo). She posted  63,27% and 69,21% and got the bronze with 132,48 points in her first year riding at Grand Prix level.
Photos © Emile Mentz
Results - 2020 Luxembourg Dressage Championships - Leudelange
Junior Riders
1. Löffler Tim -  Hofgraf - 70,34 - 68,29 ---138,63
2. Kandel Line -  Fee Ferra -  66,03 - 64,91 --- 130,94
3. Rouyr Alice - Bolero des Baux -  65,05 - 65,14 ---130,19
4. Ciglar Kyra - Sun Time -  62,16 - 62,97 --- 125,13
5. Noesen Gianna  - Charlie Brown Superstar -  54,02 - / --- 54,02
Young Riders
1. 1 Schiltz Marie - Quantina W -  66,14 - 69,12 --- 135,26
2 Thill Lynn - Aviator Red - 62,68 - 62,28 --- 124,96
3. Rennel Isabelle - Decoeur - 62,02 - 61,84 --- 123,86
Seniors 
1 Schulz Sascha - Dayman - 69,73 - 74,00 --- 143,73
2 Möller Kristine - Hamilton -  67,60 - 71,25 --- 138,85
3 Becca Emma-Lou - Fiero  - 63,27 - 69,21 --- 132,48
Related Links
Lange, Goergen, Hidien, Schulz Win 2019 Luxembourg Dressage Championships
Becca, Remy, Moller, Schulz Win 2018 Luxembourg Dressage Championships
Thill, Becca, Wagner, Schulz Win 2017 Luxembourg Dressage Championships