Belgium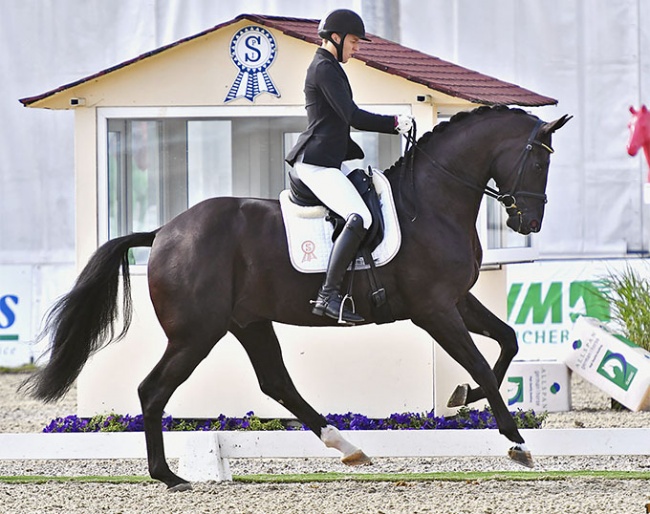 The Belgian Equestrian Federation (KBRSF) has selected the horses that will represent Belgium at the 2020 World Championships for Young Dressage Horses in Verden, Germany. 
The KBRSF hosted two selection trials: the first one at Stable Bocage in Dentergem on 14 October 2020 and a second originally scheduled at stable C.E. de la Belle Fleur in Cheratte But relocated to Gesves on 14 November 2020.
At the first trial selectors Christof Umbach (LUX), Eddy de Wolff van Westerrode (NED), and Olivier Smeets (BEL) selected a short list of four combinations per age group and one reserve. These had to battle it out for nomination on 14 November
Different MER Deadlines 
Upholding a not so praise worthy tradition, the Belgian young horse selection process once again caused much frustration and confusion amongst riders with changing rules, deadlines and lack of assistance in the selection process. 
This year the problems were threefold: Most importantly the achieving of the FEI Minimum Eligibility Requirement (MER) proved to be problematic with conflicting rules set out by the KBRSF and the FEI. Secondly no real preference for Belgian warmblood registered was given as stipulated by the World Breeding Federation of Sport Horses (WBFSH). Thirdly, there was also a rider's licence issue.
The KBRSF selection rules states that this MER has to be achieved "before the closing of the entries for the final selection session," but the FEI rules state that the MER has to be achieved before the Nominative Entry date (26 October 2020). Due to corona, opportunities to score MER results were small with competitions being cancelled across Belgium and Holland, but certainly not impossible.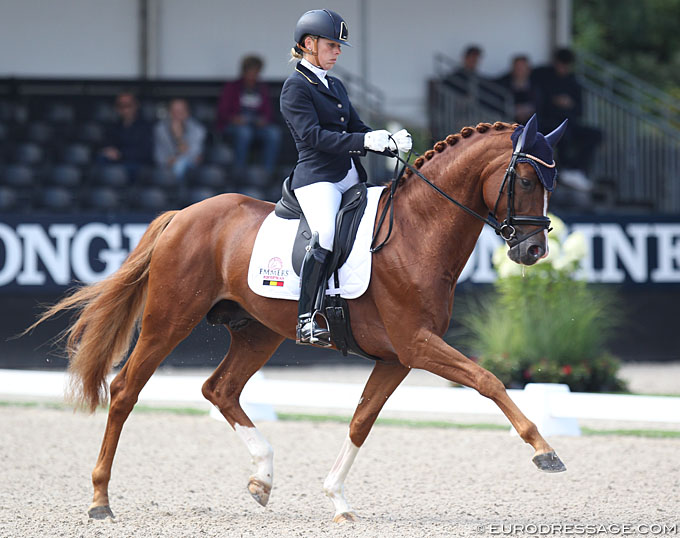 The  Belgian WCYH selection rules state that the MER --- scoring once a minimum of 75% (5 and 6-yo) and 70% (7-yo) at a national or international show --- has to be achieved in age appropriate "FEI Young Horse test", while the FEI states that "national tests reflective of the level" are valid too.
The FEI MER description reads: "The result obtained at a CDN or through National selection has to be confirmed with the nominated entries. NFs are responsible for ensuring that the level of national tests used at the National selection to obtain the MER is equivalent to the level of the FEI tests for 5, 6 and 7 year old horses."
Three Combinations Out
At the first selection trial the selectors picked four 5, 6, and 7-year olds and one reserve pair in the 5 and 6-year old category, eligible to move on to the second trial. 
The naming of a reserve pair proved worthless as the KBRSF was only allowed to send 4 names per age category as a nominative entry on 26 October, thereby making the whole selection of a reserve combination for the second trial on 14 November redundant. Out of 14 horses selected for the second trial, just 4 were BWP registered and two of them were in fact reserve combinations. 
The same evening of the first selection trial Wouter D'Hoore and the KWPN mare Jessica (by Fairytale x Krack C) were removed from the list as they had not achieved their MER, when it suddenly became clear that the MER deadline was earlier than the KBRSF had written in its rules! This made room for reserve Katrien Verreet and the BWP bred Oblix van de Kempenhoeve (by Quaterback x Sungold) to ride at the second trial and get nominatively entered. Worth mentioning is that Verreet is member of the KBRSF Dressage Committee, which gives final approval to the Belgian entries for Verden.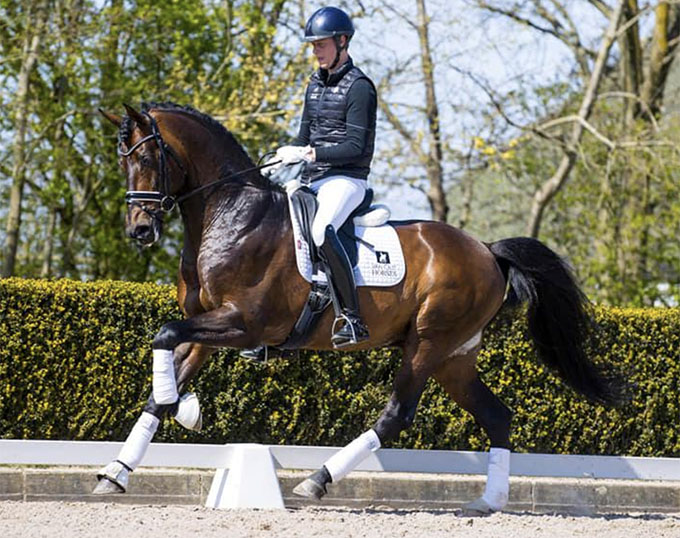 The second pair not to have achieved their MER was Brecht d'Hoore and the 7-year old KWPN stallion Inverness (by Everdale x Johnson). The rider presented a MER score in a test equivalent to the level of the FEI tests for 7 year old horses achieved at a national show in The Netherlands, but this score was not accepted. He had planned on riding the Belgian Young Horse Championships in Gesves on 5 - 8 November, but that event got canceled due to corona
From a KBRSF perspective and based on what they had originally written in their rules, the 2020 Belgian Young Horse Championships could have been a final MER scoring opportunity in time for the second selection trial. However, in October the federation realised that the MER deadline set by the FEI was 26 October and they had to live by these rules, messing up the schedule of those riders who had arranged their qualification tract according to KBRSF rules.
Rider's Licence
In addition, the deadline set for having one's rider's licence in order with the KBRSF was originally 9 November 2020. Also this date was suddenly changed after the first selection trial to 26 October 2020.
The KBRSF rule read: "for the first selection trial the ride does not need to have a competitive licence with one of the two leagues (VLP, LEWB). However a rider who presents a horse at the final selection trial, needs to have a competitive licence (minimum 08-licence) with one of the two leagues before the closing of the entries."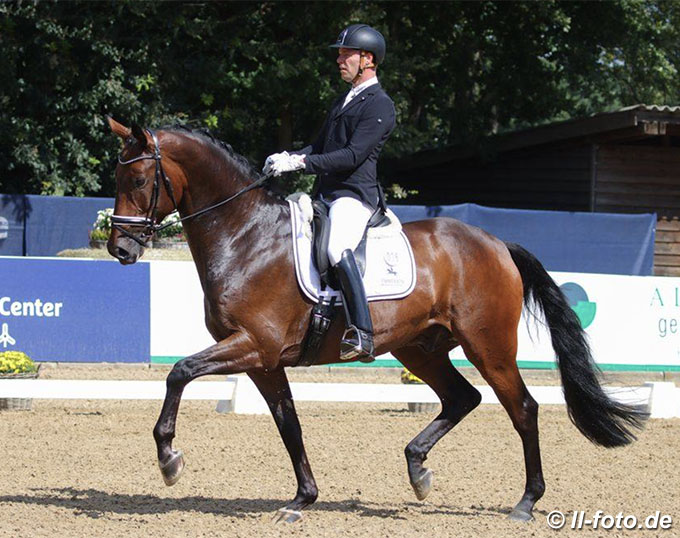 The Neundorf based Jerome Schneiders and the Oldenburg stallion  Boateng OLD (by Bon Bravour X Diamond Hit) did not have his licence on time and was therefore removed from the entry list for the second trial. There were also MER issues in his case. Schneiders thought his score from the Bundeschampionate (8.0 in the preliminary round) would be considered as MER, but it was rejected as it had to be achieved at a Belgian CDN or an international CDI.
"I had bad luck on this one. I have two licences, one from Luxembourg and one from Belgium. At the beginning of the year I get a permission paper from Belgium which I have to sign so that I can do competitions with my Luxembourg licence in other countries, like in Germany, like I have been doing for 15 years," Schneiders told Eurodressage. "Now they didn't accept the results from the Bundeschampionate (as MER - 8.0. in the preliminary round) because I had no permission before to compete in Germany, which for 15 years was OK. Now they say they are really sorry and can do nothing."
He added, "It's not about sending the best horses, but more about bureaucracy. It was not really a big problem to do the permission afterwards. But it was also my fault. I was not allowed to go to the second trial because i have no national 75%. I think there would have been a way to find a solution, but they don't really want to find one."
So Who Gets to Go to Verden?
So long story, short. Who gets to go to Verden?
At the second selection trial, trainer Dr. Ulf Möller and 4* judges Freddy Leyman and Hans Voser made the final pick. The qualified combinations are
5-year olds
Dries van Dyck - Saint-Etienne (OLD, by St. Schufro x Sarkozy)
Nick van Laer - Jack Daniels N (SBS, by Apache x Welt Hit II)

Reserve 1: Inge Heylen - Fiero JM (OLD, by Blue hors Farrell x Rohdiamant)
Reserve 2: Domien Michiels - Panthero van de Vogelzang (BWP, by Belantis x Quaterback)
6-year olds
Flore de Winne - Flynn (HANN, by Fahrenheit X Sir Oldenburg) 
Katrien Verreet - Oblix van de kempenhoeve (BWP, by Quarterback x Sungold)

Reserve: Jana Mrvik - Odessa van de Jonckhoeve (BWP, by Special Agent Amour x Rohdiamant) 
7-year olds
Peter de Mulder - Indian Summer (KWPN, by Apache x Rousseau)
Nick van Laer - Conan di Fonte Abeti (RHLD, by Apache x Sir Donnerhall )

Reserve: Isabel Cool - No Limit (BWP, by Jack sparrow x Pavarotti van de Helle)
Out of six horses selected to go, only two are Belgian studbook registered.
Photos © Ruchel - Astrid Appels - Digishots
Related Links
Belgian Horses Selected for Second Trial for 2020 World Young Horse Championships
Belgian Selection System for 2020 World Young Horse Championships Announced
FEI Changes Minimum Eligibility Requirements for 2020 World Young Horse Championships in Verden