2020 CDI-W Thermal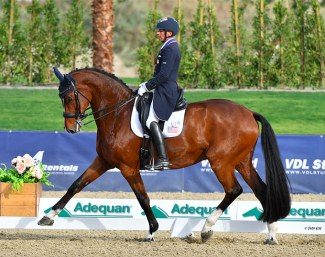 In the second week of back-to-back international competition at the Desert Horse Park in Thermal, California, Charlotte Jorst and Steffen Peters continued to sweep the board in the big tour classes.
Serial Winners Peters and Suppenkasper
Steffen Peters and Akiko Yamazaki's 12-year old Dutch warmblood gelding Suppenkasper (by Spielberg x Krack C) have gone full throttle this 2020 show season.
They scored 11 consecutive CDI victories on the Wellington circuit in just a two month time frame. Then corona came, which gave the pair a break from showing, but this autumn they already warmed up, winning the national Grand Prix at the Spooktacular Halloween Dressage Show leading up to the two weeks in Thermal, where they won all four tests entered in two weeks time, bringing their tally to 15 international victories this year alone!
In Thermal they won the Grand Prix for Special with an impressive score of 77.348%. Second place was presented to Sabine Schut-Kery (USA) and aboard Heitman and Womble's 14-year old Hanoverian stallion Sanceo (by San Remo x Ramiors Son II) with a personal best score of 74.804%. East Coast pair Catherine Haddad-Staller and her own mount Frankie (by Florencio x A Jungle Prince) finished third with a score of 69.565%. Haddad Staller traveled to California to take advantage of the opportunity to train with Johann Hinnemann who has been permanently residing in California since 2020.
"I felt like I could push him a tiny bit more," said Peters after the Grand Prix. "This week, I worked with our coach Debbie McDonald. That always helps; she kicks my butt a little bit and says if that is good or not good enough," mentioned Peters. "There were a few places where I totally had her in my ear in the test. It clearly helped. It was a clean test. What an incredibly honest horse that he does it every time. It felt great and I am super proud of him."
Eleven horse and rider combinations demonstrated their skills to the judges in the Grand Prix Special and Peters triumphed again with a new personal best score of 77.340%. Schut-Kery (USA) and Sanceo were second with 77.404%, while  Catherine Haddad Staller and her home trained Frankie were third with 68.958%. 
"I get so emotional about this horse," Steffen explained. "I have never ridden a horse that wants to do so much. He always goes, I don't have to push this horse," explained Peters. "He is a puppy dog; the second you get off him, he follows you everywhere. When I get off at home, I take the bridle off and he walks behind me. We have a grass paddock and he stays there for a moment, doesn't think about running away and when I call him, he comes to me. At 9 o'clock at night, he gets his cookies and calls me from a hundred feet away. He is one of those dream horses."
After a week of vacation for Suppenkasper, the pair will head to Florida for the winter season to compete in a few classes before hopefully heading to Tokyo to represent the United States at the Olympic Games. 
Double World Cup Win for Jorst
The CDI-W Thermal hosted two World Cup qualifiers in a row, which were both won by the Danish born American Charlotte Jorst on her 17-year old Dutch warmblood stallion Nintendo (by Negro x Monaco). Jorst captured four trophies in two weeks time.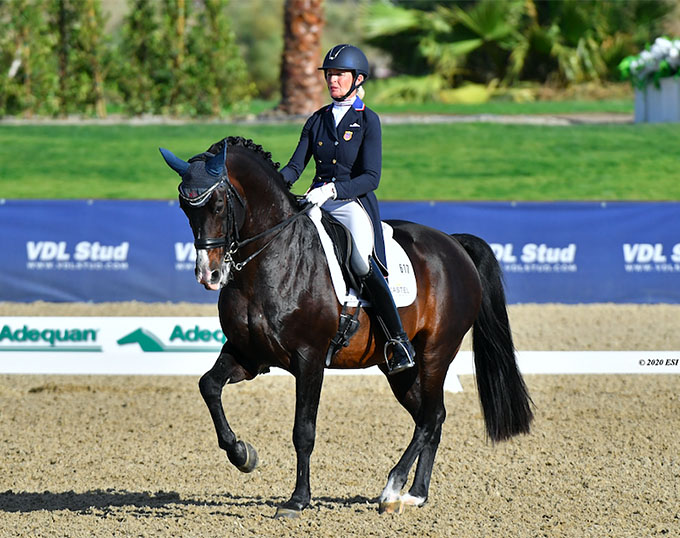 With a score of 72.261% she won the Grand Prix, edging out Carly Taylor-Smith (USA) and the 10-year old Oldenburg mare Rosalut NHF (by Rosenthal x Salut) on 66.674% and Dawn White-O'Connor (USA) on Four Wind Farm's 12-year old Oldenburg gelding Bailarino (by Breitling W x De Niro) with 66.391%. 
In the CDI-W Grand Prix Freestyle Jorst secured the top spot with a personal best score of 76.530%. Charlotte had the same two riders in pursuit.  heels. Carly Taylor-Smith and Rosalut NHF were presented the second place ribbon for their efforts after earning a 75.360% score, while Dawn White-O'Connor aboard Bailarino were third with a score of 68.500%.
"It was incredible," said the always positive and smiling Charlotte. "Last week was the first time performing it so I was looking forward to doing it again and know a little more about it," mentioned Jorst. "I changed the music a little bit which made me really nervous. It just felt incredible and it was a fantastic note to finish on."
Jorst's new Kur is arranged by the Spanish Kur company Dressage+Music, which has made its repetitive and rather unsurprising use of the Pirates of the Caribbean theme its trademark. Jorst hopes to show case her new freestyle the next time in Florida at the 2021 Global Dressage Festival. 
"I look forward to going home and getting even better and then off to Florida where I hope to continue to improve on those scores," she concluded. 
Text by Desert Horse Park, edited by Eurodressage - Photos © ESI Photography
Related Links
Scores: 2020 CDI-W Thermal
Jorst Sweeps World Cup Qualifier, Peters Posts Personal Best at 2020 CDI-W Thermal