Hanoverian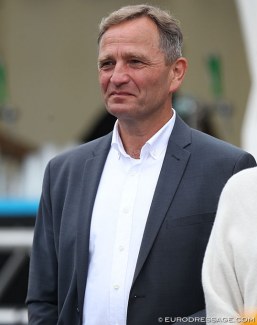 After more than a year in court, the labor law case of Dr. Schade against the Hannoveraner Verband has come to an end.
Judge Dr. Rinck proposed a settlement in court at the end of October and this recommendation has now been followed by the parties. The settlement involves a compensation to be paid to Dr. Schade of 145,000 euro. The Verband will also need to pay Schade's salary up til December 2019.
In another cornerstone of the settlement is that both sides should refrain from a criminal investigation into the "Dario" case. The Hanoverian society is not making any claims for damages against its former employee, because in the Dario case a lawsuit involving the buyer (K. Andresen) and the seller (E. Kemper) of the stallion Dario  against the Hanoverian Verband is ongoing.
The lynchpin of the accusations was the facsimile, a scanned signature of former president H.H. von der Decken, which Dr. Schade had used/signed as managing director. According to Von der Decken, the facsimile was used without his consent. However Dr. Schade said that he had acted in good faith and had the consent of the former breeding director and managing director. 
Since no more proceedings are pending, one may hope that the current association leadership will reach an out-of-court agreement with the buyer of the stallion Dario and that the issue can now be finalised for all parties involved. 
With this settlement, an inglorious era for the Hanoverian Verband comes to an end; an era which, in recent years, was characterized by a torn board of directors that did not manage to do its work for the benefit of the Hanoverian Verband. The twenty-member board was too divided, into advocates of Dr. Schade and their opponents. 
The newly appointed Breeding Director Ulli Hahne made a really strong statement at the beginning of his term: "We will have to forgive ourselves a lot from the past in the future."
Text by Kerstin Cyrus - Photo © Astrid Appels
Related Links
Andresen Wins Lawsuit, Dario in Executorial Sale
Strong Support for Structural Reform Shown at 2020 Hanoverian Delegates' Assembly
Ulrich Hahne to Replace Werner Schade as Hanoverian Breeding Director
Dr. Werner Schade Loses Jobs Effective Immediately, Hanoverian Society is Hiring
Dr. Werner Schade To Lose Double Director's Function at Hanoverian Society
Werner Schade Relieved from his Positions at Hanoverian Society
Werner Schade Succeeds Jochen Wilkens as Hanoverian Breeding Manager