2020 New Zealand Dressage Championships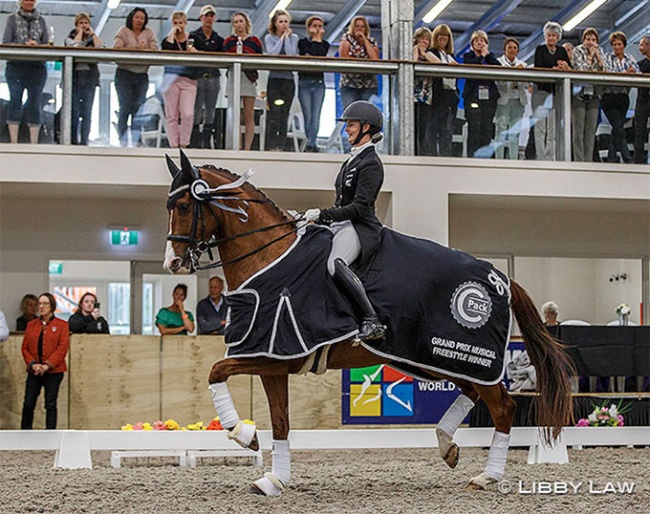 After forced cancellation due to Covid earlier this year, the 2020 New Zealand Dressage Championships finally went ahead, held from 19-22 November at the National Equestrian Centre in Taupo.
Young Rider Lilly Jefferies and senior Grand Prix rider Melissa Galloway claimed the titles in their division.
Melissa Galloway, From Medium Tour Champion to Grand Prix Title
The Grand Prix Championship had 14 contestants, one of the strongest fields to date in NZ.
The first test was the warm up Grand Prix, which was won by the very classy and on-form combination of Melissa Galloway (Marlborough) and Windermere J'Obei W (by Johnson), recording a personal best and winning score of 72.739. Galloway also occupied penultimate place on her second mount Windermere Johanson W (by Johnson x Kilomanjaro) with 69.065, while Taranaki's Vanessa Way was third on her Anamour gelding, NSC Andreas, on 68.587 (this being their sole test for the competition).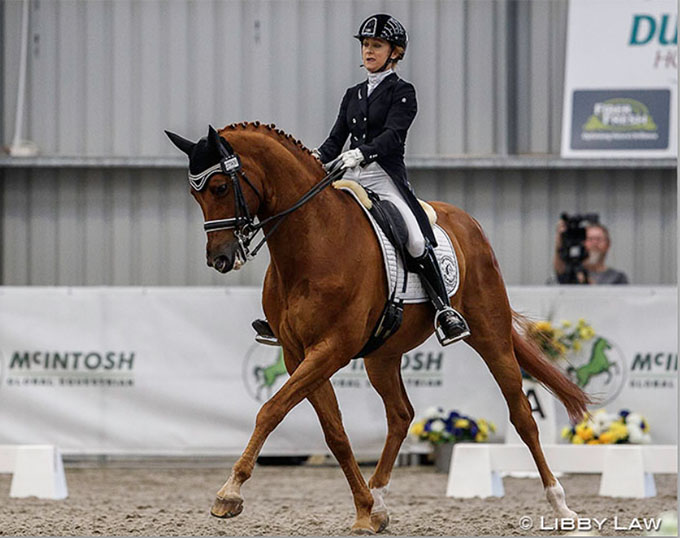 Galloway and Windermere J'Obei W, where the 2019 NZ Medium Tour Champions, again proved unbeatable in the Grand Prix Kur (Round One) the following day, rising to the top of the field with 75.655. It was also a treat for the stadium audience to see Olympic combination Julie Brougham (Palmerston North) and her 17-year old Rhinelander Vom Feinsten (by Fidermark x Weltmeyer) back in the arena on home soil, landing less than a percent behind the winners (74.745) to take second place. Popular combination William Millar (Waikato) and the 16-year old New Zealand bred Hanoverian gelding Raukura Satori MH (by De Niro x Genius) gave a great performance with their Frank Sinatra music to ride into third position on 71.345. 
Cooper Oborn (Palmerston North) rode beautiful tests on both his horses Aphrodite (by Anamour x Jacinto xx) and Revelwood Showtime (by Smash Hit x Alberich) to feature strongly in the lineup. Waikato rider and previous Young Rider champ Lucarne Dolley also rode well for mid-field placings on her lovely chestnut, the 13-year old Ardmore (by Anamour x Dynamit). Diane Wallace and Profile were a welcome addition to the field, having made the trip up to compete from Blenheim - a long journey for South Island riders that involves a ferry crossing between the Islands.
The final test for the Grand Prix title was the Grand Prix Special (Round Two). Galloway held her ground strongly once more, taking her third win with Windermere JObei W and a score of 72.064. Millar and Brougham were second and third respectively, with just fractions of a percent separating them: 69.915 and 69.532. This saw Galloway crowned New Zealand National Grand Prix Champion, with William Millar in reserve.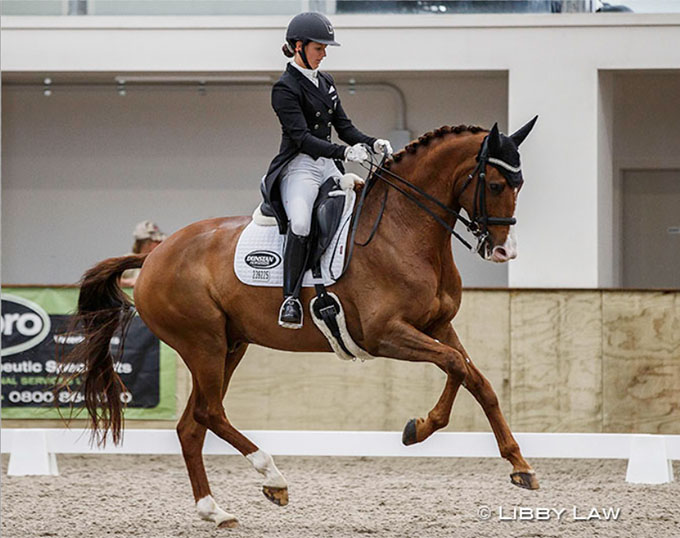 Galloway continues to go from strength to strength with her two geldings (both by Johnson, and bred by David Woolley). "I'm very, very excited and really happy with my horses, they both were awesome," she says. "All my scores with Joey (Windermere JObei W) were personal bests for us. He was so consistent for the whole show and we're just getting a lot more consolidated now." 
She has several exciting youngsters coming up through the ranks, including a 6-year-old Negro gelding who is competing very successfully at L5. Galloway is a member of the ESNZ High Performance Squad, and was recently awarded the MoreFM Marlborough Sportswoman of the Year. 
Jefferies Takes Young Riders Title
New Zealand's four Young Riders opened their championship bid with the Musical Freestyle. Lilly Jefferies (20) showed great style aboard Lindisfarne Laureate, scooping first place with 68.25. She is currently based in Palmerston North as a working pupil for Grand Prix rider Cooper Oborn. Second place went to 18-year-old Anna Wilson (Waikato) riding Neversfelde Rupert. Madison Schollum (Waikato) took third spot with Kinnordy Golda, followed by Tayla McDonald and Ramsbury in fourth.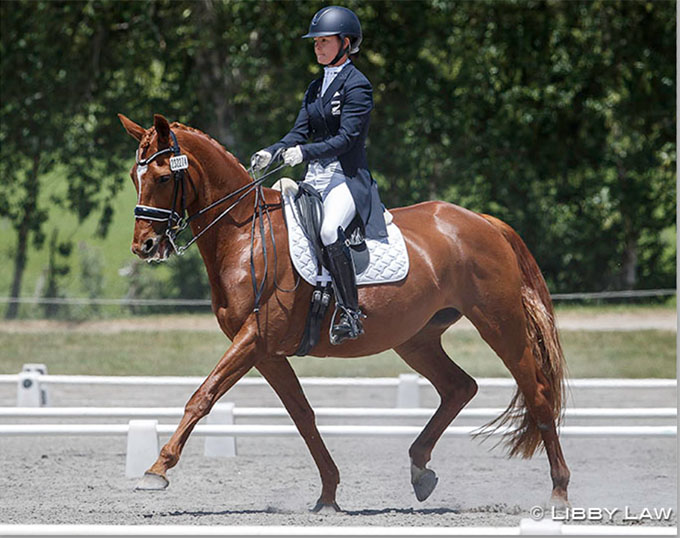 In the Round Two, the Individual test, Jefferies claimed another definitive win (67.059) to earn herself the crown of New Zealand Young Rider Champion for 2020.
This is her second season with Lindisfarne Laureate (by Vollrath Lessing x Worldwide PB); who was also presented with the Rakanui Stud Trophy for Best Performed Mare of this competition, as well as winning the Sterling Warmbloods Small Stars Championship for Small Tour.
"She was quite unwell for a month just before Nationals, so she's only been back in work for a month," explains Jefferies of her mare, whose paddock name is also Lilly! "So just getting to Nationals was a highlight for me, and I was really happy with my tests."
Text by Jess Roberts, edited by Eurodressage - Photos © Libby Law
Results - 2020 New Zealand Championships - Taupo
Young Riders - Round 1 - Kur to Music
1. Lindisfarne Laureate - Lilly Jefferies  - 68.25
Neversfelde Rupert  -  Anna Wilson  - 64.25 
Kinnordy Golda  - Madison Schollum-  63.125
Ramsbury -  Tayla McDonald -  60.375
Young Riders - Round 2 - Individual Test
Lindisfarne Laureate - Lilly Jefferies - 67.059
Neversfelde Rupert  - Anna Wilson  - 65.392
Ramsbury - Tayla McDonald  - 63.627
Kinnordy Golda  - Madison Schollum -   61.814
Young Riders - Overall
1.Lindisfarne Laureate - Jefferies, Lilly 
2. Neversfelde Rupert  - Wilson, Anna
3. Ramsbury - McDonald, Tayla 
4. Kinnordy Golda -  Madison Schollum
Seniors - Round 1 - Grand Prix Kur to Music
1 - Melissa Galloway and Windermere JObei W, 75.655
2 - Julie Brougham and Vom Feinsten, 74.745
3 - William Millar and Raukura Satori MH, 71.345
4 - Melissa Galloway and Windermere Johanson W, 70.585
6 - Cooper Oborn and Aphrodite, 70.435
7 - Lucarne Dolley and Ardmore, 69
8 - Cooper Oborn and Revelwood Showtime, 67.925
9 - Toni Louisson and Back on Track Astute, 66.86
10 - Jody Hartstone and Ali Baba, 66.685
11 - William Millar and Centurion III, 65.56
12 - Catherine Tobin and I Like It, 63.725
13 - Jen Sim and Stoneylea Lancelot, 63.56
14 - Diane Wallace and Profile, 63.555
Seniors - Round 2 - Grand Prix Special
1. Windermere JObèi W - Melissa Galloway - 72.064
2. Raukura Satori MH - William Millar -  69.915
3. Vom Feinsten -  Julie Brougham  - 69.532
4. Aphrodite - Cooper Oborn -  68.277
5. Windermere Johanson W - Melissa Galloway  - 68.191
6. Ali Baba - Jody Hartstone - 65.447
7. Ardmore - Lucarne Dolley - 65.106
8. Centurion III - William Millar -  64.872
9. Revelwood Showtime  - Cooper Oborn -  64.553
10. Astute  - Toni Louisson - 63.915
11. Profile  - Diane Wallace -  60.447
12. I Like It  - Catherine Tobin -  60.404
13. Stoneylea Lancelot - Jen Sim -  57.872
Seniors - Overall
1. Windermere JObèi W - Galloway, Melissa
2. Raukura Satori MH  - Millar, William 
3. Vom Feinsten  - Brougham, Julie
4. Aphrodite - Oborn, Cooper
5. Windermere Johanson W - Galloway, Melissa
6. Ardmore - Dolley, Lucarne
7. Ali Baba - Hartstone, Jody
8. Revelwood Showtime  - Oborn, Cooper
9. Centurion III -  Millar, William
10. Astute  - Louisson, Toni 
11. I Like It - Tobin, Catherine
12. Profile - Wallace, Diane
13. Stoneylea Lancelot - Sim, Jen
Related Links
Gradowski, Sage, Galloway and Way Win at 2019 New Zealand Dressage Championship
Sage and Dolley Take Titles at 2019 New Zealand Youth Riders Championships
Julie Brougham Wins 2018 New Zealand Grand Prix Championship
Beere, Sage, Benzie Wins the 2017 New Zealand Youth Riders Championships
Molly Lumb Wins 2016 New Zealand Young Riders Championships
West and Noble Win Big at 2015 New Zealand Young Riders Championships
Catherine West Wins 2014 New Zealand Young Riders Championships
Kate Welten Retains Title at 2013 New Zealand Young Riders Championships
Kate Welten Wins 2012 New Zealand Young Riders Championships
Kate Welten Crowned 2011 New Zealand Young Riders' Champion
Georgia Worth, 2010 New Zealand Young Rider Champion
Appleton, 2009 New Zealand Young Rider Champion
Hannah Appleton wins 2007 New Zealand Young Rider Championship