2020 Japanese Dressage Championships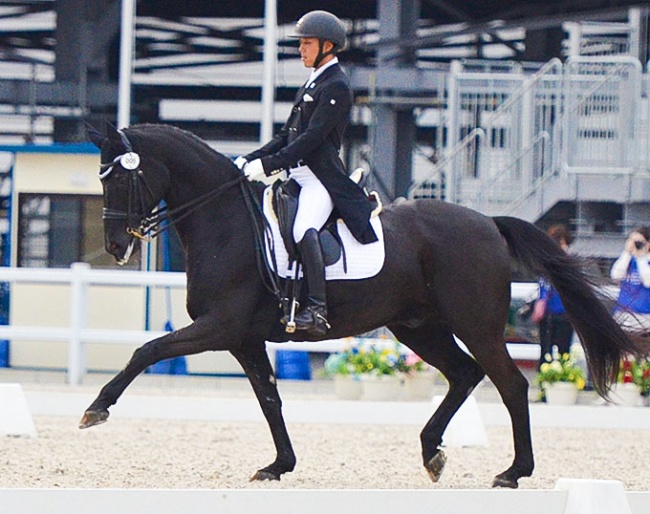 Children rider Hiroaki Yokoyama, junior rider Maya Tahara, Young rider Yurie Yoshida, and senior Grand Prix rider Toshiya Kawabata became the winners of the FEI level classes at the 2020 Japanese Dressage Championships held in November 2020. 
The 2020 National Dressage Championships were hosted at the prestigious JRA Equestrian Park in Tokyo, the site for the upcoming 2021 Olympic Games. The senior Grand Prix Championship took place 6 - 8 November 2020, while the Youth Championships were held on 20 - 22 November.
The senior championships celebrated their 72nd edition, while for the youth riders it was already the 37th time that the National Championships have been staged. 
For each age division two rounds counted towards the final ranking of the riders. The competition was held without spectators. 
Second Senior Title for Kawabata
For senior dressage riders the 2020 Nationals featured classes in no less than seven different divisions at the JRA Equestrian Park in Tokyo on 20 - 22 November 2020.
The senior Grand Prix division had 18 combinations entered this year for the Grand Prix; Twelve of them moved on to the second round, the Kur to Music.
Toshiya Kawabata claimed his second title of "All Japan Champion" in his career. He saddled the 16-year old Oldenburg bred Manolete (by Caprimond x Donnerhall), which was previously competed by Yuki Komaba in 2016 and Shingo Hayashi in 2017 and 2018. The 32-year old Kawabata and the black mount won the Grand Prix with 65.913% and the Kur with 70.145% to finish first overall with 136.058 points.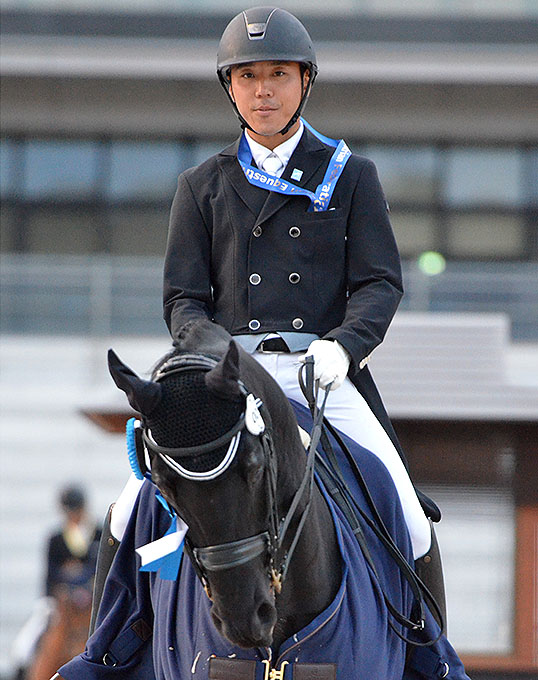 The silver medal went to Japanese team rider Shingo Hayashi aboard Junko Ando's 17-year old Polish warmblood Pavarotti (by Celt x Empik). The duo was breathing down Kawabata's neck with two second places on 65.848% and 69.710%. They finished second overall with 135.558 points. The 42-year old Ryuma Hieda and Motochika Yoshimi's 14-year old Westfalian mare First Lady (by Fidertanz x Florestan x Tänzer) scored the bronze medal on 133.917 points after posting 65.152% and 68.765%. Hieda's First Lady was competed in Germany by Katrin Bettenworth under the sport name "Fine Step" until 2016, after which she sold to Japan.
Kawabata won the Senior Grand Prix Championship the first time in 2017 aboard Ramses der II, a horse he also borrowed from rider Shingo Hayashi. The 32-year old rider was thrilled with his gold medal.
"I'm glad I won," he said. "There were some issues in the Kur performance. When I won the Championship three years ago it was the first victory in my life, so I thought it would never happen again. Last time Mr Hayashi, who I ride at the same club with, didn't ride in the Championships, but this year he was here, so I'm very happy I won."
Kawabata praised the brand new JRA Equestrian Park venue which has been readied for the 2021 Tokyo Olympics.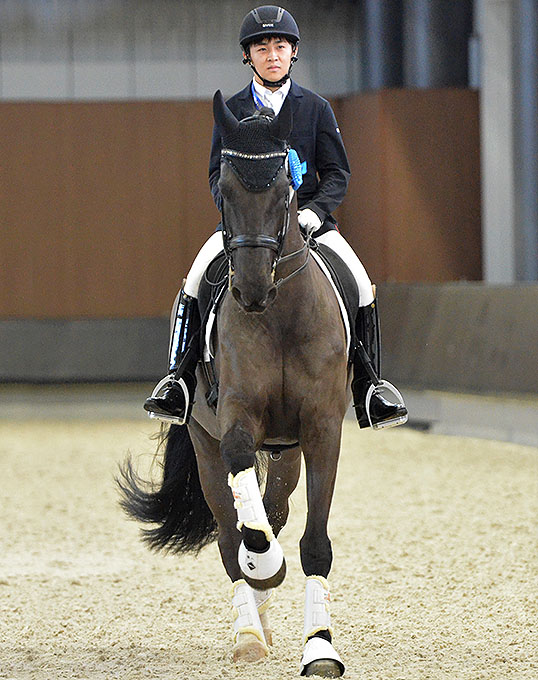 "The arena is very large and gives a completely different feeling from the previous Equestrian Park," he said. "I'm sure the horses will feel okay at this venue. It came there, it went well and I'm glad I enjoyed myself. I'm grateful to the owners and everyone who supported me."
Youth Championships
The Children Rider Championship in Japan is open to riders aged 10 to 16. Hiroaki Yokoyama and the black Etoile earned the champion's sash and title after two winning rounds, scoring 65.533% and 67.800%. His winning total of 133.333 points put it him ahead of Shigehiro Sunagawa  aboard Hollister Ranch, who earned silver with 65.133% and 66.267% to finish on 131.400 points. The bronze medal went to Shuma Hiragaa on Emma Reizend. She followed the top two pairs closely in their wake with 64.600% and 66.133% to land third place with 130.733 points
"It was hard yesterday because my horse was worried about the wind, but today he was calm and I was able to perform as usual," said Yokoyama after clinching the title. "I won yesterday. I was happy with my performance despite some mistakes, so I felt comfortable today. I think I got good scores in canter at which my horse is good. I will move to junior level next year and will do my best to participate in this competition again."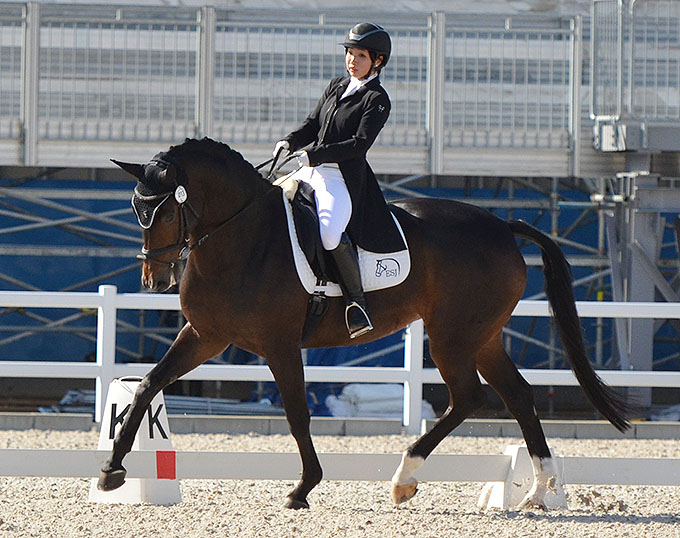 The Junior Championship was decided by a technical test and the freestyle. Maya Tahara and History claimed the gold medal after winning both rounds with 67.794% and 69.160%. She totalled 136.954 points for the overall victory.  The Osaka based Taichi Soga and Reflection I were the reserve champions with 135.021 points, after posting 66.421% and 68.600%. The bronze medal went to Marie Yoshida aboard the 18-year old Oldenburg bred Don De Niro (by De Niro x Welt Hit II) after a close battle with the silver medalist. Yoshida earned 66.078% in round 1 and 68.785% in the Kur to finish third overall with 134.863 points.
"I was nervous today (in the Kur)," said the high school student Tahara. "After winning the first round I felt a lot of pressure. I was disappointed that I made a mistake in the beginning of my freestyle, but I am glad that I was able to win the championship."
In the Young Rider Championship, the 19-year old dentistry university student Yurie Yoshida reigned supreme aboard Remilia Spectrum, a 16-year Dutch warmblood by Welt Hit II x Weltmeyer, originally named Zazou G. Their pair, which is trained by former Japanese Grand Prix team rider Yuko Kitai, won both rounds with 68.480% and 71.990% to finish first on a total of 140.470 points. The silver went to Hiyori Jinmura aboard the 16-year old Dutch warmblood Kostendrukker's Zarino (by Special D x Fabricius). The duo stayed closely on Yoshida's heels and totalled 139.819 points after scoring 67.794% and 71.025%. Mio Fukuoka and the 18-year old Westfalian Tiida  (by Fetiche du Pas x Diamantino) earned the bronze medal with 138.707 points. They were second in the first round with 68.382% and third in the freestyle with 70.325%.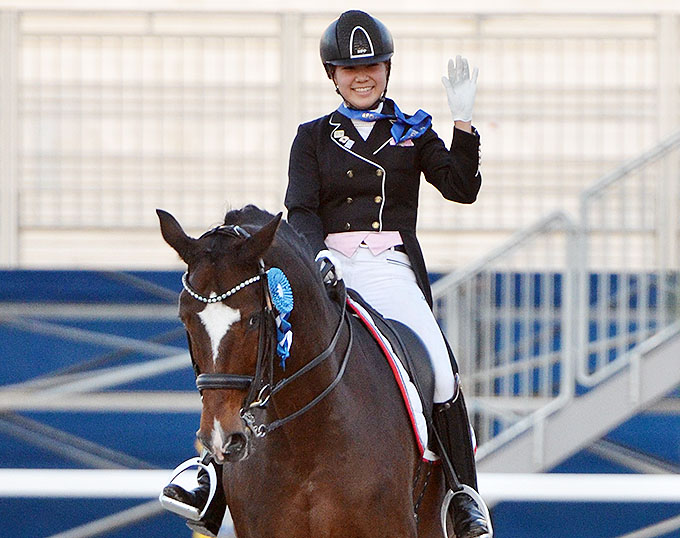 "I'm glad I won the championship," said Yoshida, who also finished fifth in the senior Grand Prix championship with her new horse, Hexagon's Conquest. "Remilia is a horse that works hard on everything, so I try to believe in him and enjoy the ride. I think we both were on great form. In the future, I would like ride well in front of foreign judges too."
Photos © Japan Equestrian Federation
Results - 2020 Japanese Dressage Championships - Tokyo
Children
1. Hiroaki Yokoyama - Etoile - 65,533 67,800 --- 133,333
2. Shigehiro Sunagawa - Hollister Ranch - 65,133 66,267 --- 131,400
3. Shuma Hiraga - Emma Reizend - 64,600 66,133 --- 130,733
4. Taiga Nishijima - Joie Earth - 64,200 64,933 --- 129,133
5. Shunma Asakawa - Holy Night - 65,000 63,067 --- 128,067
6. Hana Tenkyu - Trailblazer -  63,733 63,067 --- 126,800
7. Shigehiro Sato - Florence - 63,067 63,667 --- 126,734
8. Shima Inaba - Charme - 64,000 62,600 --- 126,600
9. Aya Nishiki - Isle of Darius - 63,800 62,000 --- 125,800
10. Sekka Hashiuchi - Green Dream - 61,267 62,467 --- 123,734
11. Yuui Suzuki - Linen Hybrid - 60,800 62,200 --- 123,000
12. Sakura Inaba - Kant Joule -  61,933 60,800 --- 122,733
13. Risa Miyano - Ballestino - 61,133 61,400 --- 122,533
14. Naruto Egami - Josephina - 60,333 60,800 --- 121,133
15. Joubo Sato - Roxy V -  61,133 58,933 --- 120,066
Junior Riders
1. Maya Tahara - History - 67,794 69,160 --- 136,954
2. Taichi Soga - Reflection I -  66,421 68,600 --- 135,021
3. Marie Yoshiuda - Don de Niro -66,078 68,785 --- 134,863
4. Kanako Furuyama - Why Not - 66,520 68,275 --- 134,795
5. Yuki Takamatsu - Hermes der II - 66,176 68,575 --- 134,751 
6. Mugen Matsuhisa - Gyemant - 65,539 68,270 --- 133,809 
7. Hirofumi Kawagoe - Carlo -65,049 66,685 --- 131,734 
8. Sakurako Yamatsuta - Roselle - 63,088 66,030 --- 129,118
9. Riku Kokubo - Satono Progress - 63,824 65,175 --- 128,999 
10. Ryohei Omata - Tim Taylor - 64,314 64,185 --- 128,499 
11. Hikaru Hosono - Apollon - 63,578 64,185 --- 127,763 
12. Saya Iida - Rou de Figeac - 64,314 63,000 --- 127,314 
13. An Takeuchi - Excelsis -  63,627 62,550 --- 126,177 
14. Makito Nagami - Sandro Knight -  62,451 63,450 --- 125,901 
15. Masaharu Saito - Fridolin - 61,716 64,110 --- 125,826 
Young Riders
1. Yurie Yoshida - Remilia Spectrum - 68,480 71,990 --- 140,470
2.  Hiyori Jinmura - Kostendrukker's Zarino - 67,794 71,025 --- 138,819
3. Mio  Fukuoka - Tiida -  -68,382 70,325 --- 138,707
4. Kasumi Arai - Atanic -  65,686 68,275 --- 133,961
5. Edith Aya Shigeto - Ouu -  65,392 68,120 --- 133,512
6. Yukiko Komori - Flavio  - 62,990 67,130 --- 130,120
7.  Shoto Kusumoto - Ouu - 63,480 64,940 --- 128,420
8. Yui Ishino - Itents - 62,500 65,695 --- 128,195
9. Shintaro Ito - Licoto - 62,892 65,210 --- 128,102
10. Sho Aruga - Ouyou - 64,265 63,510 --- 127,775
11. Yuri Terai - Unico  -61,961 64,370 --- 126,331
12. Satsuki Watanabe - Wilson - 61,274 63,445 --- 124,719
13. Azusa Shimizu - Mikazuki -  60,932 62,860 --- 123,792
14. mi Sugai - Veerle  - 61,177 62,410 --- 123,587
15. Tomotaka Yzau - Ouun - 60,784 60,450 --- 121,234
Senior Grand Prix
1. Toshiya Kawabata - Manolete - 65,913 70,145 --- 136,058
2. Shingo Hayashi - Pavarotti - 65,848 69,710 --- 135,558
3. Ryuma Hieda - First Lady - 65,152 68,765 --- 133,917
4. Naoko Hieda - Fantastico - 65,891 67,450 --- 133,341
5. Yurie Yoshida - Hexagon's Conquest - 64,413 67,645 --- 132,058
6. Kazuhiro Ypshizawa - Winnetou DDH - 64,022 64,760 --- 128,782
7. Tomoko Nakamua - Don La Carlos - 60,044 64,185 --- 124,229
8. Hisayuko Kato -Otello - 61,130 62,875 --- 124,005
9. Hiromi Saito - Don Corrado - 61,109 61,975 --- 123,084
10. Risiru Yasuda - Itents - 59,087 59,800 --- 118,887
11. Shinano Hata - Leroy - 59,913 56,500 --- 116,413
12. Shoichi Ikegami - Wells Fargo - 58,304 55,175 --- 113,479
Related Links
New Comer Toshiya Kawabata Wins 2017 Japanese Grand Prix Championship
Kiichi Harada Wins 2015 Japanese Dressage Championship
Shingo Hayashi Wins 2014 Japanese Dressage Championships
Mieko Yagi Wins 11th Japanese Dressage Champion's Title
Yuko Kitai Claims 2012 Japanese Dressage Champion's Title