Equine Health Events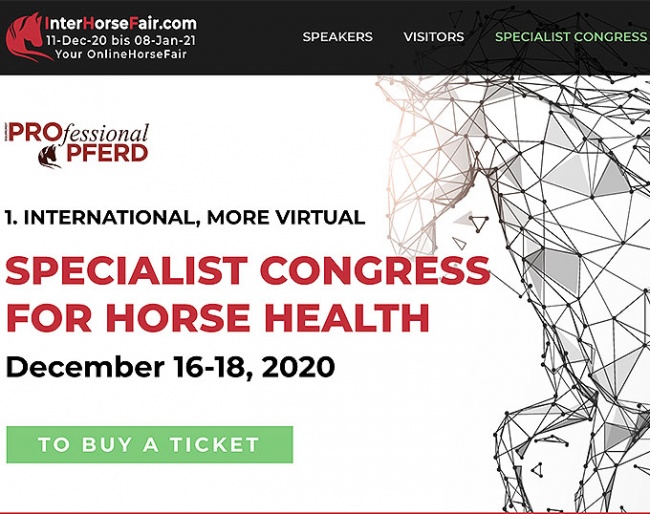 The 1st International PROfessional PFERD Congress on Equine Health will take place from 16 to 18 December 2020 as part of the InterHorseFair.com. 
The first international, virtual specialist equine health congress offers three days of pure specialist knowledge.  Worldwide leading scientists will report on the latest findings from research on horses, always keeping an eye on practical relevance.
Laminitis, ECVM, Fascia Research and Therapy and much more
Keynote speaker Prof. (em) Chris Pollitt (Australia) will give an update on latest results from laminitis research. "Bone lady" Sharon May Davis (Australia) will talk on Equine Complex Vertebral Malformation (ECVM), or the Congenital Malformation of the 6th and 7th Cervical Vertebrae and The Disappearing Lamellae – a structural reduction of the largest ligament in the equine body since domestication.
The main topics also include fascia research and therapy as Prof. Vibeke Sodring-Elbrond (Denmark), European leading scientist in equine fascia research, is presenting on the equine myofascial lines and Liza Kimble (South Africa) will transfer Vibeke's results into Equine Fascia and Trauma Therapy.
Topics are also Equine gut microbiota, Equine Welfare in Training with focus a learning theory and stress behaviour and many more.
Online Congress on Equine Health
A congress that is just as interesting for veterinarians, physiotherapists and osteopaths as it is for farriers, feeding experts, saddlers and behavioral researchers.
All pre-recorded talks will be available for at least 7 days. Many speakers also offer the chance for a live talk in Q&A sessions (all times CET). Congress language is English, German translation is available in all live talks, other languages upon request.
For more details about the speakers and abstracts, please visit www.interhorsefair.com/congress
What is the InterHorseFair.com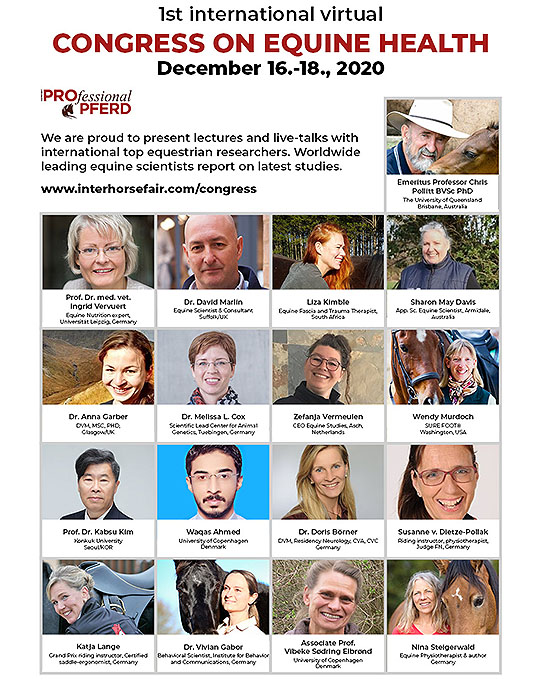 Many competitions, clinics and fairs have been cancelled and meetings with friends, trainers and influencers from the equestrian scene have to pause for an indefinite period of time all over the world due to COVID-19.
The organizers of the 1st InterHorseFair.com were looking for a solution to bring life at least virtually back to normality for whatever normality means in these times and make it possible for all horse lovers to connect, teach and learn, buy and sell and consult. 
From 11 December 2020 to 8 January 2021 there will be a platform where the horse world can meet again, at least virtually: The 1st InterHorseFair. The new 3D fair platform creates an impression of almost literally walking through a real exhibition hall and that you can really get in touch with a wide variety of experts from the equestrian industry. An online fair that is almost like a computer game for all horse lovers.
In addition to visiting the exhibitors, on whose stands there is a lot of news to be discovered, various arenas offer trainers a platform to demonstrate their teachings by video. In the forum, interesting topics will be explored in greater depth as well as a variety of specialist lectures. Cozy evening chimney talks allow you to experience experts in conversation and get in direct contact with them.
In the Blogger Lounge, hip influencers meet and present the highlights of the winter collections, and those who want to talk to exhibitors about their products can do so in one-to-one conversations at their booths. Some talks and experts are also available in English language.
Facts and Figures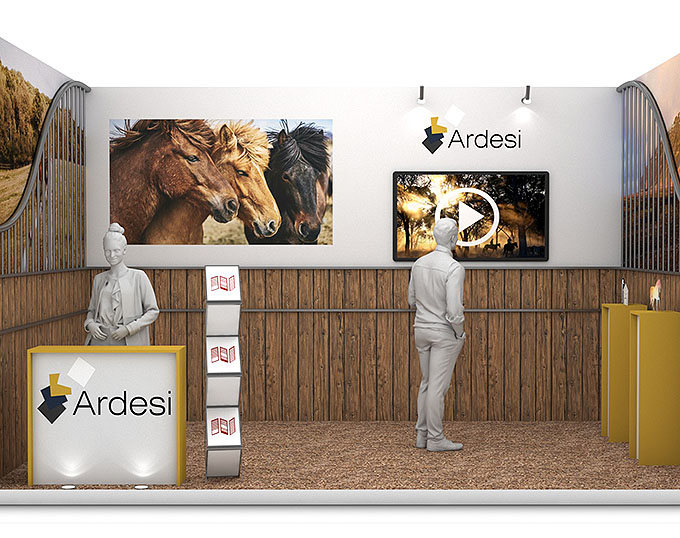 Organiser: Equimondi GmbH; Solmsbachstr. 5 35647 Waldsolms - Germany
Date Fair: 11 December 2020 to 8 January 2021
Date International Congress: 16 - 18 December 2020
Entrance fee fair:
Season ticket (from December 11th 2020) 25,00 Euro
PROfessional PFERD International Congress on Equine Health 129.00 Euro
PROfessional PFERD International Congress on Equine Health - Students - 89.00 Euro
Homepage: www.interhorsefair.com