Education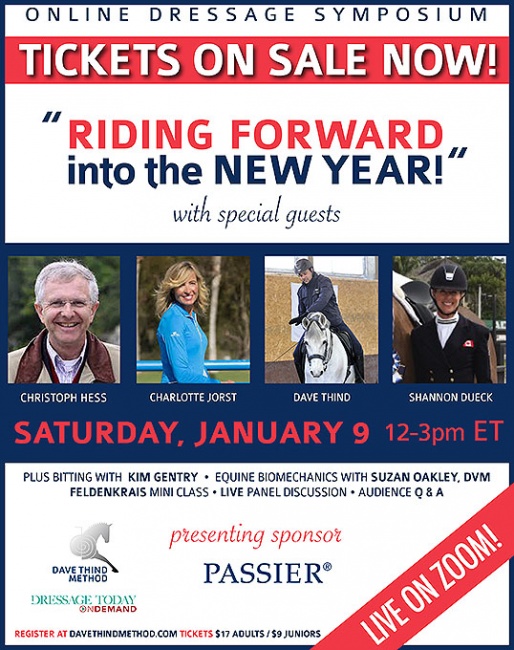 EVENT DATE: Saturday, January 9, 12pm- 3pm EST / 6pm Central European Time.
EVENT REGISTRATION LINK: https://www.davethindmethod.com/
International Dressage and Eventing judge Christoph Hess, "I" of Germany, Canadian Olympic and World Cup rider Shannon Dueck and Danish born US Team and World Cup rider Charlotte Jorst will join biomechanics expert Dave Thind for an online dressage symposium on Saturday, January 9, 2021 from 12pm to 3pm Eastern Time.
Special guests during the three hour program will include Australian Nations Cup team rider and bitting expert Kim Gentry and renowned equine practitioner and certified ISELP expert, Susan Oakley, DVM of Wellington Equine Sports Medicine.
The global online event is sponsored by Passier and presented by Dave Thind Method in collaboration with Dressage Today.
Inspiration and Learning Opportunities in Covid Times
Following the success of their April 2020 Webinar, "The Classical Seat", Thind and Jorst are teaming up again to provide Covid weary Dressage enthusiasts around the world with inspiration and learning opportunities to begin the new year in a fresh and positive frame of mind.
"It's been a challenging year for riders and trainers, but it's also been a year of deeper learning and study for a lot of us," said Thind. "The jump to online formats has benefitted the riding community. It's giving students in Auckland, Nebraska or Oslo the chance to learn from a master like Christoph, and that's so exciting," added Thind.
Hess, the long-time Director of Education for the German National Federation is among the elite ranks of judges designated "I", or qualified to judge at the Olympic level. Hess will discuss the German Training Scale and philosophy of working with, not against, the horse's nature.
Online Symposium Details
The Symposium will include lectures, demonstrations and interviews with panelists Hess, Jorst, Dueck, Gentry and Oakley, a short Feldenkrais Awareness Through Movement® lesson guided by Thind, and a question and answer period.
Attendees will have the opportunity to pose advance questions for the panelist of their choice during registration.
Registration opens December 26 at https://www.davethindmethod.com/
Tickets are $17 per adult and $9 per junior participant (18 years of age and under).
Registrants will receive a link to join the live Symposium and may log on at any time during the program. Program details will be made available prior to the event.
Dave Thind Method
Dave Thind Method is a system of seat training for riders incorporating Feldenkrais, classical theory and an understanding of the physical demands of Dressage on horse and rider. "DTM" is designed to help riders remain supple and pain free, and encourage flowing movement in both themselves and therefore in their horse.
For more information on the Dave Thind Method, visit www.DaveThindMethod.com or Dave Thind Method on Facebook.