FEI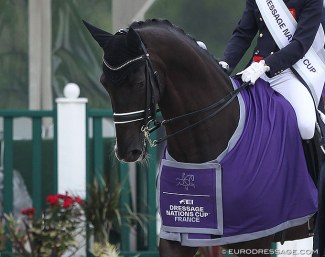 The FEI Nations Cup series for dressage will include six shows in 2021 of which one is a new comer on the roster, the CDIO Alter do Chao in Portugal.
The FEI Nations Cup series began in 2013 and have never been a real success, failing to attract a title sponsor or to properly honour the series winners with either a finals or ceremony.   The individual CDIO shows, however, are popular amongst the riders but the series concept doesn't seem to lift off. 
In 2019 the Nations Cup consisted of 8 competitions with Geesteren and Jarvenpaa as newcomers. In 2020 the series was reduced to just five legs because of the Tokyo Olympics in July, but in the end all Europea CDIO shows were cancelled due to Corona. 
For 2021, the FEI hopes that competition will return to a certain extent of normalcy, kicking off in Wellington, Florida, where corona rules are more lenient than in Europe.
The second CDIO of the 2021 series will be at the Portuguese state stud Alter in Alter do Chao, which has hosted several CDI's before but which has now been boosted to CDIO 3* status. 
The 2021 FEI Nations Cup series includes: 
16-21 March: CDIO3* Wellington, Florida
22-25 April: CDIO3* Alter do Chão
27-30 May: CDIO5* Compiègne, France
24-27 June: CDIO5* Rotterdam, The Netherlands
30 June – 4 July: CDIO5*Aachen, Germany
15-18 July : CDIO5* Falsterbo, Sweden
Source: Dressage-News
Related Links
2020 FEI Nations Cup Dressage Reduced to Five Legs
Geesteren and Järvenpää Added to 2019 FEI Nations Cup Series
Marques, Lopes, Meneres, Torrao Win 2020 Portuguese Dressage Championships