F.O.C.U.S.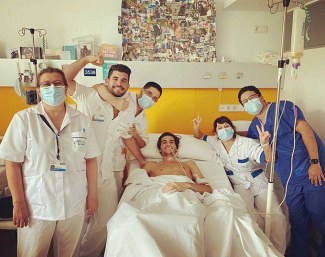 (FEI press article by Richard Mulligan)
Juan Matute Guimón reflects on a year in which he spent months in hospital fighting for his life, and looks ahead to his hopes for Tokyo...
To speak to Juan Matute Guimón is always a pleasure, but to do so at the end of this year is something even more special.
The Spanish Dressage ace is a ball of enthusiasm and positivity. He loves doing what he does, he loves his horses and his sport and appreciates that blessing of pursuing one's passion as a career.
I last spoke to him in February just after he'd completed a 100km trek with wild horses in the Pyrenees. At the time he'd also just recently recorded a personal best of 77.9% with Don Diego and secured four top 10 finishes in a row in the FEI Dressage World Cup and was so excited for the final in Las Vegas and following in his father's footsteps by becoming an Olympian in Tokyo.
Not content with being an equestrian star he was dedicating time to his guitar during the early stages of lockdown in Spain. We agreed to catch up later in the year when competition resumed. 'What a life this 22-year-old has,' I thought to myself as we said goodbye.
Shocked
Just a few weeks later, in May, I was shocked along with the rest of the equestrian world when the news broke that this vibrant young man was in a coma after suffering a stroke. It didn't make sense – how was it possible that this healthy guy with an incredible life and career ahead of him could be unconscious in a Madrid hospital bed seemingly close to death?
Like so many,  I was delighted to hear that he had come round in June, and a few weeks later he was home with his family. Incredibly, soon after that he was back on his horse and by October he was competing.
That summary does not quite adequately explain the peril that Juan faced after collapsing at his stables on May 5. After his father, Juan Sr, frantically called emergency services he was rushed to hospital in Madrid by helicopter, but initial surgery was unsuccessful.
Warning Signs
"The warning signs had been there before. I had been suffering with strong headaches and I almost fainted. I had terrible nightmares too. We put it down to maybe not eating well, and I actually did go to see a doctor.
"On the day that I suffered the stroke I was riding with my father. I told him that I felt I was losing my balance. I got off my horse and I remember nothing after that – I collapsed. It was such a shock for my father, of course, and a difficult situation as because of the lockdown there wasn't anyone else around to help."
The complications of lockdown meant Juan's parents could not be with their son in hospital as he fought for his life.
Pessimistic Outlook
The pessimistic outlook from the medical team at Madrid's La Paz University Hospital was devastating. For four days his life was in the balance.
On day four, Juan's parents received a phone call from an acquaintance called Estella, someone they knew a little from Madrid's equestrian community. While not an especially close friend, Estella was aware of Juan's plight and was moved to call them with information about a team at Jiménez Díaz Hospital who were progressing pioneering neurological surgery that offered Juan at least a chance of survival.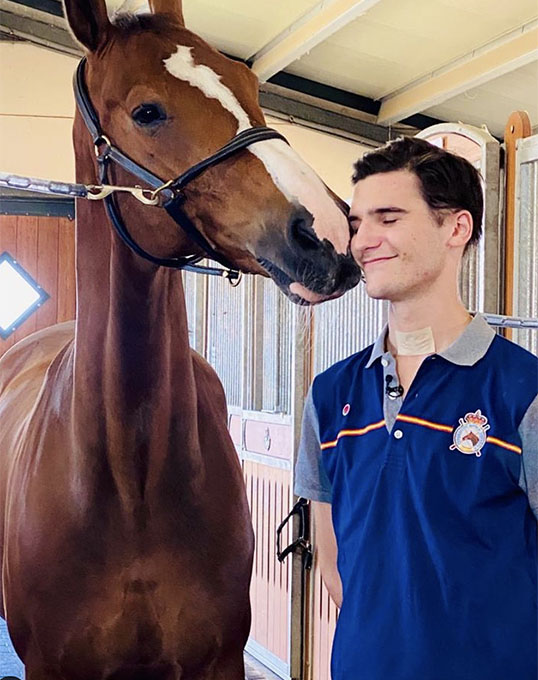 While presenting a glimpse of hope, the odds as outlined by Estella were not good. It was said there was a 60% chance that Juan would not survive the operation and a 30% chance he could be left seriously disabled and perhaps paralysed. There was a 9% probability that it would go reasonably well. There was just a 1% chance of a full recovery.
Juan's parents put their faith in their son and the team led by Dr Claudio Rodriguez. That backing was justified with the operation proving successful.
When he began to come round from the induced coma in late May – three weeks after the stroke – his improvement soon suggested he would prove to be one of the 1%.
Lost 25 Kilos
"There was a lot of frustration at first," he recalls. "People would tell me things and I'd forget. People tried to reassure me and explain what had happened.
"My parents were allowed to come and see me by then, but I was so weak and just exhausted – I had lost 25 kilos. I couldn't even speak. I think the first good moment for us when I saw my dad covered in a big mask, gloves and gown and I just started laughing and that made him so happy!"
It was only a week before he left hospital in early July that he had the strength to walk. While such physical challenges remained, he was already thinking about a return to the saddle.
Riding
"From the first day I started to come round I was thinking about riding," Juan says. "The horses are my life so I wanted to get an update on how they were, and my dad told me how they were being looked after and exercised.
"As soon as I could walk I was thinking about riding and getting to the top of the sport. That is my motivation."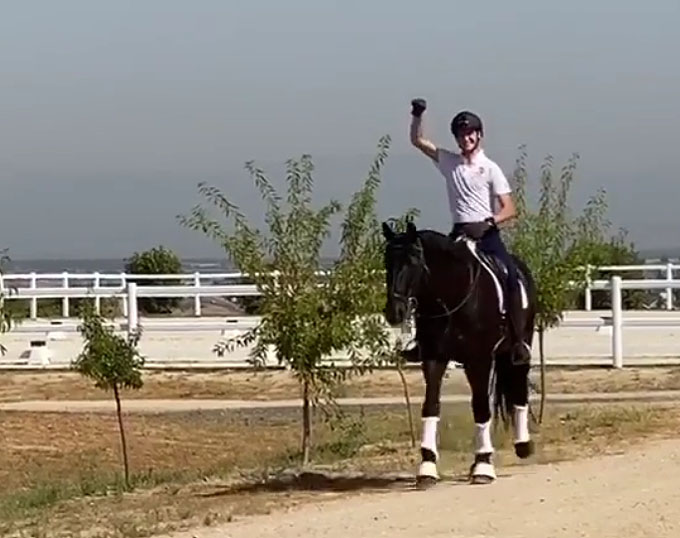 After returning home it was a month before he was allowed to go the stables.
"I was too weak and my family were too scared," he says. "Finally, I was able to go and I was so happy to be back with my teammates in the stables. I had missed them so much. I can't explain it.
"We filmed my first moments back on a horse. We chose Don Diego as he's the safest and calmest. It was so strange walking and turning. It was difficult as I was still so weak and skinny, and in quite some pain. Getting off the horse was hard with so little strength still."
It all clicked and by October he was strong enough to compete at the Spanish national championships – an event he will never forget.
Support from the Community
"It was so emotional," he says. "I had so much love and affection from other riders and the audience that was there. I was applauded nicely before and after tests.
"This whole episode has made me appreciate the equestrian community. When I first opened my phone in hospital, I had thousands of messages from well-wishers on WhatsApp and social media. There was so much support and love."
Juan made a strong return, scoring more than 70% despite the main focus being simply to get back in the competition ring.
Mentally Superior
I wondered if he was concerned the events of 2020 could be detrimental to his career goals.
"Absolutely not," he says. "The opposite. It has not affected me physically – right now I can do exactly what I could do 12 months ago.
"Mentally, I am absolutely superior. This has been a positive reinforcement of everything. This experience has changed me. It has made me mature and appreciate the little things in life.
"2021 is my year. I'm going to go for it, put everything into it."
Olympic Dream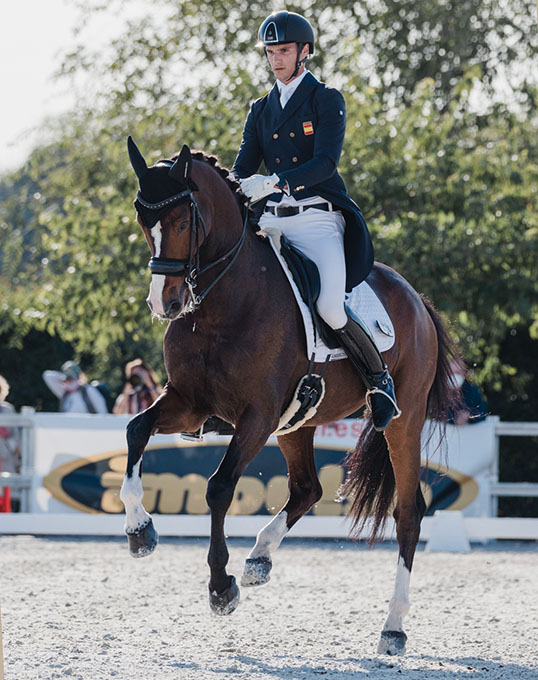 Continuing disruptions to the schedule complicates preparations for the coming year.
Hopes of travelling to Wellington have been abandoned, but a large selection of shows in Spain and Portugal will give him every opportunity to prepare well for a likely spot in Tokyo.
The Spanish championships in May and Aachen in the summer will ultimately decide which three will make the national team, and Juan is determined to be one of those along with his No.1, Quantico. In doing so he would follow his father, an Olympian three times between 1988 and 1996.
"The Olympics is the dream, it always has been," he says. "It has to be everyone's in our sport. For me, it's perhaps even more special because of my dad's history. To compete with his show coat and logo and follow his footsteps, that is the ultimate."
And there we leave it. Goodbye to 2020, older and wiser and with even greater motivation to become a champion. Let's see what 2021 holds in store.
Words by Richard Mulligan - Photos © Private -  Lily Forado
Related Links
Juan Matute Guimon Back in the Saddle
Juan Matute Guimon Leaves Hospital, Continues Rehabilitation as Outpatient 
Juan Matute Guimon Making Full Conversation, Rehabilitation at the Gym to Start Next Week
Juan Matute Guimon Extubated, Breathing on His Own, and Sitting Up
Juan Matute Guimon "Opened His Eyes and Began to Cry," Responsive during Gradual Wake-up from Coma
Juan Matute Guimon's CT-Scan Shows Improvement, Waking Up Process Slowly Started
Juan Matute Guimon Shows "Light Improvement", Remains in Artificial Coma
Juan Matute Guimon Recovering from Second Brain Operation
Second Operation on Juan Matute Guimon to 'Repair' Brain Bleed Deemed Successful
Juan Matute Guimon Transferred to Jimenez Diaz Hospital, Second Operation Scheduled
Juan Matute Guimon Makes Minor Progress, Tremendous Outpour of Support
Juan Matute Guimon Hospitalized and in Critical Condition