F.O.C.U.S.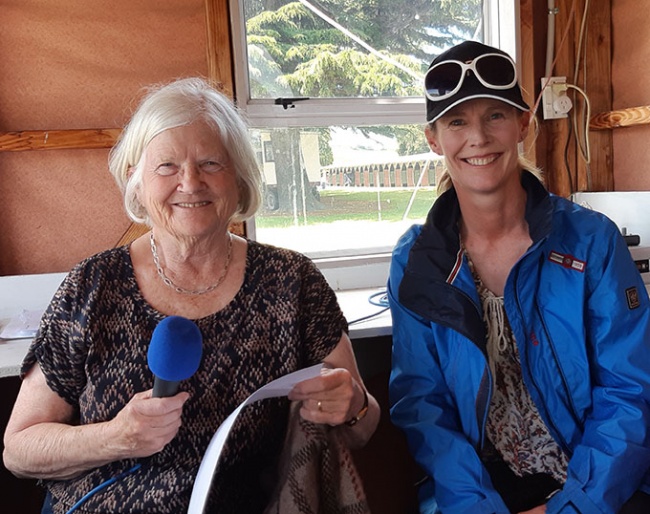 Story by Jess Roberts - first published in Dressage NZ Bulletin Issue 48 December 2020/January 2021. Reproduced with kind permission of Dressage NZ
With just one horse each to compete, New Zealand dressage rider Sharon and her Olympian athlete daughter, Kallista Field, are enjoying the slower pace of life at their Pahiatua (Southern Hawke's Bay) yard these days. They certainly don't miss the long days and hard work that accompanied standing their imported stallion Salutation and keeping a full team of competition and schooling horses in work. "It's more enjoyable now than ten or twenty years ago" says Sharon. "Now if we miss a day and go shopping, it doesn't matter!"
The Field Family, Pioneer for New Zealand Dressage
This mother-and-daughter team need no introduction, being woven firmly into New Zealand's dressage history. Sharon is a true pioneer of this sport, beginning her journey when dressage was in its infancy, training multiple horses to Grand Prix and qualifying her horse Mosaic for the 1996 Atlanta Olympics.
Mosaic was subsequently purchased by Australia's Mary Hanna and this little barely 16hh NZL bred chestnut took Hanna to her first international event, representing Australia at the World Championships in Den Hague, the Atlanta Olympics and became the first Australian (owned) horse to make the Special and finished twenty third in the World.  He also represented his country at the World Games in Rome 1998 and three World Cup finals.
Kallista was the first dressage rider ever to represent New Zealand at an Olympic Games (Sydney 2000), at just twenty-two years young, on the classy NZL bred mare Waikare. The pair qualified for the second round, the Grand Prix Special, and came within one place of moving through to the Freestyle. New Zealand fans were beside themselves with excitement.
Kallista was also a member of the first NZL team ever to compete at a World Equestrian Games in Rome 1998 on Janeiro and then competed again as an individual in Jerez 2002 on Maxx Jamahl.
One Horse Each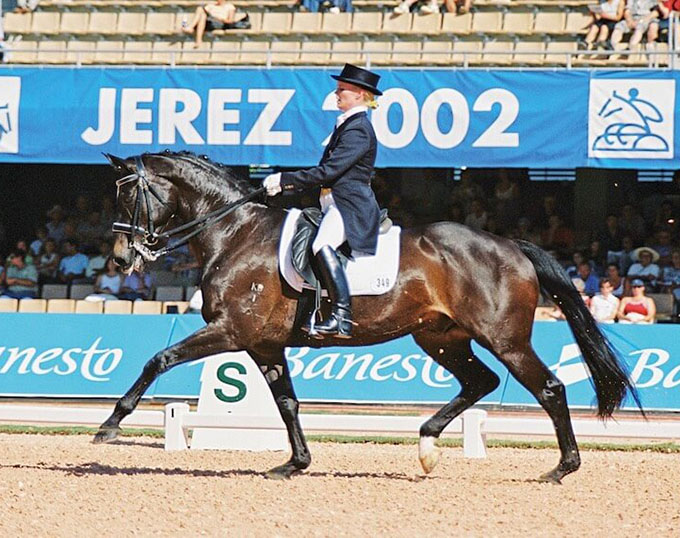 The pair have bred and produced many top-quality dressage horses over the years, and while nowadays they have just one horse each, they're more competitive than ever.
Their 2020 season has got off to a flying start: at the Central Districts Championships Kallista won both the Small Tour Freestyle and Inter I with Felix Westfalia (Franziskus), while Sharon was first and second in the 6A and 6B respectively with her super little Donnerubin gelding Nico FE. 
At the Bay of Plenty Premier League event, Kallista took home the Small Tour title, winning all three tests with scores well  into the 70%; the best in the Musical on75.938. At Nationals, Kallista and Felix again won their Freestyle and were Reserve National Champions for the Small Tour. Sharon was in the money in both rounds of the Open Advanced: in the 6A, where she was third (69.561), just 0.088 of a percent separated the top three! 
Sharon found Nico FE at Arapito Pony Stud in Cambridge. He's out of a part-Arab mare, around 15.1hh and she says he's a lovely horse. "He's going really well; I'm pleased with him. He's working harder and harder - he has to work harder than Felix because he's not quite as talented," says Sharon. "He only ever does one test a day, because he's only got energy for one!" Which prompts Kallista to joke "Mum's a one-hit wonder!"
Mother-Daughter Collaboration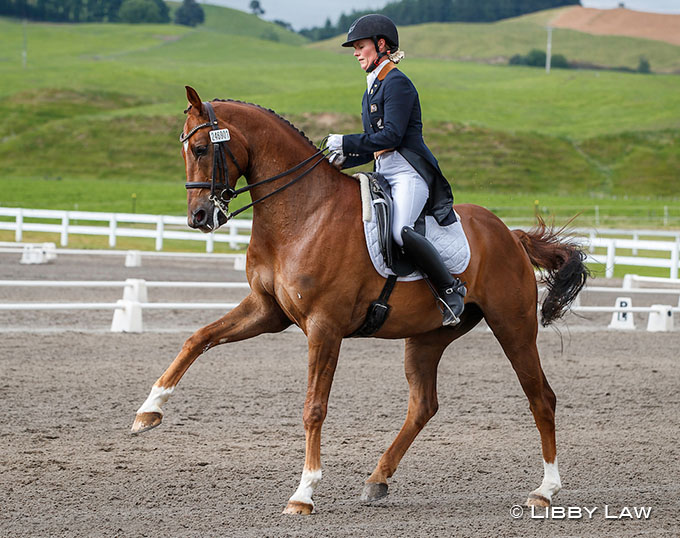 Sharon and Kallista still train together daily and help each other out. Kallista's two-year-old daughter Katherine goes for a walk with her doting grandfather Peter (Sharon's husband) each morning during riding time. Do they have any disagreements in the arena? "Not as much as when she was young!" laughs Sharon. "But we talk about things. We talk about lots of stuff. Someone on the ground sometimes sees a bit of a different picture. You need someone on the ground with dressage, it's that kind of sport." 
They also go riding with a friend from up the road. Their route takes them right through town and past the local school, which still gets exciting for the lively Felix. "We go hacking every week and I hate it!" jokes Kallista. "We especially hack around town for Felix. We go past Books and Toys, down the main street, past the school and all the kids come running over, he still isn't used to that! But the horses get used to traffic and dogs and kids on bikes."  
Trailblazing
When Sharon first started dressage, she had lessons with the legendary Eric Ropiha. "He was a big part of it, even though he also did racing and eventing, and ran our Pony Club. He imported the Hanoverian stallion Witzbold, who my horse Mosaic was by. Then later I trained with Clemens Dierks."
She also remembers taking each of her two daughters out of school on different occasions, to attend the Horse of the Year show when it was held up in Auckland. "I needed a groom! Because I had two horses, one Grand Prix horse and a Prix St George horse coming up. So I used to take one out of school and give them some sort of something up there that I thought was educational, like Kelly Tarltons," she laughs. "And we'd discuss the terrain as we drove up the middle of the North Island - it probably didn't soak in but I thought I was doing my best!"
Hope for the Future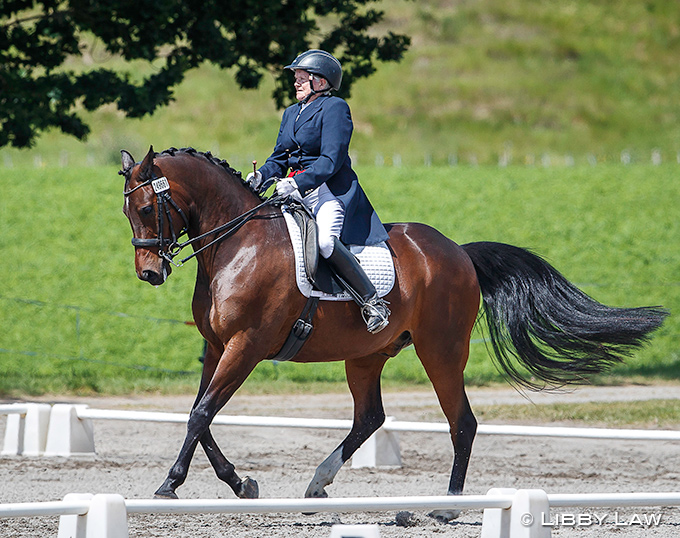 There are several nice youngsters waiting in the wings at Sharon and Kallista's Pahiatua property, due to come into work next year. In the meantime, they're both enjoying the steady work of training their horses toward Grand Prix. "Felix finds it all quite easy," says Sharon. "I go one day at a time on Nico. We're learning our ones; we have a bit of piaffe. We play around with it, Nico and I, and just have fun." 
Sharon & Kallista are both truly dedicated to their sport, every year giving up the opportunity to compete at their local Premier League event to be key members of the organising committee.  Sharon is an accomplished announcer while Kallista just does anything that needs doing !
Photos © Libby Law - private
Related Links
Dressage in New Zealand: Sharon and Kallista Field
Kallista Field's Waikare Passed Away
Mary Hanna's Mosaic Passed Away
Scores: 2002 World Equestrian Games
Scores: 2000 Olympic Games