Bits 'n Pieces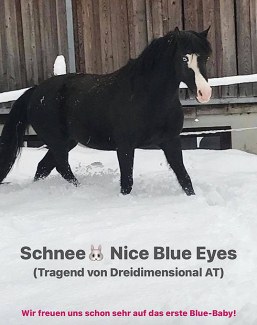 Luxembourg Grand Prix rider Nicolas Wagner has welcomed a new horse to his barn: the 4-year old KWPN bred Milano Vivero (by Toto Jr x Jazz x Contango). Wagner, who obtained an individual Olympic slot for Luxembourg with his top ride Quater Back Jr, sourced the black Dutch warmblood at Damil Dressage.
International FEI dressage team pony Nice Blue Eyes is enjoying her retirement in the field in the Austrian Alps. The 17-year old Westfalian bred pony mare (by Notre Beau x Principal Boy x Durello x Derby) is bred by Leonhard Beckhoff at Gestut Heiligenberg and owned by Austrian Nicola Ahorner. The pony competed at the European Pony Championships in 2012 (Estelle Wettstein), in 2013 (Nicola Ahorner) and was a schoolmaster for Lana-Pinou Baumgurtel. She was put in foal to Dreidimensional AT in 2020 and is due in the late spring of 2021.
Joris van den Oetelaar has been elected vice chair of the Dutch political party "Forum voor Democratie" (FVD). The FVD is a conservative and right-wing populist Eurosceptic political party in the Netherlands that was initially founded as a think tank by Thierry Baudet. The party first participated in elections in the 2017 general election, winning two seats in the House of Representatives. Van den Oetelaar is chair of the Dutch Anglo European Studbook (AES) and managing director of equestrian centre De Molenheide in Schijndel, The Netherlands. He is already involved in politics at a provincial level and is now trying to get elected for House of Representatives.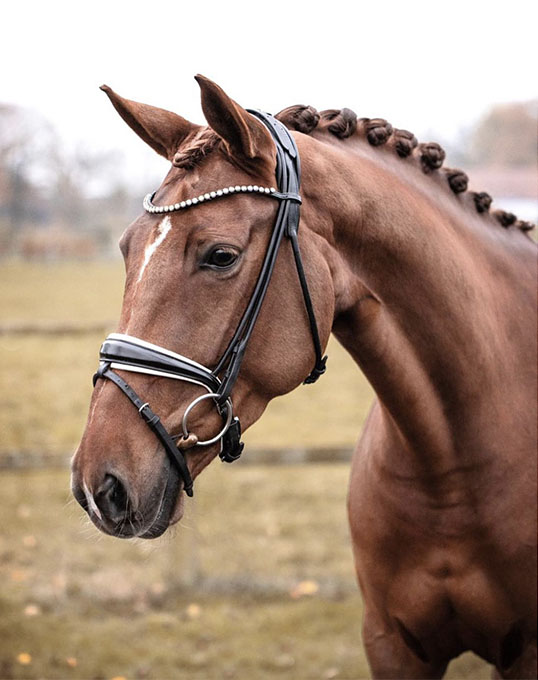 German Grand Prix rider Stella Charlott Roth sold the first offspring she bred out of her Olympic mare Diva Royal. Under Dorothee Schneider, Diva Royal competed for Germany at the 2012 Olympic Games in London and then went on to win the Piaff Forderpreis with Stella. Unfortunately the mare sustained a career ending injury and became a brood mare after that. Her first foal, Dignidad, has now been sold as a 5-year old to the Holzleitner family in Austria. The mare Dignidad is by Dream Boy. 
After losing her top young horse Faberge EP to a horrible stable accident, Austrian dressage rider Giulia Schwab welcomed a new stallion into her barn, the 3-year old Austrian warmblood Quantender (by Quantensprung x Contender x Landgraf). The young stallion is bred by the Pichler family and will be presented for licensing in February. He's a half brother to Austrian reserve Bundeschampion Suzie Gold (by Dimaggio).
The 6-year old Danish warmblood gelding Mandela (by zack x Furstenball) has been sold as a junior rider's horse for Finnish Ruut Mantela. Advertised for sale in the Eurodressage Equimarket, Mandela  participated in the 2019 Danish Young Horse Championship and in the final of the 2020 Danish Warmblood Young Horse Championships in Herning.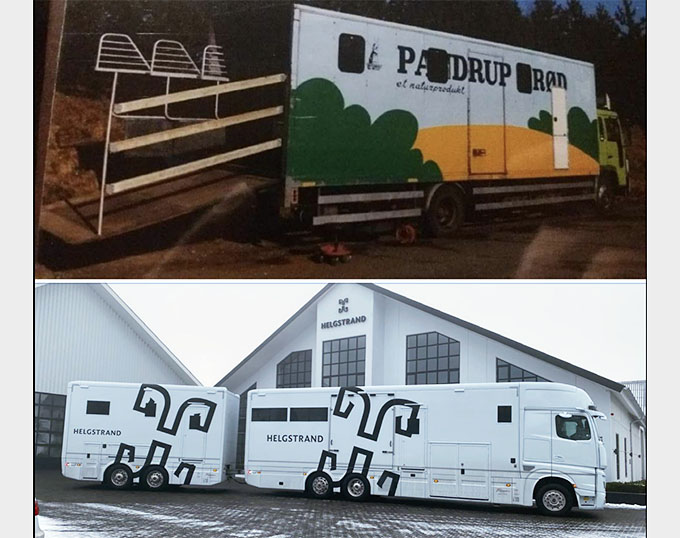 Andreas Helgstrand bought himself a new truck and it's the Rolls Royce of horse lorries. He posted a cute little comment on Facebook: I have great respect for all those who start their own business - and especially in these times. I think life as an entrepreneur requires a special type of people, because it takes an extraordinary effort to pursue one's dream. But having said that, there are very few things in life that give greater sense of happiness when things then succeed. Here you see a picture of the first truck that we bought - it was rebuilt for the purpose with the help of a friend of Marianne's father. If you have an entrepreneur in your stomach and an idea that you are passionate about, then just get started"
Things are looking up for Dutch Grand Prix rider Danielle van Mierlo, who recently lost her Grand Prix horse Dayano. The Dutch born Belgian Rob van Puijenbroek has given her the ride on his 8-year old small tour level trained Insomnia Begijnhoeve (by Jazz x Negro). 
Dressprod reported that the French children's team horse Escortgirl Maupertuis underwent colic surgery and is out of the running for a while. Owned and ridden by Thanais Capelle Morosi, the 7-year old Escortgirl (by Don Juan de Hus x Rieto) won team bronze at the 2020 European Children Championship. She has just returned from a French team training seminar when the mare suffered a colic attack and had to be operated on.