The Netherlands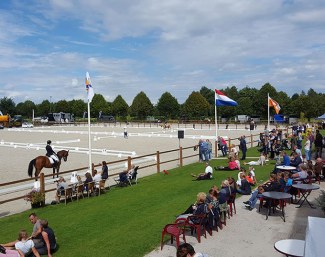 The 2021 CDI Exloo, scheduled for 18 - 21 March 2021, has been cancelled due to corona.
The current corona restrictions in The Netherlands make an international 3* competition not viable.
The CDI Exloo was supposed to be a 4-day event, but participants were not allowed to linger on the premises and the bar and restaurant as well as the indoor seating have to be closed. 
Five CDI's Down to Three
Originally five CDI's were scheduled for that weekend of 18 - 21 March 2021. Two of them are now cancelled: Exloo (NED) and Keysoe (GBR).
Three are still standing: Opglabbeek (BEL), Ornago (ITA), and Macon (FRA).
May CDI in Exloo
Exloo is keen to host a CDI in 2021 and has announced that it will host an outdoor CDI 3* on 6 - 9 May 2021. Another indoor CDI 3* is booked for 21 - 24 October 2021.
The venue has also bid to host the 2021 European Under 25 Championships on 12 - 15 August, but the FEI has not yet allocated the event. The strongest contender is Hagen, where the 2021 European Senior Championships will take place in September. 
Related Links
Heavy Cuts in 2021 International Dressage Calendar: Keysoe, Fritzens, Cascais Cancelled
Four Candidate Venues for 2021 European Under 25 Championships
2021 CDI Lier Cancelled, European Riders Running out of Show Options