F.O.C.U.S.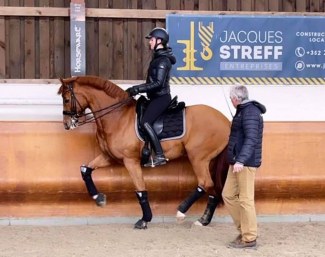 For Swedish Under 25 rider Nathalie Wahlund, the year 2020 has been a hinge year in her budding career as a professional dressage rider. After a four year stay in Great Britain, she left the UK right before Brexit and found employment at a new, inspiring yard in Luxembourg. 
From Stockholm to L.A.
The 23-year old Wahlund has been trotting the globe in pursuit of a career with horses.
Soming from a non-horsey background, she started riding at the local riding school in Stockholm when she was 5 and rode through her teenage years.
After graduating from high school and before picking up Law at University, she took a gap year which turned out to be life-defining.
"I went to Mette Rosencrantz to work as a working student," Nathalie told Eurodressage. "I had a lovely time there and learned so much! Ever since I started riding I've always had big dreams of competing on a high level, but I actually never planned on a career working with horses. But after my time with Mette in Los Angeles I realised there's nothing better then to work with your passion."
Oldencraig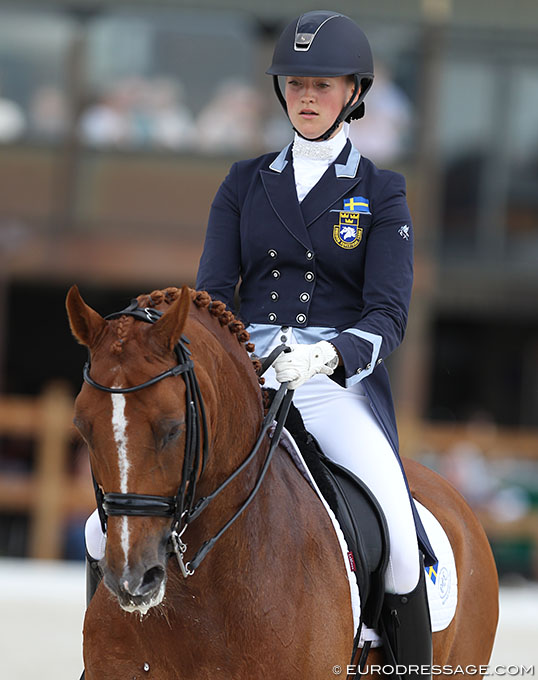 Soon after returning home from Los Angeles in 2017, Nathalie found a new job working as an assistant trainer under the auspices of British Grand Prix rider Vicky Thompson-Winfield at her at Oldencraig equestrian centre in the U.K.
Her move to Britain became a life-changing adventure and opened doors to the competitive high performance career she had dreamt of. 
"I had four great years working with Vicky Thompson Winfield. I was a novice rider when I came to her and she trained me up to Grand Prix in less than three years. I got to work with some fantastic horses and made lots of great memories and friends for life!"
She made her British show debut in May 2017 aboard Sir Wilhelm (by Sandro Hit x Weinberg) and campaigned a string of horses, including Oldencraig Echo O (by Zjengis Kgan x Riant), the piebald gelding Hiawatha (by Harmony x Kings Quest), Millennium Lilley (by Millennium), and Exquisite D (by Lord Loxley). 
In November 2017 John Evans' KWPN gelding Cerano Gold (by Serano Gold x Lancelot) came her way and changed everything. 
Heart Horse Cerano Gold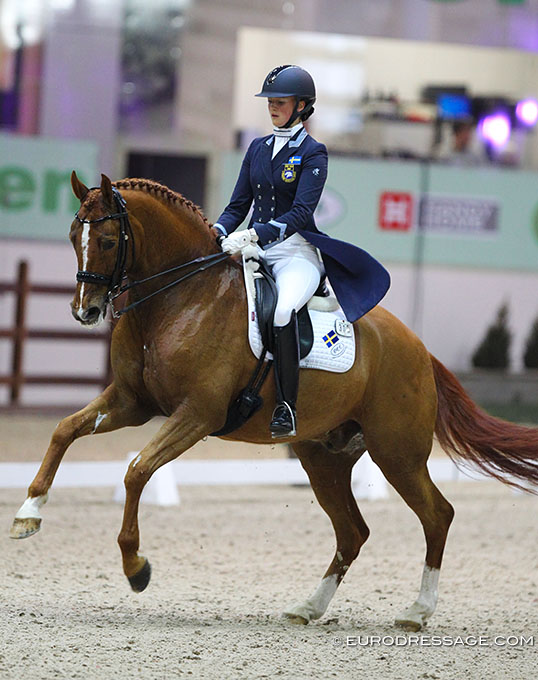 Cerano Gold became Nathalie's heart horse and the two gelled quickly.
Their competition start was in March 2018 and four months later they had their big entry on the international stage. They made their CDI debut in Hickstead in July 2018 at Young Riders' level and half a year later tackled the Under 25 Grand Prix for the first time at the 2019 CDI Nieuw en St. Joosland. Their solid scores led to a Swedish team nomination for the 2019 European Under 25 Championships in San Giovanni in Marignano, where they made it into the Kur to Music Finals to place 16th. 
In 2020 they competed at the CDI Lier right before the corona pandemic swept across Europe. They returned to the arena in between COVID)-19 waves to show at the CDI Grote Brogel in July 2020. 
"When Cerano's owner heard I was leaving England, he contacted me and asked if I would consider taking Cerano with me as he wanted our partnership to continue," said a thrilled Nathalie. "Cerano Gold is a very special horse to me and he's got a very special place in my heart. I love him more then words can describe! I am forever grateful that his owner trusts me to continue to train and compete with him. Cerano and I have been a partnership since November 2017 and together we have achieved things I could only have dreamt of a few years ago."
Spreading Wings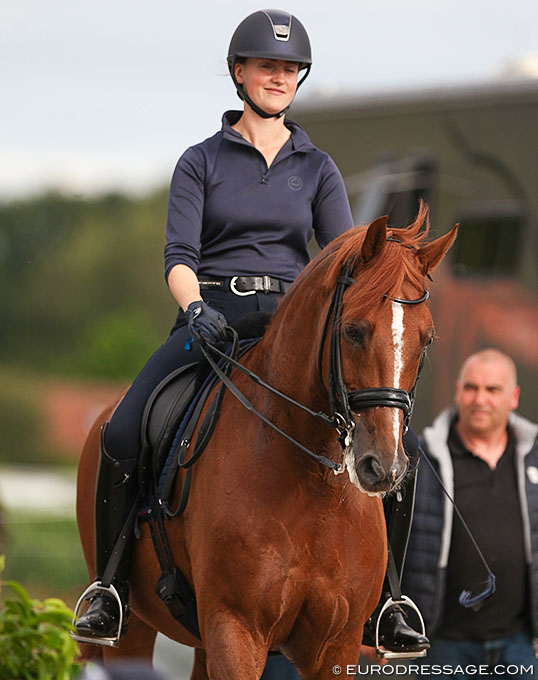 Nathalie has never owned her own horse, but Evans' act of generosity deeply touched her heart.
Wahlund left the U.K. and based herself temporarily with Warwick and Caroline McLean in Tönisvorst, Germany, before accepting a position at Mandy Zimmer's Windhof in Luxembourg. 
"After four years in England it was time for me to spread my wings and try something new! Also with Brexit and Covid I feel like it was the right decision to leave, although I still miss England every day," she said. 
She continued, "Cerano and I have spent some time in Düsseldorf training with my great friends Warwick and Carolina McLean, which was super good and Cerano developed so much in his training," said Nathalie. "The McLeans have known Mandy for many years and it's thanks to them I got the job."
Nathalie has only been in Luxembourg for a couple of weeks, but loves the new direction in her career. "I'm so grateful to be working with such a great and professional team," she said.
Related Links
Swedish Dressage Squads for 2021 Announced
Scores: 2019 European Youth Riders Championships
Vicki Thompson-Winfield, Riding Force Behind Oldencraig Equestrian Centre