2021 CDI Wellington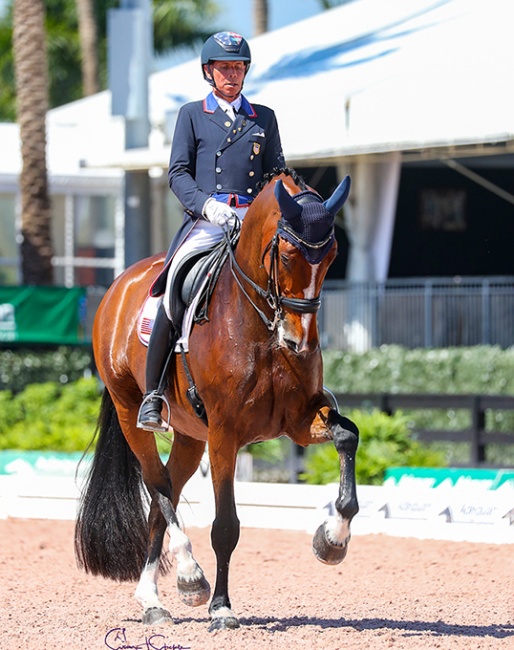 Week seven of the 2021 Global Dressage Festival (GDF) in Wellington, FL, began on Thursday 25 February 2021 with top placings for the USA's Steffen Peters in the Grand Prix for Freestyle 5* and Sabine Schut-Kery with Sanceo in the Grand Prix for Special 5*.
The classes started out the five-star week, which continues through Sunday, February 28.
Peters Rules the Roost
Peters and the 2008 KWPN gelding Suppenkasper (by Spielberg x Krack C), owned by Akiko Yamazaki and Four Winds Farm, kicked off their week on a high note, besting the Grand Prix for Freestyle 5* with a score of 77.109%.
"After the test he felt like he had another two tests in there," began Peters. "This is actually the right weather for him, where I can ride him a little bit and he settles down a bit more. That warm weather is what we are going to face in Tokyo, maybe even quite a bit hotter than this, and Mopsie seems to be ready for it. He's been very consistently in the 76, 77 percentile, and that's super exciting that I can ask for a bit more. Today he had a very clean test with a good, relaxed walk, so I'm extremely happy."
Peters and the gelding have won every class they have competed in this season, and Peters is moving into tomorrow's freestyle with hopefulness. "I think it's always fun to support the organizers in the five-star freestyle," he explained. "If we do well then, it's nice to give back to our people, and help to pay the bills a little! We're really looking forward to it. The freestyle is one of my favourite tests to ride, though sometimes it's not Mopsie's, but the night atmosphere is still something he needs to get used to."
Plans Based on Pandemic
The pair's final GDF competition will be next week during GDF 8 at the Palm Beach Dressage Derby, and then Peters' plans are tentative based on the status of the global pandemic and the state of the world.
He concluded, "I've always believed that our federation makes very good decisions for us. Since Europe is still on lockdown at the moment, it doesn't really make sense to go there. I will just wait for the input from the US [Equestrian] Federation, and I know they will make the right decision. I'm looking forward to doing the Palm Beach Derby here next week, and Mopsie will get a nice break for March, and then in April we will start to pick it up again."
Bateson and Seidel in Peters' Wake
Second place honours in the Grand Prix for Freestyle 5*  went to Katherine Bateson Chandler (USA) and Alcazar, Jane Forbes Clark's 2005 KWPN gelding by Contango, earning a score of 69.913%.
"I was really happy with my horse today," said Bateson Chandler. "He does struggle with tension at times and I'd prefer him to be a little bit more relaxed, but I need some of that positive tension, so there's always a fine line. I was happy with how it worked out in there."
Bateson Chandler noted the gelding's honesty this season, coming into his sixteenth year and getting more comfortable with the competition. "This whole season he's been as honest as he's ever been in his career," she stated. "When that happens you really realize that it takes years for these horses to mature to this level. I still had one mistake in the one [tempis], which was really frustrating because I've had those the last three tests, but overall his general rideability was good. I'm super happy with his attitude. It's not so easy in this weather because it's hot and he's a big black horse, but he's been down this centerline a lot so I think he'll be very excited to move on, and hopefully we'll get a season elsewhere. In the meantime, this is a fantastic show and we're lucky to be able to have it."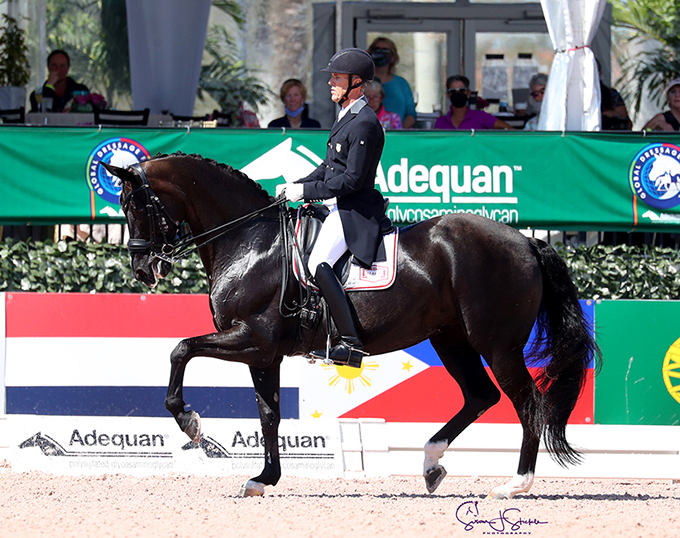 Third place went to the USA's Guenter Seidel on Equirelle, Leatherdale Farms and Louise Leatherdale's 2009 KWPN mare by Florett As, with a 69.304%. Seidel said, "Today we had a lot of mistakes, but they were more my mistakes than hers. This is her fourth show in a row and it's getting a little better, but we are just chipping away at it and hopefully we will work our way up with the score."
The pair has never ridden a freestyle under the lights, but Seidel explained that at this stage in his young mare's career, the miles are important regardless of the atmosphere. He concluded, "She hasn't shown under the lights yet, so we'll see. She's already such a hot horse, so I don't know if it will be a plus for me! It's the show atmosphere itself, so I think you just have to do it and keep going. It doesn't matter if it's large or small; it's the same for the horse when they are learning."
Schut-Kery Wins 5* Grand Prix for Special
In the Grand Prix for Special 5* the USA's Sabine Schut-Kery and Sanceo took the highest honors of the class with a 74.522%.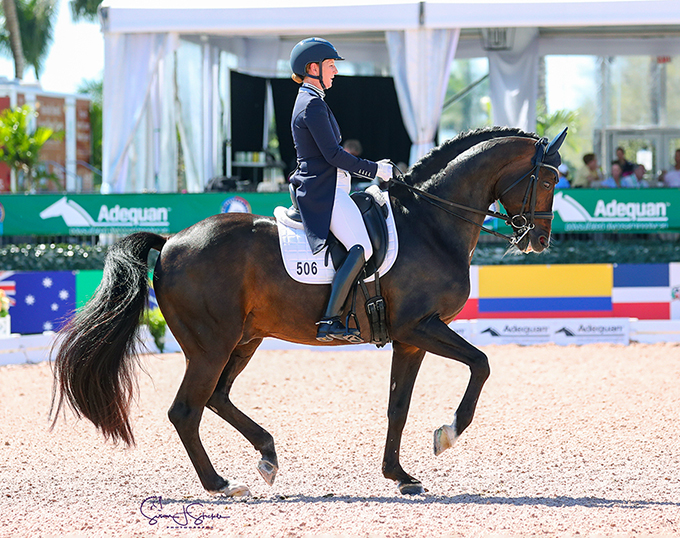 Schut-Kery and Alice Womble's 2006 Hanoverian stallion by San Remo re-entered competition after a summer break in November, earning scores of over 74% in the CDIs in California before arriving in Florida in January. Those classes, along with a national class last week at GDF, helped prepare the pair for their biggest competition in a year.
"Sanceo was really great," noted Schut-Kery. "Any errors made today were rider errors, and I think I lost him in the zigzag. However, he felt great in the first part of the test and then recovered quite well [from those rider errors]. I have no complaints, and I feel like we are getting to the point where we can see where we want to push more, and where we need to finesse things."
Schut-Kery and the gelding will compete in the Grand Prix Special 5* on Saturday, and Schut-Kery plans to continue to perfect the duo's performance for the remainder of the competition, at which she is thrilled to be competing.
Fortunate
She exclaimed, "Having this five star is amazing. When I look around, a lot of the places are closed down all over the world. We are so fortunate. I think everybody agrees that we would follow any protocol, just to be able to keep going. Speaking for myself, I have a horse that's 15 years old. It's not like he's eight or 10, and one year doesn't matter. For me, it's very special to be here and be invited to this competition, to the five star, and that there is that caliber of show. Thank you to everyone that puts this on and supports it."
The 52-year-old is currently second on the USA Dressage Shortlist behind Peters and hopes to remain there through the spring and summer. "I'm planning to do one more show in March," she said, "though I haven't decided yet which one. After that we will hopefully go home for a little break and make it onto the [updated] short list. It would be great to go to Europe, but obviously nobody knows right now."
Lyle and Jorst Two and Three
Second place in the Grand Prix for Special 5* went to another current short list pair, Adrienne Lyle (USA) on Harmony's Duval, Duval Partners LLC's 2008 KWPN gelding by Rosseau, with a 72.587%.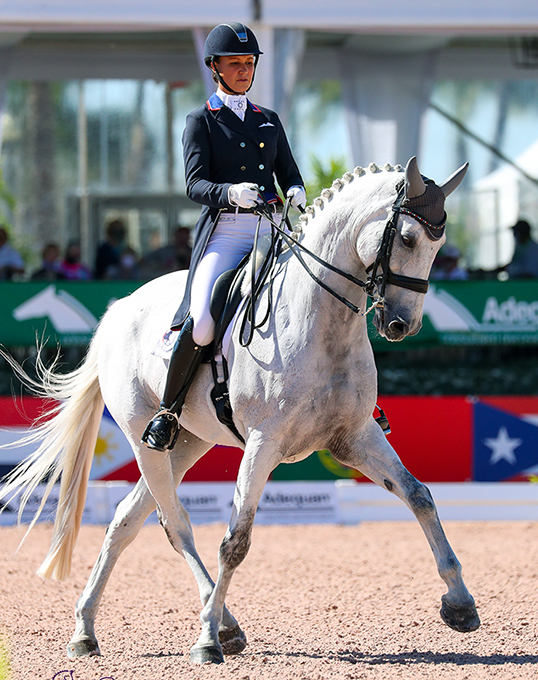 "We were very honoured to get an invitation to the five star and want to thank all of the sponsors for putting on this amazing show," Lyle began. "I chose the Grand Prix Special with Duval because that is our main focus with him right now. My goal is to try to qualify for the short list, so we are focusing on the Special. He felt really good in the warmup, and I'm really happy with the work we are getting out of him. He's kind of a funny horse; he went in there and his brain went mach 90 and we lost each other a little bit for the first half of the test, but that can happen and I can't complain. The work is going well, and he is feeling good at home. We are going to alter the warmup a bit for the special to see if we can keep his nerves under control, and we'll see how it goes."
Third place honors were presented to Charlotte Jorst (USA) on Nintendo, her own 2003 KWPN stallion by Negro, with 72.326%, who is also sitting on the short list behind Schut-Kery and Lyle.
"Nintendo was just incredible as usual," stated Jorst. "He just comes out every single day, and he must be the most honest horse I the universe. He always tries his best, and he did again today. I've been working on getting him 'through.' I'm so grateful to have a horse to ride in a five star. That has always been such a huge dream, and now it's coming to fruition. I got a little teary-eyed in the barn because it's so emotional for me to be able to continue to ride. I learned to ride the grand prix with this horse, and now he's allowing me to continue to ride. I'm also trying to get on the short list. That's my dream and my goal, so if he allows me to get there, it would be amazing."
Wandres wins Prix St Georges 3*
Earlier in the day, Germany's Frederic Wandres topped the leaderboard in the Prix St. Georges 3* piloting Hof Kasselmann's 2013 Hanoverian gelding by Hochadel, Harrods 3, to a final score of 74.382%.
Second place went to Michael Klimke (GER) and Domino 957, Uwe Kappel's 2012 Westphalian mare by Den Haag 12, with a 70.765%. Third place was captured by Dong-Seon Kim (KOR) with Lord Nunes, his own 2012 Rhinelander stallion by Lord Loxley I, with 69.382%.
Layne Gets Career High Score
In the Grand Prix  for Freestyle 3*, Australia's Kelly Layne earned a career high score with Kelly Layne and Nori Maezawa's 2009 Oldenburg gelding by Sir Donnerhall I, Samhitas.
Second place was captured by Jennifer Williams (USA) on Sueno Hit, her own 2008 Oldenburg gelding by Sandro Hit, with 68.826%.
Third place was rounded out by Dong-Seon Kim (KOR) and DSK Belstaff, a 2007 Hanoverian gelding by Brentano II, earning 68.500%. Kim is back on the show scene to get his Olympic selection for Tokyo, in the race for one individual slot against the European based Young-Shik Hwang.
-- GDF press release, edited by Eurodressage.
Photos © Sue Stickle
Related Links
Scores: 2020 CDI Wellington
2021 Wellington 5* without American All Stars?