Danish Warmblood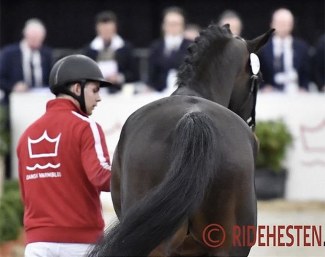 The 2021 Danish Warmblood Stallion Licensing, which had moved from Herning to Vilhelmsborg due to Covid-19, has now been completely cancelled. Instead the DWB licensing committee will conduct home visits.
From Herning to Vilhelmsborg
"As the authorities could not give us sufficient feedback about the "professional" status of this year's licensing in Vilhelmsborg, and in addition with the rampant Equine Herpes Virus in southern Europe, Danish Warmblood has cancelled the licensing of stallions at Vilhelmsborg," DWB stated in a press release
A special corona proof edition of the licensing was planned in Vilhelmsborg without an audience, but DWB did not succeed in getting a response from the responsible authorities regarding approval of the outlined event, "despite many written inquiries focusing on a streaming setup behind closed doors."
Plan B
In January, the licensing committee travelled around the country to pre-select stallions for the licensing. The licensing will now be conducted in the same way in week 11.
The licensing committee – both for jumping and dressage – will do home visits and assess them in a procedure similar to a normal stallion licensing. The stallions will be filmed and photographed as usually.
Once all stallions have been inspected, the stallion owners will be informed about the licensing verdict, which will be published on the Danish Warmblood website where video recordings of all stallions will also be made available. An online press conference for the international press will then be held.
Act on Short Term Basis
"All aspects come into play during this difficult time, but our consideration for the stallion keepers and the health of the stallions counts the most," said Casper Cassøe, DWB director.  "We have now been waiting for almost four weeks for a response from the Danish authorities as to whether we can legally conduct the licensing behind closed doors with a large streaming setup, but without a concrete decision we cannot drag it on any further. The decision to completely cancel a gathering of numerous stallions was made after closely having followed the situation of the equine herpesvirus outbreak with epicentre in Valencia. We are very sorry to have to make this decision, but times are very challenging, and we have become accustomed to acting on short term basis. The licensing committee looks forward to viewing the stallions in week 11, and we promise to provide good footage of the stallions, so that you can still follow the licensing from your homes, although in a different format than desired."
Photo © Ridehesten
Related Links
Herning Version of 2021 Danish Warmblood Stallion Licensing Cancelled, Moves to Vilhelmsborg
2020 Danish Warmblood Stallion in Herning, Hotbed for Covid-19 Infection in Denmark?