Prinsjesdag Foal Auction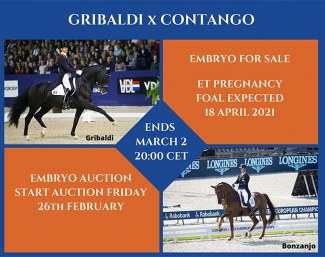 A British and an American dressage lover became the top buyers of the dressage embryos in the collection of the 2021 Prinsjesdag Embryo Auction which concluded on 2 March 2021. 
A collection of 16 embryos (unborn foals) from proven dressage and show jumping bred lines were for sale in this online auction.  Six embryos were from coveted Dutch dressage lines.
The most expensive embryo was a jumper bred Balou de Reventon x Denzel van 't Meulenhof, which sold for 24,000 euro to a Dutch buyer
The best selling dressage embryo was the Gribaldi out of O.Bertje (by Contango x Amor). A Dutch buyer purchased the unborn foal for 17,000 euro. O.Bertje has produced international Grand Prix horses Tango and Bonzanjo. O.Bertje's daughters Zhara-Obertje and D.Obertje were KWPN Mare Champions in 2007 and 2011.
Emma Blundell of British dressage breeding farm purchased the unborn foal by Valverde out of KWPN Mare Champion Heliana VOD (by Davino VOD) for 16,000 euro and the unborn embryotransfer foal by Lord Europe out of O.Bertje for 12,000 euro. Both foals are expected to land in April-May.
Wellington, Florida based dressage rider Carol Cohen purchased the Vitalis x Ferro for 10,000 euro and the Escolar x Rousseau embryo for 7,000 euro 
The Bordeaux x Rheingau stays in The Netherlands for 8,000 euro.
Related Links
Sixteen Embryos from Fantastic Damlines in Prinsjesday Online Auction on 2 March 2021
Bid Now on Six Dressage Embryos from Proven KWPN Damlines in the 2021 Prinsjesdag Embryo Auction
D.Obertje Proclaimed 2011 KWPN Mare Champion of the Year
KWPN Mare Champion Zhara Obertje in 2007 Performance Plus Collection