2021 CDI-W Wellington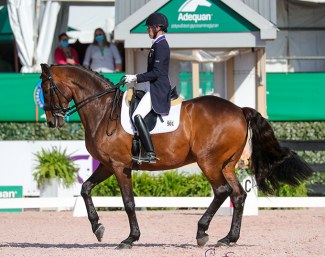 It is Palm Beach Dressage Derby Week at the Global Dressage Festival (GDF) in Wellington and competition continued on Friday, March 5, welcoming a win for the USA's Olivia LaGoy-Weltz and Rassing's Lonoir in the Grand Prix CDI-W. 
With their score of 75.739%, LaGoy-Weltz and Rassing's Lonoir, a 2004 Danish Warmblood gelding by de Noir 3 that she co-owns with Mary Anne McPhail, soared to the top of the leaderboard in the final class of the day, qualifying them for Sunday's Grand Prix Freestyle CDI-W.
Canada's Jill Irving earned second place on Arthur, Windhaven Farm's 2005 KWPN gelding by Jazz, with a 69.456%. Third place went to Mette Rosencrantz (USA) with Dzeko, a 2006 Oldenburg Stallion by Dimaggio owned by Cory Walkey, Mette Rosencrantz, and Robin Cathey, riding to 68.696%.
A Clean Test
LaGoy-Weltz began, "I feel like he really stayed with me today. Our goal for today was to just go in there and have a clean test, and it was almost clean, apart from a little jig in the walk, but I'm not too worried about that. For me, he gives a lot, and my goal was to keep him back and more collected with more brilliance. That was the plan, and I feel like we executed that well. I feel like we have ridden that line for a while where I keep him quiet but there is less brilliance, or there is brilliance but then it's hard to keep the consistency, so it's just getting better and better."
The score was enough to give the pair a personal best, and LaGoy-Weltz said, "It feels really awesome to get a personal best, especially when it feels like it was just another day in the office. We were already really happy with the last show, and in the last show if it had been clean, our score would've been closer to this type of score. This one would've been even higher if it was totally clean, so I'm feeling good about it."
Eyes on World Cup Final, Not Yet U.S. Olympic Team Ranked
The duo has their eyes set on the 2021 FEI Dressage World Cup™ Final at the end of March, and LaGoy-Weltz said that she won't put pressure on herself in regard to the Olympics just yet. "For the moment," she explained, "our strategy is to just focus on the World Cup Final. We had a different plan, but our timeline got pushed back, so I made the decision to just focus on World Cup at this point and take the pressure off trying to squeeze in Grand Prix Specials before that as well. I'm trying to do my best with that, and then take the Olympics as it follows. We want to do as well as we can and see where it goes from there."
Lagoy-Weltz was the guinea pig at the 2018 World Equestrian Games in Tryon and could be a hot contender for a U.S. Olympic team spot. Surprisingly this season the rider has not yet competed in a Grand Prix Special, necessary to be considered and included on the U.S. Olympic Team Ranking and to be short listed for team selection. 
Due to Covid-19 and EHV-1 in Europe, the end date of the initial Qualifying Competition period has been amended from April 4, 2021 to April 25, 2021.  This will allow for a greater opportunity for combinations to earn the minimum scores required for selection to the Short List.
"This extension will also still permit the possibility of sending a Short List to compete in Observation Events in Europe, which remains the primary plan for the final selection and preparation of a team for the Games," said USEF. "It is fully recognized that travel restrictions and logistics related to European travel may require an adjustment to this plan and instead the Observation Events may need to occur within the United States."
GDF press release, expanded by Eurodressage
Photo © Sue Stickle
Related Links
Scores: 2021 CDI-W Wellington
Wagman and Don John Kick Off 2021 Palm Beach Derby Week with Win
USEF Postpones Decision on European or U.S. Observation Events for Olympic Team Selection