USA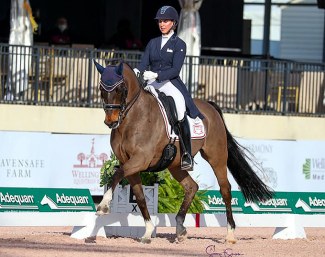 The teams that will be competing in the first Nations' Cup competition of 2021 in Wellington, Florida, have been announced. 
Six CDIO's in 2021
The CDIO Wellington on 17 - 21 March kicks off the 2021 FEI Nations Cup series for dressage.
Traditionally Wellington hosts the only CDIO on Pan American soil. All other CDIO competitions take place in Europe. 
Six CDIO's are scheduled this year. In 2020 the series were cancelled due to the corona pandemic.  The next show is the CDIO Alter do Chao on 22 - 25 April 2021 in Portugal, followed by Compiegne (27 - 30 May), Rotterdam (24 - 27 June), Falsterbo (15 - 18 July) and Aachen (14 - 19 September).
Wellington Teams
Teams from four countries will be competing in the CDIO Wellington.  They are:
Australia
Hope Beerling and Alpha HM, 17-year-old Lusitano stallion by Portugal x Marfim
Kelly Layne and Samhitas, 12-year-old Oldenburg gelding by Sir Donnerhall x Abanos
Sally Lofting and Quinlan CF, 12-year-old Oldenburg stallion by Quaterback x Harvard
Canada
Brittany Fraser-Beaulieu and All In, 16-year-old KWPN gelding by Tango x Damiro
Lindsay Kellock and Sebastien, 15-year-old Rhinelander gelding by Sandro Hit x Fidermark
Naïma Moreira Laliberté and Statesman, 14-year-old Hanoverian gelding by Sandro Hit x Brentano II
Chris von Martels and Eclips, 12-year-old KWPN gelding by Apache x Ferro
Germany
Michael Klimke and Domino, 9-year-old Westfalian mare by Den Haag x Weltmeyer
Kevin Kohmann and Five Star, 11-year-old KWPN stallion by Amazing Star x Jazz
Christoph Koschel and Eaton, 12-year-old KWPN gelding by Wynton x San Remo
Frederic Wandres and Quizmaster, 9-year-old Hanoverian stallion by Quasar de Charry x Velten Third
USA
Katherine Bateson-Chandler and Alcazar, 16-year-old Dutch Warmblood gelding by Contango x Ferro
Ben Ebeling and Illuster Van de Kampert, 13-year-old Belgian Warmblood gelding by  Spielberg x Contango
Adrienne Lyle and Harmony's Duval, 13-year-old Hanoverian gelding by Rousseau x Riverman
Jennifer Schrader-Williams and Millione, 18-year-old Danish Warmblood gelding by Milan x Rawage Quintus
According to Dressage-News.com, Spain's Carlos Salguero Ocaña and Vangens Star-Light, 12-year-old Danish warmblood gelding by Skovens Rafael x Midt West Ibi Light, will compete as an individual.
Related Links
FEI Nations' Cup Series for 2021 Announced, New CDIO in Portugal
Wellington Full Steam Ahead with 2021 Global Dressage Festival Despite Corona Pandemic