The Netherlands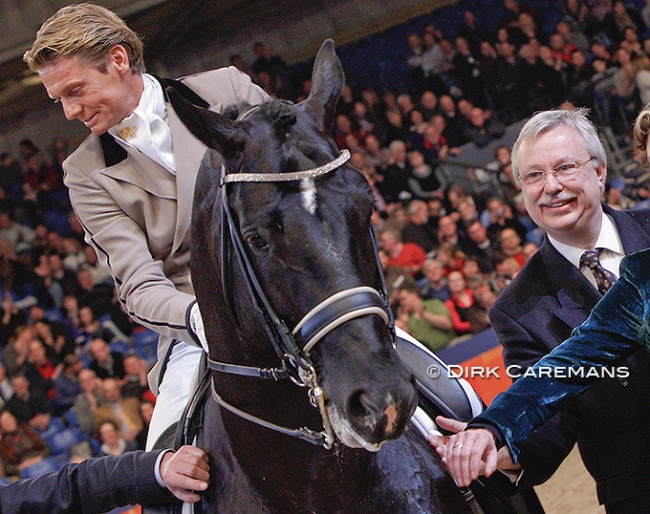 Kees Visser, the former owner of mega stallion Totilas, will appeal the decision of the Civil Court in Oldenburg (GER), which ruled in an interim injunction that he is forbidden to sell his frozen semen commercially.
The Dutch equestrian news site Horses.nl reported that Visser and his lawyer Luc Schelstraete have appealed the decision, questioning the authority of the German court over the case, as well as the content of the case. 
3,750 Euro Stud Fee, Only with ICSI
Visser has offered for sale his remaining stock of Totilas' frozen semen, collected in 2010 before the sale to Paul Schockemöhle, through the Dutch reprodution center Holstud.
Mares need to be brought to the center, where the ICSI procedure is applied. This means that from one straw of semen many more mares can be covered. 
Horses.nl stated that "this is sperm from Totilas' younger years, when the stallion was much more fertile than in his last years."
German or Dutch Jurisdiction
Both parties disagreed about the jurisdiction in the matter. 
Because Totilas sold to Germany in the autumn of 2010, Schockemöhle filed an injunction in Germany, but he would also sue in Holland for the rights if need be. The judge in the Oldenburg court declared himself competent and ruled in favour of Schockemöhle.
When Totilas sold, Visser and Schockemöhle apparently agreed that Kees was allowed to use his frozen semen for "personal" use.
"Visser gave me around 400 straws back in the day. He only wanted to keep a few to cover his own mares, but wouldn't sell any. I knew him a long time and trusted him," Schockemöhle told Horses.nl.
Photo © Dirk Caremans
Related Links
Schockemöhle Sues Kees Visser over Totilas' Frozen Semen
Holstud Decides on Price Totilas' Frozen Semen, Insemination Via ICSI, Partial Gestation Guarantee
Holstud Offers Totilas' Frozen Semen for 2021 Breeding Season