KWPN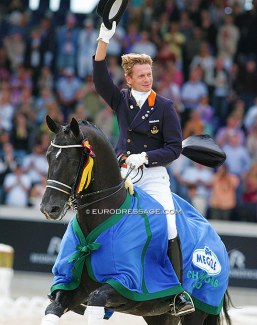 With the knowledge that there is only a limited supply left of Totilas' semen, former owner Kees Visser and the horse's last owner, Paul Schockemöhle, are in an imbruglio over the selling rights of the remaining semen. 
From Visser to Schockemöhle
Paul Schockemöhle purchased Totilas (by Gribaldi x Glendale) in the autumn of 2010 for a rumoured 11.2 million euro. Soon afterwards, the German stallion owner sold to the sport rights to the horse to Ann-Kathrin Linsenhoff.
While Matthias Rath competed the stallion, Schockemohle handled the breeding part. He first stood him up for stud for a fee of 8,000 euro. In 2016 he dropped it to 5,500 euro, then to 4,000 euro, then dropped it to 2,500 euro. In 2020 the stud fee was 2,800 euro. 
Rush on Semen
On 15 December 2020 Totilas died unexpectedly after a colic attack. At the beginning of the 2021 breeding season, a rush has arisen on the limited supply of Totilas' frozen semen. 
Kees Visser stood Totilas up for stud for one season in 2010 for a stud fee of 5,500 euro (excl. VAT). The Dutch owner also collected semen from him to be frozen at the time.
Visser has now offered that frozen semen for sale via Holstud. He charges 3,500 euro with a partial in-foal guarantee, but the ICSI process has to be used. Schockemöhle charges the same price (3,500 euro), but the mare has to be inseminated at his station and there is a maximum of 3 tries.  
Lawsuit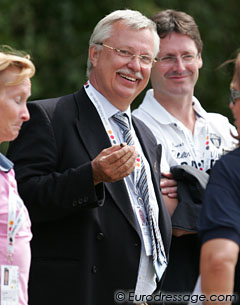 According to Horses. nl, Schockemöhle has filed a lawsuit against Visser over the breeding rights. 
Eurodressage inquired with Kees Visser, who said that "nothing was put on paper about the semen we owned when Totilas sold. Paul Schockemohle has no right to (the semen) we collected in the spring of 2010."
To Horses.nl Visser added that Schockemöhle has tried to buy Visser's stock of frozen semen, but the Dutchman declined. "Now I'm being confronted with a lawsuit, but I have all confidence in it."
More on the matter will be disclosed at a later stage. 
Photos © Astrid Appels
Related Links
Holstud Decides on Price Totilas' Frozen Semen, Insemination Via ICSI, Partial Gestation Guarantee
Holstud Offers Totilas' Frozen Semen for 2021 Breeding Season
Totilas, Global Dressage Sensation, Passed Away
Totilas Not to Stand at Stud in 2013
Totilas Sold to Paul Schockemohle
Totilas to Stand at Stud