U.S.A.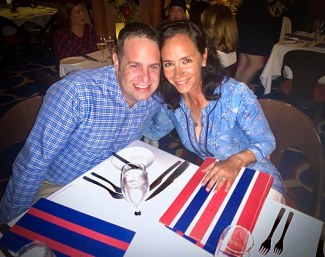 Exciting times for U.S. Rio Olympic team member Allison Brock. Not only did she marry her partner Anthony Siegbert on 15 March 2021 but the couple is also expecting their first baby together. 
Olympic Team Bronze Medalist 
Hawaiian born Allison Brock, who was the former groom of Kundrun's other sponsored rider Sue Blinks, rose to stardom aboard Fritz Kundrun's Hanoverian stallion Rosevelt (by Rotspon).
Brock and Rosevelt finished fourth in the 2010 U.S. Developing Prix St Georges horse Championship and made their international show debut in 2013. They were one of America's strongest performing pairs between 2013 and 2016.
Their efforts culminated in a U.S. Olympic team selection for the 2016 Games in Rio, where they finished 15th in the Kur to Music finals after earning team bronze.
Life After Rosevelt
Rio turned out to be Rosevelt's and Brock's last international show. The stallion suffered from injury and did not make a come back. Brock moved on to become a 
In 2019 Brock was named as one of the coaches on the U.S. Dressage Coaches Support Network, a program to establish a group of like-minded dressage trainers to support U.S. dressage program events and initiatives. She is also a USEF AAC Equestrian Representative.
Married Life, Baby on the Way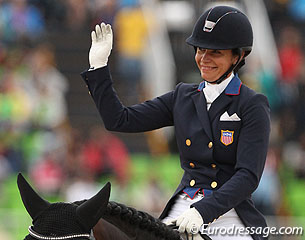 The 40-year old Brock got engaged to Anthony Siegbert in December 2019 and married him in a small civil ceremony on 15 March 2021. 
"We got married at the courthouse early on Monday morning - no witnesses allowed because of Covid," Brock told Eurodressage. "It was very informal.The plan was to get married in Hawaii this week. Covid made the logistics of it all pretty impossible. So we will probably have a "real" wedding in Hawaii next year and definitely a big party in Wellington as well to celebrate!"
Allison describes Anthony as a non horsey person who "has become one by default through me. I got my 10 year old stepdaughter riding a few years ago and she definitely has the horse addiction!"
The couple is expecting a baby boy around 1 August  2021.
"Lots of big life changes," Allison added with a smile.
Related Links
Eurodressage Photo Database: Rosevelt
Arts, Brock, Holzer, Seidel Identified as First Trainers of new U.S. Dressage Coaches Support Network
Allison Brock's Rosevelt Getting Back in Shape for 2017 Show Season
Schneider and Showtime Take the Lead in Grand Prix at 2016 Olympic Games
U.S. Team Selected for 2015 Pan American Games